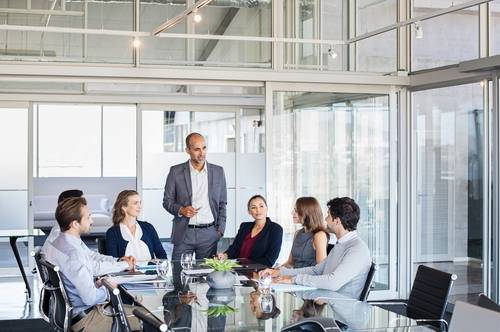 Innovative Corporate Human Resources Departments
As part of an effort to examine the best career options for individuals pursuing a degree in HR, we turn our attention to the most innovative corporate HR management departments in the world. We present these as a way of informing HR grads of outstanding potential future employers. They are examples of the ways in which top HR departments exhibit leadership qualities. HR leaders who want to learn best practices would do well to take notes from these top companies.
Gone are the days when HR departments' exclusively focused on gathering employment applications and interviewing candidates. Today's best human resource department is the backbone of a successful organization. These thirty are leading the pack.
Today's HR management departments rely on innovation and creativity to keep the company on the cutting edge of competition. Their roles include:
planning marketing strategies
recruiting top-notch employees
implementing incentive programs for hard-working staff
diagnosing and treating organizational problems
The most successful companies consider their HR teams to be partners in the business.
Related Resource: 50 Most Affordable Small Colleges for an HR Degree
Here we take a closer look at these thirty companies (some very large companies and some smaller companies) and their distinguished efforts in HR.
Methodology
In order to create this piece, we examined information provided by Fortune magazine's 100 Best Companies to Work For list and Glassdoor's winners of the Employees' Choice Awards. We used these lists since landing a spot would suggest leadership in treatment of staff and stakeholders, innovative HR practice, and positive work environment. In addition, details from the Chartered Institute of Personnel and Development were studied. Specifically we used information from their celebratory issue, to identify companies that revolutionized HR over the past one hundred years.
We then researched and investigated each potential entry, comparing the following criteria, and selecting our top 30 from among more than 100 reviewed.
A history of HR innovation, generally, or in a specific area of interest
Award recognition for HR efforts and practice
Community outreach programs for staff
Emphasis on quality and diversity within the workplace
Employee incentives, including onsite perks and rewards
Global or commercial impact of HR practice on the wider organization
Recruitment efforts and regular evaluations, emphasizing company transparency and employee engagement
The lists consulted were as follows:
Related Resource: Entry Level Human Resources Jobs
30. FedEx Corporation
FedEx Corporation holds a track record of success, from delivery to customer service. In the early 1970s, the company developed a philosophy that still stands strong today – People-Service-Profit. The foundational belief is that excellent care of employees breeds excellent service. To track employee relations, FedEx offers an annual survey and feedback action program. Employees provide valuable feedback and management meets to discuss results. The program allows problem assessment and resolution opportunities. FedEx Corporation provides an efficient way to address problems in order to keep the community balanced.
Related Resource: What is Workforce Diversity?
29. AMX
Part of the HARMAN Professional Division, AMX, develops innovative technologies to help simplify the world. Their focus on world-class customer service is not taken lightly. Training is critical. Conscientious hiring practices and layoff procedures are implemented at AMX, making the company a leader in employee relations. Communication is taught among staff and accomplished by the implementation of an open-space work area for employees. Management and leadership teams practice open-door policies and welcome the voice of even entry-level trainees. As a proactive effort to maintain employee relations during layoffs, AMX offers transparent severance packages that are both generous and helpful in relocating those affected by the change.
Related Resource: 20 Companies With the Best Benefits
28. Oxfam
While the private sector dominates the business world, frugal charities, such as Oxfam, dominate when it comes to management, leadership, and the long term professional development and training of people. According to the creativity and leadership department at the Manchester Business School, Oxfam sees people development as a critical component to staying afloat. The organization values the training of people as an important retention tool among a sector that typically struggles to compete on salaries with business. The Human Resource department at Oxfam regards the future of HR as the ability to build alliances. They train their people to regard the same beliefs, and as a result, are making an impact and difference in the HR arena.
Related Resource: Is an HR Degree Worth It?
27. Prudential
The people strategy at Prudential is straightforward – be a high-performance company and a superb place to work. According to key Prudential personnel and HR statistics, the company does not have high turnover, absence rates are low, and disciplinary procedure levels are implemented. The company attributes its HR success to its transparency and ability to share its story. The company's history is shared with its entire staff, discussing the highs and lows, challenges and successes, with every person. The company keeps an open mind in HR processes and welcomes change and innovation when needed. Their open mind is keeping them ahead of the rest.
26. Eastman Chemical Company
Earning a Glassdoor Employee's Choice Award as One of the Best Places to Work, Eastman Chemical Company values the input and voice of its employees. The company is now entering their seventh year of operation and attributes their ongoing success with the value they have for their employees. The company believes that when their people love their work and enjoy working with one another, remarkable things happen. The award received by Eastman Chemical was based on their employee rate of satisfaction with the company, as well as critical workplace factors. These factors include:
compensation
employee benefits
advancement opportunity
work-life balance
career culture
access to senior management
25. Wegmans Food Markets, Inc
Wegmans started in 1916 with a sole fruit and veggie cart. Today the company supports eighty stores but remains under its original family management operation. Wegmans' awards and accolades include two HR recognitions from Fortune as One of the Best Companies to Work. What sets Wegmans apart in the HR sector is the emphasis it puts on taking care of both its customers and employees, including employee benefits.
24. Alliance Boots GmbH
Built from the foundational belief of the Boots family, the company excels in employee engagement. How does the company maintain an employee-engaged philosophy that garners success? According to recognition given by the Sunday Times, Boots excels in:
staffing supportive managers
improving colleague relations
promoting a stress-free work environment
promoting philanthropy through outreach activities
The company believes in vocational education for its entry-level employees, offering room to move upward over time. In 2001, Alliance Boots became the first company of its kind to offer formal accreditation for work within the community. That is a pattern that is now a mainstay in HR innovation.
23. Bain and Company
The work culture at Bain is that of hard-working people who love what they do. Bain is a magnet for top talent and employees who stay the course. Retention is low because, according to the company's HR department, people love what they do. Bain & Company's HR recognition includes awards from Working Mother as the Best Company to Work For, the #1 Best Firm to Work For by Consulting magazine, and the Best Place to Work for LGBT Equality 2015 from Human Rights Campaign. The team culture allows all members to fully:
contribute ideas
support each other
provide inspiration as a community
HR at Bain focuses on the complete-employee. They do this by combining:
training
mentoring
flexibility among work schedules
22. Eileen Fisher
Eileen Fisher is a popular clothing retailer focusing on the provision of high-end customer service. Employees are trained to supply the best customer service the industry has seen, which is why Eileen Fisher is consistently the recipient of awards and honors for HR efforts. To reward its employees for their hard work and dedication, the company offers annual bonuses equaling up to four weeks of earnings. Financial remuneration is also given for personal education and health and wellness efforts. Eileen Fisher sets the standard for creating happy employees, and as a result, employee loyalty is at an all time high.
21. Quicken Loans
Quicken Loans' workplace culture extends far behind the colorful offices and collaborative work environment they are known for. The company expresses an active appreciation for creative culture that is shown by leaders who encourage employees to innovate without a fear of failure. Even trainees are empowered to innovate and create on a regular basis. The company believes that when people are free to create they do remarkable things. Combining passion with creativity causes groundwork for success. Quicken Loans was named Fortune magazine's Top 5 Best Places to Work in America and consistently wins awards for customer satisfaction and employee retention.
20. Hay MSL
In the early 20th century, a good ol' boys' network was the means of advancement and success in moving up the corporate ladder. But a group of psychologists gathered together to change the way executive HR decisions were made. Experts from a management selection company, MSL, pioneered a systematic way of hiring the best and brightest. They implemented:
panel-based interviews
psychometric assessment
proper advertising for job announcements
In 1963, another consultancy corporation joined forces with MSL, to implement what is now known as the leader in HR practice. Hay MSL, or Hay Group, is a global consulting agency that has worked hard to transform HR strategies with tremendous success. Fortune named the company as one of the World's Most Admired Companies for their contribution to the world of HR.
19. Mayo Clinic
Consistently ranked as one of Fortune's 100 Best Companies to Work For, Mayo Clinic has built a reputation as a place for employing the brightest minds to offer the most passionate service. The key to the company's success is the team dynamic promoted by the HR department at Mayo Clinic. According to HR personnel, there are 60,000 employees who link arms with one another to provide support and care for Mayo Clinic's patients and families. How does Mayo Clinic provide such a team-focused dynamic in the workplace? They have excellent:
management credibility
internal communication
extensive on-the-job training
Employees feel prepared to handle situations. They receive recognition for their efforts.
18. Sainsbury's
Sainsbury's is one of the companies with best HR practices. While it may not be the largest grocery store chain in the world, Sainsbury's takes the lead in HR practices for its ability to innovate. No matter how tight the margin within the supermarket industry, Sainsbury's has been a consistent performer. The reason for its ability to consistently turn a profit is due to its ability to innovate HR best practices. Its people strategy is the focus for success, which was made a leader in the grocer sect when it opened its first worker academy nearly a century ago. Today, Sainsbury's training academies focuses on preparing its staff for the best standards of the day. It was also Sainsbury's human resource department that pioneered the self-service style of shopping. The innovation is seen in major supermarket chains across the globe.
17. Hilcorp Energy Co.
The Hilcorp Energy Company produces and distributes energy across the globe. Its company focus is a belief in mentorship, which translates to the company's geographical success. The HR team takes a focused interest in new employees by offering mentorships to improve the rate of success. New team members are valued and well-trained for advancement. The HR team engages in a routine standard of paying its interns a lucrative wage. At the end of the internship, job offers are made. The consistent means of hiring interns and fitting them into full-time employment status adds value to the company and eliminates the price of training. Hilcorp also believes in paying it forward when it comes to employee charitable contributions. Each year the HR team matches up to $1,000 in charitable contributions made by its employees. This is a new and improved HR incentive pioneered by Hilcorp.
16. Brigham and Women's Hospital
A teaching affiliate of Harvard Medical School has been consistently ranked as one of the best places to work by Working Mother and Glassdoor. The key to Brigham and Women's Hospital's success rate is their HR efforts to bring a work and life balance to the community. The company encourages employees to balance their work and personal life. HR focuses efforts on childcare for working mothers and fathers. Subsidized tuition is offered for employees who earn below a certain level. Back-up childcare services are also offered in the event of emergencies. The human resource department focuses heavy attention on balancing work and families. Many of the employees sandwiched between childcare and eldercare for elderly parents are offered extensive services. Nursing home placement, home health services, and support groups are part of the innovative ways the HR team at Brigham and Women's Hospital helps its employees eliminate stress.
15. Diageo
Diageo offers one of the best human resources departments. Diageo dates back to 1759. Any firm with a track record of business dating back this far must be doing something right. For a drinks company, it is miraculous. What sets Diageo apart from other companies is its level of HR integrity and innovation, even during times of change. When a CEO, who has worked with the company for decades, steps down, solid management practices build a stronger leadership team. Diageo has faced transformation and always come out on top. With a long heritage of systematic leadership building, Diageo remains one of the UK's greatest companies.
14. BT
Resiliency is what adds BT to the list of the most innovative human resource departments. As a communications provider, it is hard to believe that this company remains a leader in HR. But, BT is recognized as a pioneer in the way of managing an international network with a rich heritage of success. During the credit crunch, when most companies were laying off employees, BT was working with existing staff by:
retaining
retraining
redeploying
BT allows their staff to be retrained in different areas, gaining valuable experience, without being disloyal to the company. Apprenticeship programs offering flexible work schedules are available to employees who are looking for areas of movement and advancement within the company. The result? Excited employees with special interest in their career.
13. Cambridge Consultants
Free lunches and blue-sky projects might be new at Google and other tech-industry giants, but Cambridge Consultants has been doing it for thirty years. The consultancy firm was founded in 1960 and ever since its HR team has offered unconventional ways of retaining top talent. According to HR director, Alison Hughes, every innovation that's en vogue in Silicon Valley is commonplace at Cambridge Consultants. The company offers staff a high degree of autonomy and control over their career trajectory. Project-led structure helps employees gain training and experience while staying relevant to the challenges at task.
12. Marks & Spencer
Known worldwide, Marks & Spencer is one of the best-loved retail brands, but they didn't reach the top through marketing efforts. It was their HR strategies. Marks & Spencer offers one of the best human resources company experiences. Employee engagement puts Marks & Spencer at the top of the rung of the business success ladder. According to annual staff surveys, prioritized communication builds the backbone of the success model at Marks & Spencer. The company has a strong reputation in employee relations, winning awards and honors for how employees are treated up and down the supply chain. At Marks & Spencer there is no such thing as too much communication. From regular conference calls to management to daily huddles among staff. Communication is key to the success of Marks & Spencer.
11. USAA
USAA is one of the best HR practices companies. San Antonio based financial services provider, USAA, is recognized for its retention efforts and success. Annual luncheons honor ten percent of the employees who have been with the company for over 25 years. The retention efforts include:
extensive training budgets
bonuses
incentive-based pay increases
USAA reported less than four percent turnover for its IT employees. Promotions are abound amongst USAA employees. What draws prospective employees to USAA? Most campuses are dotted with health clinics, on-site Starbucks coffee shops and cafes, relaxation lounges, fitness centers, and childcare facilities. Regular social events create camaraderie among staff members and also promote the work-life balance the company strives to achieve.
10. Rolls-Royce
The Rolls-Royce company is long synonymous with quality training and apprenticeships. Over 30 percent of the Rolls-Royce's senior managers started at trainee-level with the company. The business model and value chain is incredibly innovative. Rolls-Royce showcases transformation and evolution. The company understands that in order to maintain their level of success, training is essential. Over 180 apprentices, with 80 percent aged sixteen to eighteen, are added each year across twelve UK sites. Most of the apprentices remain and work for the company for the life of their career.
9. Shell
Shell has one of the best human resources companies. The high profile human resource department at Shell plays a critical in forming and implementing strategy at the company by pioneering international management practices. While most overseas assignments fail, this is not the case with Shell. The company's HR is able to manage overseas assignments by keeping tabs on their abroad employees. The company implemented a costly yet successful model that employed 7,500 expats. Today they have close to 90,000 staff working in 90 different countries. The company wants their employees to experience working in global business. The company believes in having a strong, cohesive, and open culture that works together as a team no matter what country the team member is from. Having a global mindset is what sets Shell apart from its competitors.
8. Ford
Ford is the car manufacturer that broke ideals when it came to hiring practices and leadership. Henry Ford is recognized as one of the best leaders the world has ever seen. His philosophies and beliefs trickled into the HR department at Ford. Today the company is recognized for its HR innovation through:
a highly disciplined culture
outstanding training opportunities
strong and consistent processes
When it comes to HR practice, the company focuses on implementing healthy communication through the removal of emotion and reliance on data. HR believes data and discipline should come first, before emotion. When the process is adhered to, a healthy work environment succeeds. Ford has consistently been named a leader in HR practice by People Management.
7. Boston Consulting Group
The average hours of training per year at Boston Consulting Group (BCG) for full-time salaried employees are 100. Hourly employees receive approximately 40 hours of training per year. Both training programs are considered rare for companies of this kind. BCG is ranked by Fortune as a Best Company to work for, particularly because of their extensive training programs. It is the training that allows employees of BCG to succeed. Many newcomers graduate to leadership positions within a short duration of time because of the training received early on at the company. Mentorships and open-door communication policies with leadership allows for creative freedom and the confidence to share ideas.
6. LinkedIN
Business Insider ranked LinkedIn as one of the most desirable employers to work for. Glassdoor recognized LinkedIn in their 50 Best Places to Work. What sets LinkedIn apart from its competitors are its HR innovation and team practice. The motto at LinkedIn is to work hard, play hard. The HR team hosts all-company parties, complete with live music and a nightclub atmosphere to reward staff members for their hard work and dedication to the company. The team dynamic is designed to encourage employees to create systems that break the status quo. Once a month, the company holds an InDay, which is when employees set aside regular work to explore new ideas. Employee turnover is less than eight percent and promotions consistently run over 17 percent.
5. Twitter
Twitter is one of the best HR companies. Consistently grabbing a spot on Glassdoor's annual list of best places to work in the tech industry, Twitter was recently named second as the overall best company to work for employing over 1,000 employees. Twitter's innovative HR department promotes a work-life balance, causing employees to admire the company culture. HR focuses a lot of time and attention to training managers to lead, while maintaining a culture of authenticity, transparency, and accessibility. Twitter is able to maintain the scrappy start-up feel while becoming a major tech firm because of the extensive training offered to those in leadership.
4. Nissan
Nissan is one of the top HR companies on our list. Nissan is known for blending the most-recognized manufacturing techniques of the Japanese with British productivity. The result? A concept known as kaizen. Kaizen is a key philosophy of Nissan that empowers the workforce to continually improve the way the job is done. Nissan implements this philosophy when choosing each production worker. The teams recruited are the best of their kind and each member is geared toward improving their skills to shine above the rest. The HR practices at Nissan include transparent salary scales and full autonomy for leaders to recruit and build their own teams. It is a practice not seen in the automobile industry. But, at Nissan, it is the key to production and manufacturing success.
3. SAS
SAS is one of the best best hr company experiences. SAS was ranked on Fortune's list of the Best Companies to Work For in the US. The HR practices at SAS are innovative and creative; contributing to the reason the company is consistently ranked as an industry leader. The company offers a university campus feel on its grounds, with greenways that connect buildings to buildings. Recreation and fitness facilities are found on campus, offering time for employees to take part in maintaining the health of the entire person, which includes mind, body, and spirit. SAS is noted for offering a high-trust environment and exhibiting a low turnover rate. The unique HR department is recognized as a pioneer in addressing day-to-day stresses and concerns that are common in a workplace environment.
2. Cadbury
Cadbury is one of the top human resources companies. When it comes to people management, Cadbury leads the way. Not only is the company the world's second largest confectioner, but it has also earned the HR accolade by putting its people first. Since founded in 1824, Cadbury has maintained its worker village and R&D factories. The village offers its staff and their families a comfortable environment to work and live. The company is built on an altruistic belief system that makes people a priority. The Cadbury culture combines positivity and balance, among work and life.
1. Google
From Fortune to Mashable to Glassdoor, Google is consistently ranked as the best company to work for in the world. What truly makes Google a great place to work is the people. The company is more than just an Internet juggernaut, its Mountain View, California headquarters offer a seven-acre sports complex, three wellness centers, indoor roller hockey rinks, horseshoe pits, and over 100,000 hours of subsidized massages doled out each year. Google's philosophy is that with the right tools, you can attract the best talent, and develop happier and more productive employees. With these HR efforts, Google's leadership is recognized worldwide.
Conclusion
Innovative HR leaders who implement best practices are able to respond to different types of crises, including one like the response to Covid 19. It is important to have best practices in place to have a happy, productive workplace long term, but also to protect the company in the case of a major problem, such as Covid 19. 
Related Resource: Top 10 Best Online Master's in Human Resources Degree Programs
Rankings: