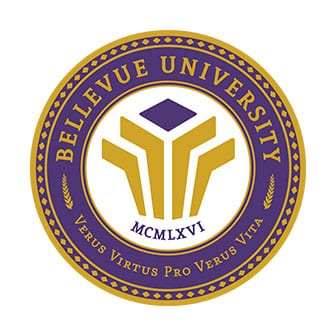 HR Degrees Offered at Bellevue University
Bellevue University is also featured in our ranking of the 20 Most Affordable Online Master's in Human Resources
Bellevue University offers a Bachelor of Science in Management of Human Resources and a Master of Science in Human Resource Strategic Management. Both programs are offered on-campus and online.
The Bachelor of Science in Management of Human Resources provides instruction on the best practices of all areas of human resource management. Students gain a strong foundation in leadership and performance management. They acquire knowledge and skills in human resource planning, development and training, compensation and benefits, labor-management relations, and employment law. The program is offered in a cohort format to enable students to build meaningful relationships with peers and instructors. A total of 127 credit hours are needed to complete the degree, including general education courses, major courses, and electives. The major courses include Fundamentals of Human Resource Management, Recruitment, Selection and Placement of Human Resources, Training and Development of Human Resources, Employee and Labor Relations, Compensation Administration, Benefits Administration, Business Operations and HR Strategy, and Human Resource Management Capstone Project.
The Master of Science in Human Resource Strategic Management prepares students to become strategic leaders in the human resources field. The program enables students to add value to their organizations by supporting human capital and executive teams. The degree focuses on diversity and inclusion in the workplace, legal and ethical issues, metrics and evaluation, and HR alignment to organizational goals. The program is also offered in a cohort format to promote a tight-knit community of peers and faculty. Students learn the functions of human resource management and how to utilize and apply each function from a strategic point of view. A total of 36 credits are needed to complete the degree. The major courses include: Fundamentals of HR Management, Human Resource Law, Organizational Behavior, Global HR Management, Contemporary Issues, Talent Management: Recruitment, Talent Management: Human Capital Management and Development, Total Rewards: Compensation, Total Rewards: Benefits, Human Resource Metrics and Evaluation and Action Planning, Strategic Business Partnerships, and Capstone.
About Bellevue University
Bellevue University is a private, nonprofit institution of higher learning located in Bellevue, Nebraska. Under the direction of Bill Brooks, the school was founded as Bellevue College in 1966. It started offering its first accredited program, the Bachelor of Professional Studies, in 1987. It officially became Bellevue University in 1994. In 1996, the university started offering online programs and became one of the first accredited schools to offer web-based education. Additionally, Bellevue University was the first institution to offers an online Master of Business Administration degree. Today, Bellevue University is home to more than 13,000 students, both on-campus and online. It functions on the semester-based academic calendar.
Bellevue University is dedicated to preparing students with the essential knowledge and skills to lead successful careers. All programs provide students with a sound foundation to make an impact in today's competitive workplace. The university's values include integrity, innovation, students-centered, market-focuses, and belief in the evolution of education. Over 80 degree programs are available at Bellevue University. Four colleges of education offer the programs: College of Arts and Sciences, College of Science and Technology, College of Business, and College of Continuing and Professional Education. The most popular majors include business, project management, social sciences, international business, and computer and information systems. The student to faculty ratio is 14 to one. Bellevue University is a recognized leader in equipping students with the know-how and abilities for lifelong success in their careers. Its unique Real Mastery approach assists students in mastering the knowledge and skills expected by employers. Students are able to apply what they learn in courses to actual situations to demonstrate their talents. The bachelor degrees feature the Kirkpatrick Signature Series that focuses on the importance of active citizenship.
Bellevue University Accreditation Details
The Higher Learning Commission of the North Central Association of Colleges and Schools regionally accredits Bellevue University to grant degrees at the bachelor's, master's, and doctoral levels.
The human resource management degrees align with the Society for Human Resource Management.
Bellevue University Application Requirements
Bellevue University has rolling admissions where students are admitted throughout the year. The following materials are necessary to apply to the institution:
Undergraduate
Application for Admission
$50 nonrefundable application fee
Official high school transcript
Official transcripts from prior colleges and universities
Graduate
Application for Admission
$50 nonrefundable application fee
Official transcripts from prior colleges and universities
Additional requirements for specific programs, such as letters of recommendation and essays
Tuition and Financial Aid
Tuition
Undergraduate
Residential students: $298 per credit hour
Online and international students: $415 per credit hour
Military Active Duty and their spouses: $250 per credit hour
Graduate
All graduate students pay $575 per credit hour.
Financial Aid
Scholarships, grants, loans, and work-study options are available to help students pay for their higher education.
Scholarships
Freshman Academic Achievement Scholarship
Dream Scholarship
TeamMates Dream Scholarship
Mascot Scholarship
Phi Theta Kappa Grant
Bruin Community Scholarship
Partnership for Kids Scholarship
Grants
Federal Pell Grant
Federal Supplemental Educational Opportunity Grant (FSEOG)
Nebraska Opportunity Grant
Loans
Federal Subsidized Direct Loan
Federal Unsubsidized Direct Loan
Federal PLUS Loan
Federal Graduate PLUS Loan
Federal Work-Study
The Federal Work-Study program is a federally funded program that enables students who demonstrate a financial need to work on a part-time basis to earn money to help pay for the costs of college. Students have the ability to work up to 20 hours a week while they are taking classes. The programs promote community service jobs or positions related to the student's course of study. The pay varies by each student's unique situation but is at least the current federal minimum wage.
Degrees in human resource management prepare students with relevant knowledge and essential abilities to be effective and confident leaders. Students are able to work in both large and small organizations to meet the needs of human resources departments. HR degrees offered by Bellevue University open the door for rewarding careers in human resource management and related areas.
Related Articles: