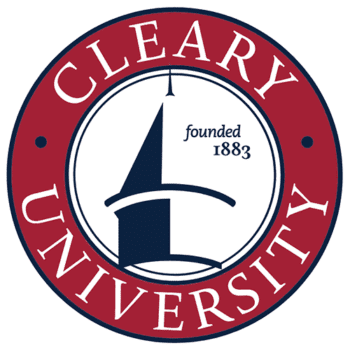 Human Resource Degree Programs at Cleary University
Cleary University is also featured in our ranking of the 30 Most Affordable Online Bachelor's in Human Resource Management.
According to the Bureau of Labor Statistics, positions for human resource managers are expected to increase by seven percent over the next ten years and the average salary is $113,300 per year. Most positions in this industry require at least a bachelor's degree which is why Cleary University offers one degree program and one certificate program designed to prepare individuals for this growing industry.
Bachelor of Business Administration in Human Resource Management
The Bachelor of Business Administration in Human Resource Management at Cleary University is designed for those who wish to contribute to the world from multiple perspectives. Students are provided human resource knowledge that promotes critical thinking, persuasion, creative thinking, entrepreneurship, leadership, problem-solving, communication skills, and ethical understanding. The program creates graduates who are whole-thinking and intellectually equipped to help address the human assets that keep things running smoothly in a business or organization. Cleary University uses a unique course sequence with each semester including a focus filter, a topical, business segment related to a current business, economic development or career advancement subject.
The first semester of the MBA in Human Resource Management focuses on critical thinking, the second on ethics and the third on creative thinking. Problem-solving, communications, persuasion, entrepreneurship and leadership make up the remaining semesters. Courses required for the program include:
Business Arts Immersion
Business of Environmental Sustainability
Business of Science and Technology
Career Fulfillment
Communicating to a Shrinking World
Compensation and Performance Management Systems
Creating Compelling Value
Critical Thinking in an Illogical World
Data Integration Toolbox
Discourse and Delivery
Discovering Leadership
Economics and Economies
Financial and Managerial Accounting for Sustainability
How the Operation Works
How We Work Together
Human Resource Law
Human Resource Management
Innovation and Ideation
Innovation and the Philosophy of Tinkering
Know Thyself, Know Thy World
Logic of the Global Brain
Organizational Behavior
Organizational Staffing Principles and Practices
Philosophy of Technology
Principles of Accounting and Economic Renaissance
Rhetoric: The Hyde Park Soapbox
Speak Up!
Strategic Thinking
Structuring the Future
Supply Chain: Driving the Silk Road into Today
The Business of Art
The Entrepreneurial Mindset
The Persuasive Pitch
The Right Decision
The Social Contract
Training and Development for Human Resources Professionals
Transactional Marketing
Transformational Marketing
Two professional projects are also required.
Human Resource Management Professional Certificate
The Professional Certificate in Human Resource Management provides an understanding of the importance of human assets in every type of industry. The program focuses on building personnel and creating an environment that promotes culture, efficiency and employee satisfaction in order to increase productivity. Students gain an understanding of compensation, labor relations, benefits administration, talent management and many more aspects of human resources. Courses required for the program may include:
Compensation and Performance Management Systems
Human Resource Law
Human Resource Management
Management and Organizational Behavior
Organizational Staffing Principles and Practices
Training and Development for Human Resource Management
About Cleary University
Patrick Roger Cleary founded the Cleary School of Penmanship in 1883, training students in a vital business skill during the late 19th century for the commercial workplace. It was the first independent college in Washtenaw County. In 1885, a Cleary graduate became the first teacher of a commercial subject in a public school system. The name of the school changed to Cleary Business College in 1891.
In 1912, Cleary and Michigan State Normal launched a joint program designed to train business teachers for public schools. And, in 1933, the Cleary family handed over all assets of the school to a new Board of Trustees. The school has been named among the top specialty colleges in the country by US News & World Report.
Cleary University Accreditation Details
Cleary University is accredited by the Higher Learning Commission. Accreditation demonstrates to parents, students, and employers that degrees awarded by the University of the highest level and that students are prepared for leadership roles in their chosen field of study. It also indicates that the school has the resources to meet its stated goals and objectives.
As part of the accreditation process, Cleary University undergoes periodic voluntary evaluation to confirm they continue to meet the requirements of the accrediting agency. Any areas identified as needing improvement are addressed immediately. Because the University is accredited, students are able to apply for and receive federal financial aid.
Cleary University Application Requirements
Applicants to programs at Cleary University must submit official high school transcripts as well as official transcripts from all colleges and universities attended. Graduate students must also submit a current resume. Applicants who are 25 years of age or younger must also submit official ACT or SAT scores. Undergraduate students must have a high school GPA of 2.0 or higher while graduate students must have an undergraduate GPA of 2.5 or higher.
Cleary University Tuition and Financial Aid
Full-time undergraduate tuition at Cleary University is $19,620 per year and full-time graduate tuition is $16,650 per year.
Nearly 85 percent of Cleary University students receive some type of financial aid. The Office of Financial Aid advises all students to complete the Free Application for Federal Student Aid (FAFSA) regardless of income as some aid is awarded based on merit rather than need. Students may be awarded grants and scholarships which do not need to be repaid. Students attending on campus may be offered work-study, fellowships or assistantships. Loans may be included in financial aid packets but they must be repaid upon graduation.
Cleary University is an independent, not-for-profit specialized business university that provides practical, project-based education. Cleary University strives to create graduates who want to contribute to the world on a local, regional, national and global level. Cleary University has a vision to be the foremost applied business university, enriching the lives of all who attend through knowledge, skills, and credentials that advance careers.