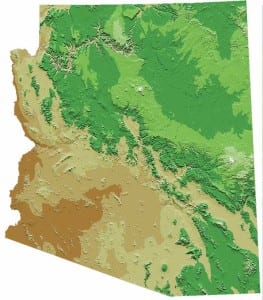 Located in the Southwest region, Arizona is the sixth largest and fifteenth most populous state in the nation. It is often most noted for its steamy hot climate, desert landscapes, large deep canyons, the Saguaro cactus, and beautiful red rocks.
Although Arizona was the 48th and last of the continental states to be admitted into the United States, the state is surely not lagging behind when it comes to high-quality master's degrees in Human Resource Management. The following are the graduate level Human Resource degree programs in the state of Arizona that are fully accredited and aligned with the competencies established by the Society for Human Resource Management (SHRM).
Related Resource: What is Workforce Diversity?
Ottawa University
Angell Snyder School of Business
Although Ottawa University was first founded in 1865 in Ottawa, Kansas, the university has quickly spread across the nation and established an adult and professional studies campus in Phoenix, Arizona. Currently ranked the 56th best college in the Midwest by U.S. News and World Report, Ottawa University is an accredited non-profit university that strives to educate students for lifetimes of faith, leadership, service, and significance in the world. Therefore, the university offers the unique Adawe LifePlan Center to provide students with extensive resources, academic advising, career exploration, and service learning opportunities.
Named in honor of two of the most impactful and admired professors of business at Ottawa University, Dr. Wayne Angell and Dr. Sherwin Snyder, the Angell Snyder School of Business has a long legacy for developing leaders in the business world. The school of business prides itself on helping students nurture their strong technical and analytical skills in all of the key business disciplines to become work-ready. The Angell Snyder School has already produced many distinguished graduates who went on to become CEOs and VPs, including Jeff Hull, Dr. Henry Scherich, Tim Dye, Wiley Angell, and John Sherman.
Master of Arts in Human Resources
Specifically designed for working adult learners with limited time for schooling, the Master of Arts in Human Resources degree program can be completed online or on-campus to meet all students' individual needs. Not only does the program seek to develop essential human resources skills and promote professional excellence, the Human Resources program is geared towards allowing students to make a positive impact in the lives of others. Students can choose to focus in either Health Care Management or Leadership and Management concentrations, depending on future career goals. Graduates with the master's degree will be eligible for taking the examination to become a Professional in Human Resources (PHR).
Accreditations
Accreditation Council for Business Schools and Programs (ACBSP)
Higher Learning Commission of the North Central Association for Colleges and Schools
Kansas State Department of Education
Contact Information
10020 North 25th Avenue
Phoenix, Arizona 85021
602-371-1188
[email protected]
https://www.ottawa.edu/academics/school-of-business/degree-programs/graduate/human-resources
Grand Canyon University
Ken Blanchard College of Business
Grand Canyon University, situated in the heart of Phoenix, has been a premier private university in Arizona since 1949. As a Christian university, GCU encourages students to apply Christian values and ethics to their workplace, while finding their purpose with Christ. Currently ranked as the 63rd best online degree program in the nation, the university has already helped students across the nation achieve their career potential and advance their careers with higher learning.
Partnered with the Ken Blanchard Companies, the Grand Canyon University College of Business provides pathways to earn a bachelor's or master's degree in business. The curriculum is strongly based on the proven leadership and management concepts of Dr. Ken Blanchard, one of the leading business consultants and authors in the country. All of the programs are designed for students interested in future leadership roles as business owners, managers, administrators, and board members. With the cutting-edge course materials, graduates have the best chances of succeeding in today's national and global marketplace.
Master of Business Administration with an Emphasis in Strategic Human Resource Management
Students enrolled in the MBA with an Emphasis on Strategic Human Resource Management program become well-prepared individuals for careers as senior human resources specialists or general managers with a strong acumen for HR strategies. Fully aligned with the competencies provided by the Society of Human Resource Management (SHRM), the degree can be pursued full-time at the main campus, part-time in the evening program on-campus, or online at any time that fits the students' schedule. Graduates have expert knowledge on diversity of the workforce, employee development, human resources management, organizational decision making, and emerging technologies.
Accreditations
Higher Learning Commission of the North Central Association for Colleges and Schools
Arizona State Board for Private Postsecondary Education
Contact Information
3300 West Camelback Rd.
PO Box 11097
Phoenix, AZ 85017-3030
602-639-7205
[email protected]
http://www.gcu.edu/degree-programs/master-of-business-administration-with-an-emphasis-in-strategic-human-resource-management
Northcentral University
School of Business and Technology Management
Northcentral University is a regionally accredited online school that offers students the unique opportunity to engage in one-on-one learning in each of their courses. As part of the university's dedication to academic excellence in online higher education, Northcentral retains a 100 percent doctoral faculty, who has all completed a program in the discipline they teach from an accredited institution. About 95 percent of the current students enrolled at NCU are pursuing a master's or doctoral degree in business, education, marriage and family therapy, or psychology.
The NCU School of Business and Technology Management is home to the currently ranked 122nd best online graduate business programs in the nation. The curriculum of the programs is specifically engineered to help students enhance their leadership, critical thinking, communication, problem solving, and analytic skills with specialized business expertise. The school's goal is to educate ethical and professional leaders who will make valuable contributions in management positions in their desired field.
Master of Business Administration with a Specialization in Human Resources Management
Without sacrificing the quality of education, the MBA with a specialization in Human Resources Management degree program is offered with all of the flexibility of online learning. Although there are no physical residency requirements, students must complete 15 credit hours of foundational courses and 15 credit hours of the specialization. Aligned to meet students' career goals, the program has been devised fully from the HR Curriculum Guidebook developed by the Society for Human Resource Management (SHRM).
Accreditations
Accreditation Council for Business Schools and Programs (ACBSP)
Higher Learning Commission of the North Central Association for Colleges and Schools
Council on Higher Education Accreditation (CHEA)
Contact Information
10000 East University Dr.
Prescott Valley, AZ 86314
888-327-2877 x8079
[email protected]
http://www.ncu.edu/school-of-business-and-technology/master-of-business-administration/human-resources-management
Related Articles:
Top 10 PhD in HR Degree Programs