Infographics are a great way to help translate complex information into a visually pleasing format that makes it easier to understand. Below you will find details and a link to each of our favorite infographics that are filled with valuable information about the workplace as you get started on your HR career. In order to stay up-to-date on the latest workplace developments, be sure you check back ofen as our list of infographics grows.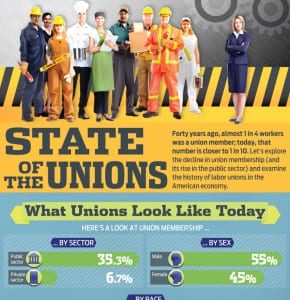 As statistics now show that just 1 in every 10 workers in the United States is a union member, this infographic has been created to explore the reasons why the nation is experiencing a dramatic decline in union membership. From paid vacation and sick leave to pensions and overtime pay, it will also examine why unions have been so important throughout the history of the American economy.
_______________________________________________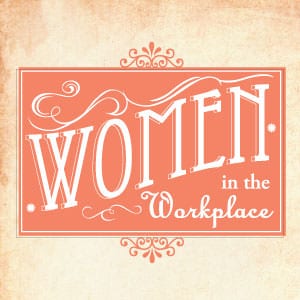 Women in the Workplace: Then vs. Now
Although gender equality has been dramatically increasing in the workplace over the last three decades to become the best it's ever been, there are still significant barriers that exist for women in advancement. In this infographic, you will find some surprising statistics on how far gender equality has evolved and where progress still needs to be made in the coming years.
_______________________________________________
With the United States being named one of the most expensive places to give birth in the world, expanding your family can be a more costly investment than most may realize. Not only will this infographic share information about the average prices associated with a birth, but it also gives tips to HR professionals to advocate for pregnant employees.
_______________________________________________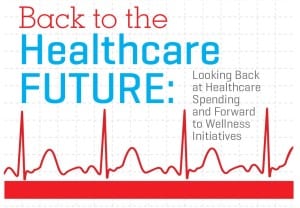 Since employers are faced with relentless growth in healthcare spending, many workplaces are now introducing health promotion and wellness programs to improve the well-being of employees while cutting costs. Check out this infographic to take a look back into past healthcare spending and to the future of wellness programs in the workplace.
_______________________________________________
While we may all jokingly say that our jobs are killing us, there have been dozens of scientific research studies that have found significant evidence that job stress can lead to an increased incidence of disease and death. Follow the link to this infographic to discover who is at the greatest risk, the causes behind work-related stress death, and the likely consequences for employers.
_______________________________________________
Corporate Culture Mindset: The Difference is Our People
In the corporate world, building a culture mindset is essential for devising a set of beliefs that form the foundation for how the organization and its employees function. Within this fun infographic, you will get an insider's look into the corporate cultures of three of today's most innovative organizations, including Pixar, Google, and Patagonia.
_______________________________________________
In the United States, 62% of American women are now employed after giving birth rather than staying at home to raise their children. Check out this infographic to learn about what the research is showing about the positives and concerns regarding the increase in mothers returning to work after baby.