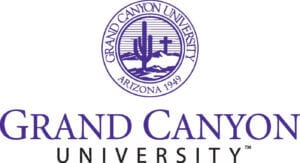 The Human Resources Degree Program at Grand Canyon University
Grand Canyon University is also featured in our ranking of the 50 Most Affordable Human Resource MBA Degree Programs.
Grand Canyon University offers a Master of Business Administration with an emphasis in Strategic Human Resource Management. One of the benefits of this program is that it lets students choose between taking online or evening classes. Those in the evening program include students who work full-time but feel more comfortable in an environment that allows them to work with their professors and their peers. Classes meet on the main campus and in other locations around Phoenix. The online program features the same courses but allows students to work over the internet.
Both programs use cohorts as a way to help students form meaningful connections with others. The university assigns students into cohorts based on when they first enroll and asks them to remain in those groups as they work through the MBA program. All MBA students will take classes through the Colangelo College of Business.
To earn an MBA, students must take 54 credits of courses. They will start with a class called Introduction to Graduate Studies in the College of Business, which is worth two credits. All other courses are worth four credits. The introduction course goes over what the university expects of the students and the requirements of the MBA program. It also provides students with tips on balancing their professional and home lives with their courses and how to make time for their assignments.
The strategic human resource management program includes both general business and management course and some specialty HR courses. Those classes include Accounting Practices, Quantitative Methods, Operations Management, Managerial Accounting and Marketing Management. Strategic Management is a course that looks at some of the practices that HR professionals use as they manage workers. Two of the main HR courses that students take include Designing HR for Competitive Advantage and Acquiring, Developing and Leveraging Human Capital. Grand Canyon University expects students to bring their experiences into their classes and to learn from the experiences of their peers.
About Grand Canyon University
Grand Canyon University is a private university affiliated with the Evangelical Christian Church. Established in 1949, the university opened after the Arizona Southern Baptist Convention saw a need in the Phoenix area for a college affiliated with the Baptist Church. This school would design a curriculum that included elements of that faith. Known as Grand Canyon College, it would choose Phoenix as its new location due to the space that it needed and the resources in the city. Significant Education, LLC purchased the college in 2004, two decades after it became a university. The new owners would help the university grow significantly online.
Also called GCU, the university now receives millions of dollars in funds each year and supports the local economy as it pumps more than $1 billion into the city. The university applied for nonprofit status in 2018 and received approval to operate as a nonprofit university that same year. The GCU campus is one of the largest employers in the Phoenix area and also one of the largest college campuses in Arizona. It is home to nine colleges that offer more than 200 programs at the top three degree levels. GSU is one of the nation's largest schools, with an enrollment of more than 20,000 traditional students and more than 70,000 online students.
Grand Canyon University Accreditation Details
Specialty accreditation is also known as program accreditation. It applies only to specific degree programs in a field. GCU has specialty accreditation from the Accreditation Council for Business Schools and Programs (ACBSP), which covers its human resources MBA program and all other concentrations relating to the MBA. It also has regional accreditation, which comes from a division of the Higher Learning Commission (HLC) called the North Central Association of Colleges and Schools (NCACS). That accreditation gives the university the authority to accept transfer credits and to award aid packages to any student who has a financial need.
Grand Canyon University Application Requirements
GCU allows any student who is at least 16 years old to take classes. Those applying to the MBA program though must have a bachelor's degree from a university/college with regional accreditation. It gives priority to those who majored in business and already took prerequisite courses in human resources, management, economics, and accounting. As this program is available online and on its campus, students can apply in two different ways. They need to create an account, which allows them to log into the university's application portal to apply.
The university encourages online students to fill out an online request form and speak to an admissions counselor. They can find out what they need to do next and learn how to apply for financial aid. Students can submit the FAFSA right after finishing their applications. The graduate program asks for a transcript to make sure that the student has the right degree and to determine if he or she should take any prerequisites. Their admissions counselors will help them register for those prerequisites or for the full MBA program. GCU does not require test scores or letters of recommendation.
Tuition and Financial Aid
Though the MBA program offered by GCU is available in an evening and an online option, both programs charge the same rate. Students pay $575 per credit hour. Those who take evening classes are responsible for their transportation costs of getting to and from the campus. Students also pay a small amount in fees each semester such as a technology fee. Online students pay a higher technology fee that covers the cost of the online resources offered by the university.
Any student who needs help paying for the MBA program at GCU can apply for financial aid. They need to submit the FAFSA at least a few weeks before the start of the semester and make sure that they use the GCU code on that form. This is the only way that graduate students can get loans, but the form can also help them qualify for some grant programs from the government and the university itself. Students can submit the FAFSA every year to get financial aid, but they must be in the United States and maintain a higher GPA to get that aid. All MBA students in the human resources concentration at Grand Canyon University can also use alternative student loans.
Related Articles: