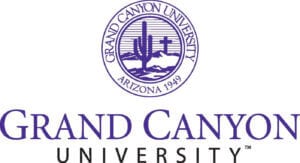 Grand Canyon University is also featured in our ranking 50 Most Affordable Human Resource MBA Degree Programs.
Human Resources MBA
Workers with a Master of Business Administration (MBA) on average earn more than workers who have only a bachelor's in business do. Grand Canyon University offers a convenient way for working students to earn their degrees. Its MBA program is available both online and as a nontraditional program. The non-traditional program features classes that meet at night and at the end of the typical workday. Students also have the option of taking both evening and online classes.
The university's Master of Business Administration with an emphasis in Strategic Human Resources Management uses the guidelines established by the Society of Human Resource Management (SHRM). SHRM guidelines ensure that students understand what employers expect of them and that they develop the right skills for working in this field. While its traditional MBA program features 42 credits, this program includes 54 credits. Those extra classes allow students to learn more about the fundamentals of human resources management.
All MBA students must take Introduction to Graduate Studies in the College of Business. This class ensures that they know what grades they need to get and what classes they must take to graduate. They will also take courses on specific areas of business such as Accounting Practices and Finance Principles. Acquiring, Developing and Leveraging Human Capital is a course designed for HR professionals that focuses on finding the best workers and helping employees do their best. Grand Canyon University also requires that HR MBA students take classes such as Designing HR for Competitive Advantage, Leadership and Organizations and Operations Management.
About Grand Canyon University
Grand Canyon University is a private university that has an affiliation with the Christian Church. Established in 1949 by the Arizona Southern Baptists, its affiliation dates back to its early days. That convention wanted to create a new university that offered higher education opportunities but one that would also emphasize the Christian faith. Founded in Prescott, Arizona, its founders choose the name Grand Canyon University to honor the nearby natural landmark. The university now goes by the name Grand Canyon and GCU.
GCU briefly functioned as a for-profit university but became a nonprofit school after the state conducted a major study in the mid-2000s. That study found that the university has a massive impact on the region and that it brought in a large amount of money. It now ranks as one of the state's largest employers. GCU now has its main campus in Phoenix. It spent millions of dollars to renovate some of its buildings and to add new structures to meet the needs of its student body.
The university is now home to nine different colleges, including a College of Education and the GCU Honors College, which only accepts a small number of students each year. U.S. News and World Report ranked GCU as one of the nation's top colleges. Forbes included the university as one of the top five business schools with an online presence. The university has a large enrollment of nearly 20,000 traditional students and more than 60,000 online students.
Grand Canyon University Accreditation Details
Accreditation falls into two categories: regional and specialty. Grand Canyon has both forms of accreditation. Region accreditation, or institutional accreditation, not only gives the university the right to give its graduates degrees but also allows the school to accept transfer credits. Students attending a school with regional accreditation can also apply for financial aid. Specialty accreditation lets students know that some type of professional organization oversees certain programs and ensures that those programs prepare them for the future. Some of the specialty accreditation that this university has comes from the Accreditation Council for Business Schools and Programs (ACBSP) and the National Council for Accreditation of Teacher Education (NCATE). Its regional accreditation comes from the North Central Association of Colleges and Schools (NCACS).
Grand Canyon University Application Requirements
Students applying to the GCU MBA program must submit both an official test score and a transcript. Only those who have a bachelor's degree from an accredited school in hand at the time that classes start can enroll in the MBA program. They must have a minimum grade point average of 2.8 also. Students can arrange for their undergrad schools to send their official transcripts to GCU. Their transcripts should include a full course listing that shows all the classes they took in their undergrad years. It should also show the grades they earned and their cumulative grade point averages.
GCU also asks that students take either the GRE or the GMAT. They must score at least 300 on the GRE or have a minimum score of 500 on the GMAT. GCU may require that students submit other information too. This commonly occurs if a student is right on the bubble with what it requires. The university may ask for a resume to see how much professional experience the student has or for a writing sample that demonstrates strong writing skills. Some students may need to write a goals statement or a statement of purpose too. All students will complete the GCU application and pay its application fee.
Tuition and Financial Aid
Grand Canyon University does not include much information about tuition costs on its website. The university does let incoming students know exactly how much their courses will cost before the semester starts. It does not charge separate rates for Arizona residents vs. students from other states though. All students will pay around $31,200 a year, which includes all fees and the university's base tuition rate. Students can use a cost estimator that works like a calculator to determine their exact costs before they enroll. The university offers a slightly discounted rate for military students.
Graduate students attending GCU may receive scholarships and grants directly from the university. It offers these financial aid packages for students who need more help paying for the MBA program. The university highly recommends that any student who needs help submit the FAFSA also. This is one of the requirements for students who need federal loans. MBA students can borrow a total of $20,500 a year and continue borrowing money while enrolled in the program. There are alternative and private student loans available as well. Grand Canyon University financial aid counselors can help students find the best loans and apply for those funds.