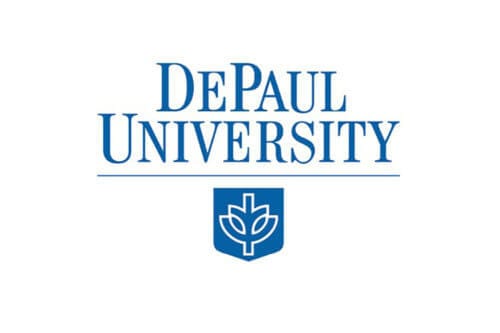 Four DePaul Programs for Human Resources Careers
DePaul University is also featured in our ranking of the 20 Best Master's in Human Resources (Campus-based).
In the Chicago Loop, the Driehaus College of Business awards a Management BSB with six concentrations, including Human Resources, for DePaul University Blue Demons to learn how contemporary global organizations are strategically boosting their employee assets. Chaired by Dr. Daniel Heiser, the 192-unit, AACSB-accredited curriculum fills each quarter with courses from Managing Teams to Compensation and Benefits. Majors may join the SHRM Chapter for $40, engage in the Coleman Entrepreneurship Center, pursue the 4+1 MBA, enter the Honors Program, intern at Jackson National, and semester in Madrid. Bachelor's students with two years of experience can also pursue the 13-week Professional in Human Resources Certificate online for PHR exam prep.
Online via Desire2Learn, the Kellstadt Graduate School of Business has a 12:1 learner-faculty ratio in its Human Resource Management MBA that connects with over 30 Fortune 500 recruiters for 94 percent job placement after advanced leadership training. Ranked third in Chicago by Bloomberg, this 64-unit degree headed by Dr. Misty Johanson blends Web courses like Workforce Development with the Vincentian Service Project and Accenture consulting capstone. Four times yearly, the Human Resources MS admits cohorts into Eduniversal's 31st best option for concentrated study of labor relations issues. The 12-course, SHRM-aligned sequence under Dr. Robert Rubin has alumni at Bosch, Walgreens, Microsoft, Edelman, Allstate, Discover Financial, and more for median pay of $85,628.
About DePaul University
DePaul University originated in 1898 when Congregation of the Mission priests opened St. Vincent's College in Lincoln Park for an inaugural class of 70 men. In 1907, it was re-chartered as DePaul University after Archbishop James E. Quigley changed its structure. Four years later, DePaul became one of the nation's first coeducational Catholic schools. In Spring 1913, the College of Commerce launched the earliest business courses. In 1948, the Master of Business Administration began for upper-level leadership jobs. By 1971, DePaul had founded the Small Business Institute. In 1982, DePaul partnered with Loyola and Mundelein for the Hispanic Alliance. One decade after, Charles H. Kellstadt made a $9 million donation to fund the Graduate School of Business. In 2012, Richard H. Driehaus followed suit with $30 million for College of Business undergrad degrees.
Budgeting $542 million yearly, DePaul University now upholds Proverbs 4:11 in teaching 22,437 Blue Demons online and in the "Windy City" as the Midwest's largest private nonprofit with 350+ clubs like Beta Gamma Sigma. In 2015, DePaul accepted an Insight Into Diversity Higher Education Excellence Award. The year before, DePaul received the OLC Consortium Award for Excellence in Faculty Development for Online Teaching. In 2017, the Kellstadt Graduate School of Business was ranked "Tier One" in CEO Magazine too. The U.S. News & World Report named DePaul University the 119th best overall. On Niche, DePaul boasts America's 133rd best business courses and 45th top location. The Princeton Review crowned DePaul the 13th best college for entrepreneurs. Business Insider also picked DePaul University as the 49th most underrated institution.
DePaul University Accreditation Details
On September 18, 2017, the Higher Learning Commission on North Central Association (HLC-NCA) Institutional Actions Council formally notified DePaul University that the Level VI accreditation was reaffirmed successfully through 2027-28 under its 12th president, Dr. Amado Gabriel Esteban, who earned the St. Paul's Outreach Servant Leader Award. Located 3.4 miles south via Clybourn Avenue on Chicago's LaSalle Street, this mega 19-state Midwest Region accreditor is authorized by the U.S. Department of Education to evaluate DePaul's 143 baccalaureate, 148 master's, 11 doctoral, and 40 certificate offerings. Particularly, the Driehaus College had its Association to Advance Collegiate Schools of Business (AACSB) accreditation renewed on February 18, 2016. DePaul's curriculum was also aligned to the Society for Human Resource Management (SHRM) standards in 2017.
DePaul University Application Requirements
Admission to DePaul University is classified "moderately difficult" by Peterson's because only 15,506 of the 21,613 Fall 2017 applicants were selected for competitive 72 percent acceptance. First-year Blue Demons seeking the Management BSB in Human Resources must earn a high school diploma or its equivalent. At least three years of Math and Science plus four English years are preferred. The middle 50th percentile of freshmen have 3.1 to 3.67 GPAs. Test-optional entrants had a median 3.7 GPA. Otherwise, admitted undergrads presented an average 1194 SAT and 25 ACT score. The Phi Theta Kappa Transfer Honor Roll member welcomes students with 15+ credits at minimum 2.5 GPAs. Human Resources MS and MBA entrants must fulfill suitable bachelor's prep with a "B" average or better. The Kellstadt Graduate School selects a mean 3.2 GPA and 570 GMAT score. Potential MBA students are test-exempt with five years of progressive work experience. International learners need a 7.0 IELTS, 80 TOEFL iBT, or the English Language Academy.
DePaul University set freshman deadlines of November 15th for Early Action and February 1st for Regular Notification. Driehaus College of Business transfers and MS students have until August 1st for Fall, November 1st for Winter, March 1st for Spring, or May 1st for Summer quarters. The Human Resource Management MBA has July 1st, October 1st, February 1st, and April 1st deadlines. Doctorate in Business Administration cohorts must file by August 1st. Accordingly, submit the DePaul or Common Application online for free ($60 if graduate). Send official transcripts in English to 1 East Jackson Boulevard Suite 9300 in Chicago, IL 60604. For optional testing reports, select SAT/GRE code 1165 or ACT code 1012. Additional program steps include the personal essay, one recommendation letter, mid-year school report, résumé or curriculum vitae, immunization form, and panel interview. Learn more by contacting (312) 362-8000 or [email protected].
Tuition and Financial Aid
For 2019-20, DePaul University is charging Driehaus College of Business freshmen $13,517 per term or $40,551 annually. Juniors and seniors will pay $13,867 by quarter or $41,601 by year. Part-time Management BSB study will incur $655 per unit. Living at the Chicago campus' dorms like Clifton-Fullerton Hall adds $2,635 to $5,418 each quarter. Standard meal plans for Loop Market are $1,366 extra. DePaul budgets $1,104 for books and $2,364 for miscellaneous. Annual bachelor's attendance equals about $57,678 on-site and $45,282 if commuting. The Professional in Human Resources Certificate has a $1,300 total cost. Kellstadt Graduate School of Business programs are billing $1,080 per unit. DBA cohorts will spend $14,333 per term or $43,000 yearly.
According to the NCES College Navigator, the Financial Aid Office at Schmitt Center Suite 101 gets 81 percent of full-time DePaul Blue Demons tuition assistance averaging $21,974 each for $273.68 million combined. Business funds include the Dominic Parisi Award for External Service, Dr. Curtis Crawford Leadership Scholarship, Brother Leo Ryan C.S.V. Scholarship, Kenneth McHugh Scholarship, Susanne Etheridge Cannon Scholarship, Robert & Howard Weitzman Scholarship, Michael Horne Scholarship, Kellstadt Graduate Scholarship, and John Nicholson Scholarship. The Catholic Heritage Scholarship gifts $20,000 yearly to Illinois parochial high school graduates with minimum 3.7 GPAs. The $3,000 Provost's Achievement Award goes to National Merit Scholarship finalists. Incoming Driehaus College undergrads with 15+ semester credits and 3.0 GPAs qualify for the $12,000 Transfer Scholarship. Completing FAFSA applications coded 001671 determines federal aid, including Work-Study, eligibility. The Illinois Monetary Award Program opens October 1st each year for in-state scholarships up to $4,968.
Keep exploring DePaul University at the Driehaus College of Business website.
Related Resources: