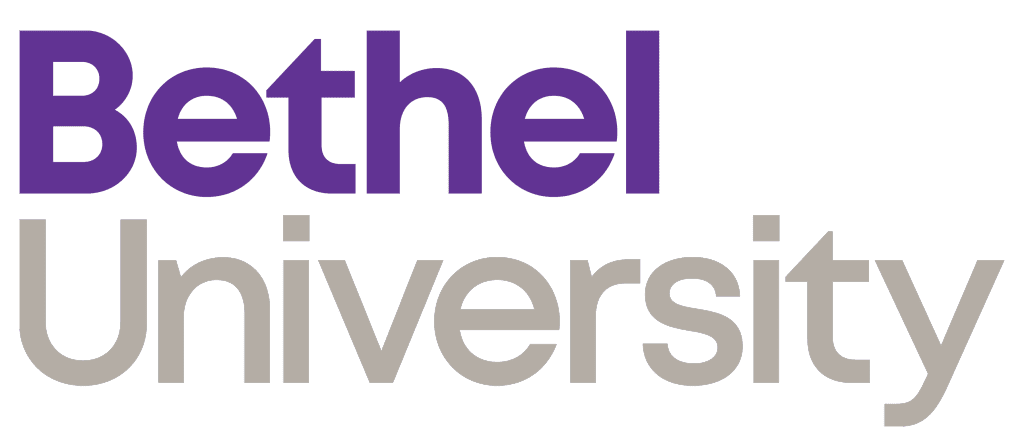 Four Bethel Pathways Into HR Management Positions
Bethel University is also featured in our ranking 50 Most Affordable Human Resource MBA Degree Programs.
Since 2008, the College of Professional Studies now led by Dr. Kimberly Martin has held SACS accreditation to grant its Organizational Leadership BS online via Canvas to Bethel University undergrads age 23 and older who pursue impactful roles helming small to large businesses. The 128-credit, lock-step plan involves taking one course, such as Human Resources, Information Systems, or Business Law, at a time for five weeks. Only high school graduates or GED holders with minimum 2.0 GPAs and three years of experience have their $30 applications okayed. Additionally, motivated adults need to verify 30+ credits of transfer credits. Undergrads could seamlessly continue from Bethel's own 60-credit Business AAS online for $362 per credit. Tennessee's 12th most diverse university on Niche reports 90 percent job placement after the Success Program that emphasizes real-world learning without tests.
At 10 Tennessee locations, the Bethel College of Arts & Sciences offers the Management & Organizational Development BS with a 14:1 undergrad-faculty ratio for an introductory overview of how business enterprises are structured for the greatest output efficiency. Directed by Prof. Alacia Mitchell, the 128-credit, ACBSP-accredited degree suits employed adults who've finished at least one collegiate year already. Each five-week session, students meet face-to-face one night weekly to discuss topics from Strategic Planning and Crisis Management to Human Behavior in Organizations. The U.S. News & World Report's 107th best Southern school bills $362 per credit with a $125 textbook fee each course. Majors might also join Rotaract Club, intern at First Tennessee Bank, earn the Hendrix Scholarship, enter the Colombia Program, attend the Dobbins Lectures, and enjoy the Bethel Olympics.
With selective 81 percent admission, the Graduate School currently has 697 Bethel University Wildcats pursuing an Accelerated MBA in three custom concentrations: Academic Practitioner, Healthcare Administration, and Human Resource Management. Overseen by Dr. James Scruton, the 36-credit, SHRM-aligned track focuses on forming robust, real-life solutions to problems facing diverse global workforces. Required seven-week online sessions, such as Statistical Analysis, Risk Management, and Total Rewards, have 24/7 tutoring help available on SmartThinking. The 12-course total of $21,420 includes technology fees, virtual orientation fees, and necessary textbooks. Breakfast and lunch are even covered for optional face-to-face McKenzie MBA seminars. After 18-23 months on Canvas, Bethel graduates report median pay of $60,400 at job partners like FedEx, Metro Nashville, LCCA, and Dollar General.
Ranked #1 by Knoxville Business Journal in 2013, the Executive MBA at Bethel University also has monthly start dates for busy managers with at least 3-5 years of experience who want advanced study in the three above areas, including Human Resource Management. Advised by Dr. William Hetrick, this 36-credit option forgoes the GMAT exam to prioritize industry work implementing organizational changes that better employee well-being. Most complete the fast-paced Canvas courses like Business Ethics, Managerial Decision-Making, and Workforce Staffing in only 21 months part-time online. For $595 per credit, Bethel post-grads enter a supportive community with premier practitioners giving writing-based assignments and no tests. Executive MBA alumni generally meet the 1,000-hour mark for the SHRM Senior Certified Professional credential in today's HR arena poised for 9 percent growth by 2026.
About Bethel University
Bethel University was established in McLemoresville, Tennessee, as the seminary for the Cumberland Presbyterian Church in 1842. The school was known as Bethel Seminary and operated under the West Tennessee Synod. The first president of the school was Reuben Burrow who also operated as the fundraiser, Board of Visitors Member, head of the Theology Department and teacher.
The Civil War was difficult for the school and, when it ended, the Bethel College as it was then known had no endowment. The Reverend Mr. B.W. McDonald spearheaded an attempt to open the school in 1865. His successful efforts led to the women being admitted for the first time. In 1872, Bethel moved to nearby McKenzie where it stands today.
Hard economic times struck again leading to the closure of nine out of ten Cumberland Presbyterian schools in 1906. Bethel College remained open and is often referred to as the Cumberland Presbyterian School. Enrollment fluctuated over the years with only 300 students enrolled during the 1990s while around 800 were enrolled in the 1960s. Enrollment began to rise again when Bethel instituted initiatives designed for today's student like the IBM Thinkpad Laptop initiative. This initiative provided each full-time student with a laptop computer. The school gained university status in 2009.
Bethel University is also known for its unusual athletic programs including bass fishing, inline roller hockey and bowling. Today's enrollment is around 7,600 students. The MBA program is ranked number one by the Knoxville Business Journal and the Nashville & Memphis Business Journal. Bethel University has been named by Forbes as one of America's Top Colleges.
Bethel University Accreditation Details
Bethel University is accredited by the Southern Association of Colleges and Schools Commission on Colleges. This indicates that the university undergoes voluntary review every few years to confirm that they are meeting their goals and objectives. The review also confirms that the university has the resources necessary to achieve their goals and that the school agrees to address any areas that need improvement during the review process. The nursing program is accredited by the Commission on Collegiate Nursing Education and the athletic training programs are accredited by the Commission on the Accreditation of Athletic Training Education. The physician assistant program is accredited by the Accreditation Review Commission on Education for the Physician Assistant.
Bethel University Application Requirements
Students who are attending college for the first time must have either a 2.25 GPA, be in the top one half of their graduating class or a score of 18 on the ACT or 860 on the SAT. Students must complete an application for admission and submit official high school transcripts as well as official ACT or SAT scores. Students who have earned college credit after high school graduation must also submit official transcripts from all colleges and universities attended.
Each graduate program has its own requirements for admission. The MBA program requires students hold a bachelor's degree or higher and students must provide official transcripts from all colleges and universities attended. There are no GMAT or GRE requirements.
Bethel University Tuition and Financial Aid
Tuition for undergraduate studies at Bethel University is $16,552 per year for full-time attendance. Part-time undergraduate tuition is $462 per credit hour. Graduate tuition varies depending on the program the student chooses to attend.
Almost every student enrolled at Bethel University receives some type of financial aid. In addition to federal financial aid, students may qualify for institutionally sponsored scholarships and grants. In order to qualify for institutional scholarships, students must have an incoming ACT score of 18 or an SAT score of 860 as well as a 2.5 GPA or higher. Some of the traditional scholarships that students may qualify for include:
Academic Theatre Scholarship
Athletic Scholarships
Bethel Honor Scholarship
Bethel Promise Scholarship
Bethel Service Scholarship
Bethel University Grant
Colegio Americano Friendship Scholarship
Community Engagement Scholarship
Contiguous County Grant
Deans Honor Scholarship
Heritage Scholarship
Presidential Honor Scholarship
Prime Scholarship
Renaissance Participation Scholarship
Trustee Honor Scholarship
Students may also qualify for grants as well as student loans. It is important for students to remember that while scholarships and grants do not need to be repaid, student loans must be repaid after graduation. Students may qualify for only one scholarship at a time as academic scholarships cannot be stacked.
In order to qualify for financial aid at Bethel University, students must complete the Free Application for Federal Student Aid (FAFSA). The FAFSA must be renewed each year in order to remain eligible for financial aid. Students must also meet academic criteria in order to maintain eligibility.
Bethel University has provided excellence in education for more than 175 years. The university focuses not only on creating graduates with skills in their chosen field of study, but also graduates who are ethical and live a life based in faith. Bethel University offers many online programs that offer adult learners the flexibility they need to achieve the skills they need to move into a new career or advance in their current career.
Related Resources: