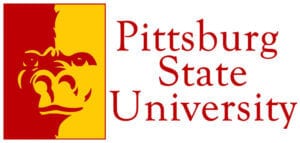 Three Online HR Programs From Pittsburg State
Pittsburg State University is also featured in our ranking of the 20 Most Affordable Online Master's in Human Resources
Since Fall 1997, the $30 million Kansas Technology Center has delivered the Bachelor of Science in Workforce Development with a Human Resources Emphasis for Pittsburg State University Gorillas called to industry careers training productive, prolific employees. Chaired by Dr. Timothy Dawsey, the 60-credit, Web-based curriculum follows a 2+2 transfer format for working associate grads to advance. Online 500-level specialization courses from Talent Management to Organizational Staffing have an 18:1 student-faculty ratio for engagement. Bachelor's alumni report 92 percent job placement at John Deere, Dyno Nobel, JB Hunt, Cessna, FedEx, and more. Many undergrads add Pitt State's intensive, eight-week SHRM-CP Certification Preparation course online for $1,200.
On Canvas, the Master of Science in Human Resource Development gives Pittsburg State University students 24/7 access to SHRM-aligned, competency-based content with upper-level strategies to improve corporate performance through people. Directed by Dr. Andrew Klenke, the 34-credit, thesis-optional sequence will uniquely fulfill DISC Communication Consultant certification with online seminars like Labor Relations and Occupational Analysis. Master's graduates have benefited from 14 percent job growth at Freeman Health, AT&T, Tamko, Westar Energy, and others. The Kelce College of Business also grants an MBA in Human Resource Development Emphasis for broad-based executive leadership training. Headed by Dr. Bienvenido Cortes, this 30-credit, AACSB-accredited major ranked 10th by The Knowledge Review offers seven-week online courses plus Beta Gamma Sigma membership.
About Pittsburg State University
Pittsburg State University originated on March 6, 1903, when Governor Willis J. Bailey signed Senate legislation to create the Auxiliary Manual Training Normal School. That Fall, Russell S. Russ welcomed an inaugural class of 54 to the new Emporia State branch. In 1913, four-year bachelor's degrees were added and independence was achieved. Initially accredited in 1915, it became the Kansas State Teachers College of Pittsburg in 1923. In 1929, the Kansas Board of Regents okayed its earliest Master of Science curriculum. By 1940, President William Aaron Brandenburg had developed its main 223-acre Crawford County campus. In 1959, it was named the Kansas State College of Pittsburg with more arts and science instruction. In 1977, the Pittsburg State University title was finally adopted and the School of Business was born.
Endowed for $79.5 million, Pittsburg State University now educates 6,907 Gorillas from 36 states and 43 nations face-to-face in Southeast Kansas or entirely online as a state-funded AASCU member with 150+ clubs like Entrepreneurial Action in Us. In Spring 2019, Pitt State collectively won 10 Gold and 23 Silver ADDY Awards from the American Academy of Advertising. In 2018, PSU accepted the University Economic Development Association's Award of Excellence. Pittsburg State University also claimed 10 MIAA Academic Excellence Awards that year. The U.S. News & World Report crowned Pitt State the 101st best Midwest college and 217th best online bachelor's provider. On Niche, PSU boasts America's 140th top public education, 154th best campus, and 187th most student life. Washington Monthly also declared Pittsburg State the 205th best master's institution.
Pittsburg State University Accreditation Details
On May 21, 2013, the Higher Learning Commission on North Central Association (HLC-NCA) Institutional Actions Council formally notified Pittsburg State University that the Level V accreditation status was successfully extended through 2022-23 under its ninth president, Dr. Steven A. Scott, who earned an NCAA Division II Presidents' Council Award. Located 598 miles northeast via Interstate 44 in Chicago, Illinois, this giant 19-state Great Plains Region accreditor is recognized by the U.S. Secretary of Education to evaluate Pitt State's three associate, 61 baccalaureate, 27 master's, one doctoral, and 24 certificate offerings. Particularly, the Gladys A. Kelce College was reaffirmed by the elite Association to Advance Collegiate Schools of Business (AACSB) on February 6, 2019. Pittsburg State is also an approved Society for Human Resource Management Education Partner for SHRM-CP/SHRM-SCP preparation.
Pittsburg State University Application Requirements
Picking Pittsburg State University is considered "minimally difficult" by Peterson's because 2,168 of the 2,486 Fall 2017 applicants were selected for 87 percent acceptance odds. First-year Gorillas must complete the Kansas precollege curriculum or the out-of-state equivalent. Non-graduates are evaluated with GED scores of 580 and higher. Freshmen must rank in the top third of their class with a minimum 2.5 GPA. Only undergrads under age 21 need at least 21 ACT or 1060 SAT scores. The Online BS in Workforce Development seeks working adults who've finished 64+ college-level credits at GPAs above 2.0. Master of Science in Human Resource Development entrants must hold an accredited four-year bachelor's in any major. The Graduate School prefers GPAs of 2.75 and greater. Cumulative averages over 3.25 qualify for the GRE/GMAT Waiver. Graduate Management Admission Test scores otherwise must reach 450. Executive MBA cohorts must verify three or more years of significant work experience.
Pittsburg State University has a priority freshman deadline of February 1st. The Department of Technology & Workforce Learning accepts bachelor's transfers until December 15th for Spring, August 1st for Fall, and May 1st for Summer. Non-U.S. residents should file by October 15th, June 1st, and April 1st respectively. The Graduate School has rolling admission with five starts each year though. Accordingly, complete the Pitt State Application online or by PDF for $30 ($60 if international). Forward official transcripts to 1701 South Broadway Street in Pittsburg, KS 66762. Electronic testing reports require ACT code 1446 or SAT/GRE code 6336. Additional checklist items include the exam waiver, personal essay, current résumé, two recommendation letters, and statement of financial support. Inquire further by contacting (620) 235-4200 or [email protected].
Tuition and Financial Aid
For 2018-19, Pittsburg State University billed flat-rate Kansas undergrad tuition of $3,649 per semester. Non-resident bachelor's majors paid $9,321 by term. The Midwest Student Exchange dropped costs to $5,072. Residing at the Pittsburg campus' dorms like Dellinger Hall added $3,889 for room and board. PSU budgeted $500 for textbooks and supplies every term. Annual traditional attendance equaled $16,076 in-state, $18,923 in the Midwest, and $27,420 out-of-state. Online BS in Workforce Development students paid $262 per credit with a $36 electronic access fee for $17,880 total. The Gladys A. Kelce College charged Online MBA tuition of $365 per credit for $10,950 overall. MS in Human Resource Development cohorts spent $382 per credit or $12,988.
According to the NCES College Navigator, the Office of Financial Assistance at Horace Mann Hall Room 103 gets 67 percent of full-time PSU Gorillas median aid of $5,014 each for $19.86 million combined. Institutional funds include the Vickers Family Scholarship, Andrew Brooks Scholarship, Art Tice Scholarship, Brian Moorman Scholarship, Delbert Donnell Scholarship, Ethel Hatton Scholarship, George Spiva Scholarship, Henry Jelochan Scholarship, Kathryn Woody Scholarship, Lenore Taylor Memorial Scholarship, Perva Hughes Scholarship, Robert Lipsey Scholarship, and Virginia Wells Schafges Scholarship. The Diversity Scholarship gifts $1,000 annually to minority freshmen meeting the 21 ACT mark. The $9,500 Presidential Award has a January 15th deadline for undergrads with Honors GPAs of 3.5 and higher. Federal resources, such as the Pell Grant and Iraq or Afghanistan Service Grant, require FAFSA applications coded 001926. The Kansas Comprehensive Grant also provides $100 to $1,500 each year for in-state residents.
Learn more about Pittsburg State University at the Department of Technology & Workforce Learning website.
Related Resource: What is Workforce Diversity?