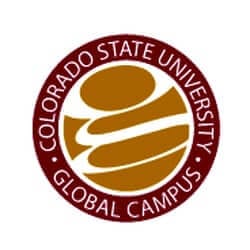 Colorado State University-Global Campus HR Degrees for Adult Learners
Colorado State University-Global Campus is also featured in our ranking of the 20 Most Affordable Online Master's in Human Resources
Adult learners have different needs than traditional students. They usually have full-time jobs to schedule around, they have often been out of school for a while and they have many demands upon their lives aside from school. CSU's Global Campus was created for those students. Additionally, adult students have often taken some college courses and they have certainly earned some "life-credits" through employment. This school gives students credit for that learning. The Human Resource Management program at CSU-Global features a bachelor's degree, a master's degree, and corresponding certificates.
Because the programs are SHRM-aligned, students in the Human Resources program get a discounted membership in SHRM, discounted study materials for SHRM certification and reimbursement of up to $300 for the SHRM Certification Exam.
The Online Bachelor of Science in Human Resource Management Is a 120-credit-hour program that allows students to transfer up to 90 total credits from Colorado community colleges. The degree contains 31 hours of general education courses in five content areas. Built into the courses are so-called "soft-skills" contained in emotional intelligence areas. Some of these skills are time management, problem-solving abilities, and diplomacy. The reason courses teach these things is that employers look for them in job applicants. CSU Global Campus guarantees that these general education courses will transfer to any university in Colorado.
In addition to the general education component, the degree contains 30 hours of core courses. These are: Applying Leadership Principles, Business Policy and Strategy, Principles of Human Resource Management, Compensation and Performance Management, Human Resource Management in a Global World, Creating a Diverse and Ethical Workforce, Labor Relations and Employment Law, Recruitment, Selection and Employee Development, Organizational Development, a Human Resource Management Capstone and a practicum.
Students have the option to take 15 credits of specialization courses and a maximum of 38 credits in electives. Additionally, graduates of the program will earn Awards of Completion and Skills Endorsement in Human Resources Services and in Strategic Human Resource Leadership.
The Online Master of Science in Human Resource Management contains 30 credit-hours. Students learn to lead diverse teams, manage performance effectively, plan and execute HR objectives and make legal and ethical decisions. Topics of study in the program are Talent Development, Human Resource Management in a Global Environment and Managing Human Capital.
The thirty core credits are contained in eleven courses such as Fundamentals of Research and Writing, Foundation of Business, Effective Organization- Theory and Practice, Managing Human Resources and Global Human Resource Leadership.
Students who do not have a 3.0 GPA may be required to take leveling courses. Those additional courses add nine credit-hours to the total required for the degree.
The degree may be specialized by taking another 12 credit-hours. The specializations are Healthcare Administration, Organizational Leadership and Change Management or Project Management.
CSU-Global Campus also offers two certificates. The Undergraduate Certification in Human Resource Management is an 18-credit-hour stand-alone program. The Graduate Certificate in Human Resource -Management contains four, three-credit courses.
Related Resource: What is Workforce Diversity?
About Colorado State University-Global Campus
This independent public not-for-profit university serves as the online campus of Colorado State University. The university offers other online programs but the programs in its "Global Campus" are targeted at adult learners, non-traditional students who for one reason or another cannot attend a traditional campus.
CSU-Global was founded in 2007 and began offering classes in 2008. The school says it is the "first statutorily-defined, non-profit, online state university in the United States." It offers 14 bachelor's programs with 25 specializations,12 master's degree programs with 21 specializations and certificates. The school offers students many resources including a virtual library, 24/7 student support services ( counselors and advisors), 24/7 tech support, disability services through the ADA act and tutoring through a partnership with Smarthinking, an online tutoring service.
The US News and World Report ranks Colorado State University-Global Campus as # 8 in Best Online Bachelor's Programs and as #73 in Best Online Graduate Business Programs-Excluding the MBA.
Colorado State University-Global Campus Accreditation Details
Higher Learning Commission
Accreditation Council for Business Schools and Programs
The Human Resource programs are aligned with SHRM.
Colorado State University-Global Campus Application Requirements
The first step to applying to the school is making an appointment with an admissions counselor. Freshmen apply online and complete the application requirements. They must order a copy of their official high school transcript and transcripts of any college work completed and send it to the university. Additionally, there is a $25 non-refundable application fee.
Graduate applicants apply online as well and complete the form which includes a statement of purpose. This is an essay that asks the candidates what plans they have to be academically successful, what their long-term plans are and why they want to study at CSU-Global. They must also pay the application fee, submit a professional resume and complete a "SmarterMeasure" Assessment.
Tuition and Financial Aid
Tuition for undergraduates at Colorado State University-Global Campus is $350 per-credit-hour or $1,050 per three-credit course. The annual tuition is $8,400. The university estimates that the cost of a degree with ninety transferred hours is $$10,500.
Tuition for graduate students is $500 per-credit-hour or $1,500 per three-credit course. The estimated cost of a graduate degree is $18,000 per standard 36-hour program.
Of course, there are also fees and expenses such as a computer and reliable Internet service plus other fees and supplies and personal expenses.
CSU-Global has many institutional scholarships that are awarded each trimester. Some of these are The Academic Excellence Scholarship, The Alumni Continuing Education Scholarship, The Boundless Opportunity-On-The-Horizon Scholarship, The Diversity Advocate Scholarship, and others. A complete list of school scholarships is found on the website. There are also numerous outside scholarships funded by private individuals, organizations and even corporations that can be located through an Internet search.
The first step in getting financial aid, though, is completing the FAFSA form. FAFSA stands for Free Application for Federal Student Aid, and it is a government program that awards grants, loans and work-study opportunities to students with financial need.
Although students do not need to be accepted to the university to apply to the FAFSA program, they do need to be accepted at CSU-Global to qualify for institutional assistance. Students who find that they do not have enough scholarship or grant money to meet their obligations at Colorado State University-Global Campus can apply for student loans as well.
Related Articles: