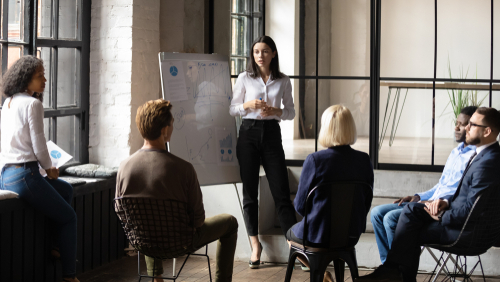 A Training and Development Specialist is a professional role within an organization responsible for improving employee skills and knowledge.  So, what does a training and development do exactly?  While the job description is robust, a specialist may:
develop custom training programs
deliver training programs
create skill development courses
produce training materials or manuals
evaluate training programs
These programs often range from a simple new employee orientation that reviews the overall company to a major business process change or health and safety precautions.
Training and development specialists work in a variety of settings including:
large corporations
financial institutions
governmental agencies
non-profits
Applicants must have at least a bachelor's degree from an accredited institution.  They should have excellent presentation and written and oral communication skills. We discuss how to become a training specialist and the benefits that come with such a position.
Educational Requirements
To become a Training and Development Specialist you must have a bachelor's degree. The educational backgrounds of specialists vary but must be in:
business
human resources
instructional design
social sciences
training and development
Some schools offer a bachelor degree in training and development with courses in areas like:
Adult Learning Theory
Organizational Development
Professional Ethics
Many organizations seek candidates with a background in computer science or information technology.  Technology continues to play a major role within the field with the popularity of virtual training and online learning modules.
Work Experience for a Training and Development Specialist
Relevant work experience is critical for training and development specialists.  Many positions require knowledge of:
teaching
training methods
instructional design
Many employers now prefer prior industry work experience to better relay the needs of the company. A combination of knowledge and industry work experience will make you an excellent candidate for the position.
Certifications and Licenses
There are a number of professional human resource associations that provide classes to help improve the skills of their members. Many of these organizations, such as the Association for Talent Development, offer certification in training and development which can offer the candidate credibility. The ATD offers two specific training and development certification options.  They include:
Associate Professional in Talent Development (APTD)
Certified Professional in Talent Development (CPTD)
Many employers give preference to applicants with a professional training and development specialist certification.
Critical Qualities of Training and Development Specialists
There are four important qualities that a candidate must have to work as a training and development specialist including:
Analytical skills
Instructional skills
Interpersonal skills
Speaking skills
Analytical Skills
A training development specialist must be able to thoroughly analyze information.  They must assess training programs, methods, materials and select those which are best for each situation. Training and development specialists must find the best training program to meet their need.  These programs may be for a:
specific software implementation
change in procedure
new hire orientation
a simple class topic or refresher course
It can be an extensive process to ensure the correct information is being provided.
Instructional Skills
In addition to analyzing training programs, training and development specialists must also deliver employee training programs using a number of teaching techniques. In many instances, they must adapt the teaching methods to meet the requirements of specific groups and situations. Therefore, a solid set of instructional skills will allow the specialist to improve the training.  Some of the most important instructional skills include:
organization
encouragement
conflict resolution
technology skills
planning and time management
Interpersonal Skills
Specialists must also boast strong interpersonal skills to collaborate with other instructors, subject-matter experts and trainees in order to effectively deliver the required information. Much of the work is accomplished through teams.
Interpersonal skills help build strong relationships with coworkers.  Strong interpersonal skills also help build trust which can make training efforts more effective.  Since a training and development specialist typically works as part of a team, these skills are essential for creating meaningful relationships.
Resource: Do You Need Strong People Skills to Work in Human Resources?
Speaking Skills
Finally, exceptional speaking and presentation skills are critical for training and development specialists to effectively conduct presentations. Information must flow and be communicated clearly to foster learning among a diverse audience. Being able to connect with the audience and their different learning styles is critical to the transfer of knowledge between instructor and participant.
How Much Do Training and Development Specialists Make?
According to the Bureau of Labor Statistics, the median pay in 2021 for a training and development specialist was $61,570/year or $29.60/year.  The job outlook is favorable, with 8% growth through 2031.  The top paying industries for training and development specialists are:
Professional, scientific, and technical services- $77,280/year
Finance and insurance- $63,460/year
Educational services; state, local, and private- $62,600/year
Healthcare and social assistance- $60,110/year
Administrative and support services- $49,210/year
Employment opportunities for training and development specialists also vary by location.  The states with the highest employment level for this role include:
Texas- 31,010
California- 30,320
New York- 22560
Florida- 22,280
Ohio- 14,970
Conclusion
To work as a training and development specialist, you need the necessary education.  You'll also need to be proficient in the four primary skills.  Certification in training and development can enhance your resume.  Like in many other fields, the competition for training and development specialist positions is high, so differentiating is the key to success.
Related Resource: