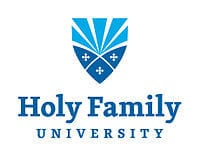 Holy Family University is also featured in our ranking 50 Most Affordable Human Resource MBA Degree Programs.
Holy Family University was initially founded in 1934 by the Sisters of the Holy Family of Nazareth for teacher preparation in partnership with the Catholic University of America. Twenty years later, Philadelphia's youngest Catholic school was independently chartered as a private, comprehensive liberal arts ACCU member. Since launching its Accelerated MBA in 2003, Holy Family has expanded beyond its 47-acre Delaware Valley campus to teach in Newtown, Bensalem, and online via Canvas. Endowed for $14 million, HFU maintains the motto "Teneor Votis" to inspire 3,081 Tigers at a 13:1 student-faculty ratio in 60+ majors like Human Resource Management. Linked to 9,928 LinkedIn alumni, Holy Family University has trained Steve Santarsiero, Jewell Williams, Gene DiGirolamo, and others.
The U.S. News & World Report ranked Holy Family the North's 146th best regional college with a median starting salary of $50,200. On Niche, HFU was America's 76th safest campus, 455th most liberal university, and 578th top college location. Money magazine declared Holy Family University the 196th best value nationally with a 57 percent graduation rate. College Factual recognized HFU for the 257th most popular human resources degree and 279th highest paid business grads. Times Higher Education featured Holy Family among the country's top 600 universities. In Washington Monthly, HFU was the 171st best buck with the 338th most Peace Corps volunteers and 346th highest research expenditures. Philly Mag also placed Holy Family University placed seventh among metro MBA programs.
Mastering HR Strategies at Holy Family University
The Holy Family University School of Business Administration offers experienced managers the Accelerated MBA with four concentrations in Finance, Health Care Administration, Human Resource Management, and Information Systems. Chaired by Dr. Barry Dickinson, the 30-credit, non-thesis HR program applies the Harvard Case Study method to enhance real-world personnel leadership skills. Working adults advance their professional development in fast, eight-week terms with evening courses in Bensalem that last from 6pm to 10pm. The 10 ACBSP-accredited courses progress through topics like Financial Decision Making, Marketing, Talent Management, and Human Resources Law to the MBA capstone project. Post-grads can also join Delta Mu Delta, engage in Business Society networking, intern at Deloitte, choose the MS in Organizational Leadership, and attend the free Annual Philadelphia HR Summit.
Another of Holy Family's options featured at the Graduate & Accelerated Open House in Newtown is the Traditional MBA for New Professionals that eliminates the 36-month work requirement. Early career graduates typically aged 21-28 build on bachelor's study to effectively manage corporations' employee needs ethically. Directed by Dr. Jan Buzydlowski, the 36-credit, non-thesis curriculum follows SHRM standards with 12 courses like Foundations of Business, Change Management, Strategic Human Resources, and Workforce Planning. Students choose face-to-face or hybrid delivery formats that supplement online study with four hours on-campus each eight-week semester. Other opportunities include adding the Certificate in Social Media, interning at Crown Holdings, researching in the Business Intelligence Center, and continuing for the Online Doctor of Business Administration (DBA).
Holy Family University Accreditation Details
In 2016, Holy Family University had its Level VI regional accreditation reaffirmed by the Middle States Association of Colleges and Schools (MSA) Commission on Higher Education (CHE) under CEO Sister Maureen McGarrity, PhD. Without public sanctions, this institutional approval ensures Federal Title-IV eligibility from the U.S. Department of Education and authorization by the Pennsylvania Department of Education. The School of Business Administration has been accredited by the Accreditation Council for Business Schools and Programs (ACBSP) for the Fast-Track MBA Human Resource Management Concentration. Graduate curricula also aligns to the Society of Human Resource Management's guidelines for SHRM-CP or SHRM-SCP certification exams.
Holy Family University Application Requirements
Earning the MBA in Human Resource Management at Holy Family University means passing the "less selective" admission process that had 68 percent acceptance in Fall 2016. The School of Business Administration requires possessing a four-year bachelor's in any major from accredited colleges. The Accelerated MBA only admits those with three or more years of full-time experience in supervisory roles, but the Traditional New Professionals MBA accepts recent grads. Holding a cumulative GPA above 2.5 in the last 60 credits is expected with no more than one course graded "C+". Although voluntary, HFU master's students achieve a mean GMAT score of 556. International students on I-20 or F-1 visas must prove English competency with minimum 213 TOEFL computer-based or 6.0 IELTS exam score.
The Graduate Studies Division established final deadlines of July 1st for Fall, October 1st for Spring, and February 1st for Summer starts, but department dates vary. Prospective MBA students can submit the Holy Family University application on paper or online via WebAdvisor. Extra materials might be emailed to gradstudy@holyfamily.edu or sent to 9801 Frankford Avenue in Philadelphia, PA 19114. Human resource management majors shouldn't omit the following:
• $25 non-refundable application fee
• Certified transcripts from every university
• One-page résumé of employer history
• Two recommendations on professional ability
• Original, double-spaced goals statement
• English tests and financial affidavit (if applicable)
Holy Family University Tuition and Financial Aid
At Holy Family, full-time graduates taking 9+ credits pay an average $13,518 for tuition and $280 for fees each year though costs vary. The Traditional MBA bills new professionals $751 per credit with a $54 co-op internship fee each semester. Earning the 36-credit degree will total $27,036. Full-time early career graduates could live at the Philadelphia campus for $4,148 single-occupancy room and board. The Accelerated MBA increases prices and rigor for $772 per credit. Experienced leaders pursuing this 30-credit degree must afford $23,160 total.
According to the NCES College Navigator, 71 percent of full-time HFU Tigers share $23.51 million in annual financial assistance that averages $16,161 apiece. Institutional funds include the Catholic Kolping Society Scholarship, Dean Anthony Akel Scholarship, Dickinson Family Business Scholarship, Jaye Grochowski Scholarship, Sister Francesca Onley Scholarship, Ulrich Family Scholarship, and UPS Foundation Scholarship. The Holy Family Grant confers $200 to $14,500 yearly to full-time students based on need. HR departments at Philadelphia-area companies like Di Bruno Bros., Sparks, GlaxoSmithKline, and PricewaterhouseCoopers have employee tuition assistance. Submitting the FAFSA via code 003275 would allow borrowing Grad PLUS and Direct Unsubsidized loans. Holy Family University also has paid part-time jobs, such as financial aid specialist and business analyst, for 20 hours weekly.