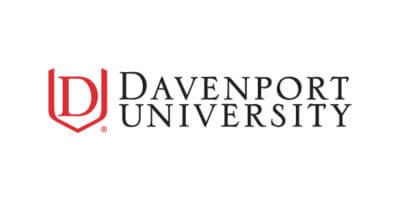 Four HR Programs Offered at Davenport
Davenport University is also featured in our ranking 50 Most Affordable Human Resource MBA Degree Programs.
At a 13:1 student-professor ratio, the Donald W. Maine College of Business led by Dr. Pamela Imperato awards a Human Resource Management BBA for Davenport University undergrads learning the best organizational behavior strategies to staff projects effectively. The 120-credit, SHRM-aligned degree can be completed wholly online on Blackboard or in Holland, Lansing, Grand Rapids, Warren, Livonia, and Traverse City. Presently priced $10,965 per semester full-time, the plan integrates topics from Microeconomics to Leadership Discovery and Dispute Resolution at Money magazine's 689th top value school. Certified Professional (CP) exam prep follows a 180-hour internship, such as Gallagher or Chevrolet, for 87 percent job placement. Majors might also take the Abroad China Program, attend the West Michigan Sustainable Business Forum, compete with DECA, and join the Society for HR Managers.
Featured among the U.S. News & World Report's 165 best Midwest colleges, Davenport University has a Master of Business Administration that sharpens managers' performance skills in five in-demand concentrations, including Human Resource Management. Chaired by Dr. Misty Davis, the 39-credit, IACBE-accredited option begins six times yearly in Grand Rapids, Midland, Traverse City, Warren, Kalamazoo, Flint, Lansing, and Holland or online. Entrants exceeding the 2.75 GPA minimum must submit a résumé, 500-word purpose statement, and recommendation from two professionals. Each 600-level MBA course, such as Finance of Compensation and Employment Law, is accelerated into seven weeks. The Graduate Scholarship gifts $2,000 off current tuition of $792 per credit. Results-oriented leadership training ends with the CAPS794 Business Integration project in five terms part-time.
Updated for $15.5 million in 2015, Davenport's Donald W. Maine College started the standalone Graduate Certificate in Human Resource Management as an IACET-accredited provider for current professionals to learn the latest high-performing workforce tactics. Advised by Dr. Mike Carey, the short-term training path requires 12-18 credits online or during evenings at Detroit, Lansing, Grand Rapids, and Warren locations. Currently, 34 percent of post-grads complete the four courses titled Managing Human Resources, Labor Relations, Benefits Administration, and Organizational Training in 12 months for $9,890 total. Besides the GRC, the Institute for Professional Excellence has a 13-week SHRM Certification Exam Prep course. Exclusively at the W.A. Lettinga Main Campus ranked 379th nationally by Niche, the five-week Essentials of Human Resources course also culminates 13 PDCs for certification.
Coordinated by Dr. Vivianne Moore, the Master of Management is Davenport University's MBA alternative that's "less about numbers" and more about applied decision-making skills to better utilize corporate resources plus people. Named America's 129th best pick on College Factual, the 33-credit, 21-month sequence offers its qualitative approach in Grand Rapids, Lansing, Livonia, or online for $2,376 per course. Rising executives benefit from 24/7 access to fast, seven-week classes like Human Capital, Sustainable Business, and Change Management. The MM Program only mandates minimum 2.7 GPAs without GMAT scores or previous business experience. Available opportunities include attending the BPA State Leadership Conference, interning at Kellogg, pursuing the AMA Analytical Skills Certificate, taking the three-day European Business & Culture trip, and joining CEO Club.
About Davenport University
Founded in 1866, Davenport University is a non-profit, private university that operates campuses across Michigan as well as online. The W.A. Lettinga Main Campus is nestled in Grand Rapids, Michigan and includes athletic programs, residence halls, and student organizations. Students can choose from post-graduate certification programs, diplomas, and master's, bachelor's and associate degrees in more than 50 areas of study, including health professions, technology, business, and graduate studies. Davenport specializes in business majors, and the most popular major is the business administration and management program with nearly 20% of enrolled undergraduate students. Other popular majors include human resources management, marketing/marketing management, business/commerce, and accounting.
A Union Army veteran by the name of Conrad Swensburg founded modern Davenport University upon his return to Michigan following the Civil War. The school opened under the name "Grand Rapids Business College" in 1866 and enrolled 16 students. Courses at that time covered topics related to various office skills such as arithmetic, business law, penmanship, and bookkeeping. After operating under numerous names and locations, the college was set to close by 1910, when Michael Davenport, a new teacher, reinvigorated the staff and eventually took leadership in an attempt to save it. In the mid- to late-1900s, the university expanded to include campus locations throughout the state.
Master of Business Administration in Human Resources From Davenport University
The Master of Business Administration (MBA) with a concentration in human resources is a 39-credit program designed for students who are either seeking employment in human resources or who are currently employed in this area. It is meant for students who are just starting out in their entrepreneurial endeavors and business careers as well as those mid- to senior-level managers seeking to further hone their professional skills. The human resources concentration provides the tools and information necessary for developing successful human resource management strategies in a complex global environment.
Students pursuing the MBA from Davenport University must complete business foundation courses before they can take the school's 600-level courses. In addition, students who have not yet earned a grade of C or better within the last eight years of undergraduate coursework in the areas of statistics, marketing, management, finance, and accounting are required to take foundational 500-level courses. Students who can show evidence of a minimum 2.75 cumulative grade point average (GPA) in a bachelor's degree in business or a related field are not required to complete the business foundation courses.
Non-business undergraduate majors may be expected to take one or more foundation courses that cover topics such as statistics for business, management and marketing, fundamentals of accounting principles and concepts, and foundations of financial management. Core courses required for the MBA from Davenport include 18 credits of studies in marketing strategies, leading organizations, corporate finance, managerial economics, quantitative business analysis, and managerial accounting.
Students must then select at least 18 credits, or six courses, in the human resources concentration. Possible classes include global business strategies, organizational development and training, public policy and administrative law, managing human resources, employment law and labor relations, and advanced problem-solving in human resource management. Students round out the degree with a three-credit business integration capstone course.
MBA students can earn their degree in five semesters with flexible course schedules, and students may also leverage credit for prior certifications or professional knowledge and shorten the time needed to complete the degree. Davenport offers classes online or in the evenings, and seven-week classes begin six times per year. The degree is ideal for students who have prior family and work obligations to meet but would still like to further their education. The human resources specialization allows students to customize the traditional MBA to best meet their educational needs and career goals.
Students who wish to take the SPHR or PHR certification exams should consider enrolling in the Certified Professional Human Resources Preparation course in order to get ready for these exams. In addition, students who wish to take the Certified Professional Manager (CM) exam should complete the Certified Manager Examination course in order to prepare.
Davenport University Accreditation Details
Davenport University is accredited by the Higher Learning Commission (HLC) North Central Association of Colleges and Schools. In addition, the International Accreditation Council for Business Education (IACBE) provides specialized accreditation for a number of Davenport's business degree programs, including the Master of Business Administration (MBA), and accounting degree programs.
IACBE accreditation is outcomes-based and mission-driving, and it involves an external, independent evaluation of the institution's business program. The IACBE evaluates the effectiveness of associate, bachelor's, master's, and doctoral business degrees by assessing a number of factors such as the outcomes of the teacher-learning process. The agency also takes into consideration all modes of delivery, including instructional sites, locations, campuses, and online, when reviewing an institution for accreditation.
Davenport University Application Requirements
All applicants pursuing a Master of Business Administration (MBA) from Davenport University must first complete an application for admittance and send the $25 nonrefundable application fee. Students are required to submit official transcripts from all previously attended institutions, a current resume, a 500-word statement of purpose in which the reason for applying to this particular program are discussed, and two signed, completed professional letters of recommendation.
Tuition and Financial Aid
The MBA with a concentration in human resources costs $755 per credit hour. Full-time students taking nine credits per semester will pay a total of $7,128 for each semester of study. Full-time students taking six credits per semester and half-time students taking three credits per hour will pay $4,752 and $2,376 for each semester, respectively. Total tuition costs do not include fees, books, and other expenses.
Davenport University awards several million dollars in foundation and institutional scholarships each year, and the school also offers state and federal grants, student loans, and student employment programs. Interested students must fill out the Free Application for Federal Student Aid (FAFSA) in order to be considered for financial aid. In addition, the school's Military and Veteran Services department provides a pathway for veterans, servicemembers, and their dependents to reach their career and educational goals. Military-affiliated students receive a 20% tuition discount, and Davenport University fully participates in the Michigan National Guard State Tuition Assistance, Federal Tuition Assistance, Yellow Ribbon, and V.A. GI Bill programs.
Related Resource: Is an HR Degree Worth It?