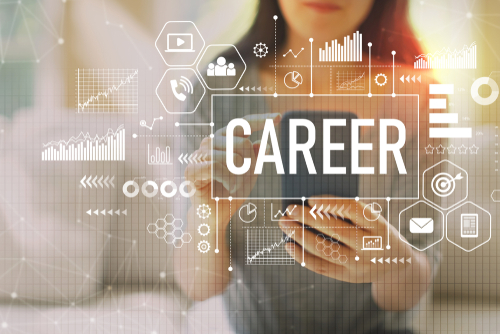 Anyone who is considering a career in human resources is likely to be wondering about the highest paying HR industries.   One of the best things about a human resources career is that it is relevant to every industry, but it's also true that some industries pay their HR staff much better than other industries do. Let's dive in and take a look at the highest paying human resources industries. We'll also explore a few other high-paying alternatives.
Related Resource: Entry Level Human Resources Jobs
Industries with the Top Paying HR Jobs
In 2021, the top-paying industry for human resource managers in the USA was "other information services", according to the Bureau of Labor Statistics (BLS). The BLS describes this sector as "Industries in the Other Information Services subsector group establishments supplying information, storing and providing access to information, searching and retrieving information, operating Web sites that use search engines to allow for searching information on the Internet, or publishing and/or broadcasting content exclusively on the Internet. The main components of the subsector are news syndicates, libraries, archives, exclusive Internet publishing and/or broadcasting, and Web Search Portals."
Human resources managers in this industry are paid an annual mean wage of $192,930/year, or a mean hourly wage of $92.76.  
While the top paying HR jobs fall into this industry, it's worthwhile to consider whether you can actually land a job in that industry. According to BLS records, there were only 2,050 HR managers working in this sector in the entire USA. While it's possible job seekers could find work in that industry, the odds may not be in your favor.
Ranking: 50 Most Affordable Small Colleges for an HR Degree
The second highest paying industry is in the scientific research and development industry.  This industry tends to pay their HR managers well, so it could definitely be worthwhile to seek employment in this sector. BLS records reveal that this is the second highest-paying industry for HR managers. In 2021, this group of HR managers earned respectable salaries. Their mean hourly wages were calculated at $89.42. Their mean annual salaries were calculated at $185,990. There were 3,330 of these professionals employed in America, a total which makes for better odds of actually finding a job in this industry — although these jobs are extremely competitive.
Other Top Paying Industries for HR Managers
The third highest-paying industry for HR managers is in the computer and peripheral equipment manufacturing industry. In 2021, HR managers in this industry earned mean annual paychecks of $184,950. 340 HR managers were employed in the industry in that year.
The fourth highest-paying industry for HR managers is in radio and television broadcasting. The 310 HR managers employed in this group enjoyed mean annual earnings of $184,610 in 2021.
The fifth highest-paying industry for HR managers is the securities, commodity contracts, and other financial investments and related activities industry. The 1,960 HR managers employed in this group enjoyed mean annual earnings of $182,380 in 2021.
These industries boast the highest paying human resources jobs.  While it's interesting to understand where do find the best paying HR jobs, it's also important to be realistic about which industries are likelier to be hiring when the time comes for you to apply for a human resource manager job.  
The Top Industry for Employment of Human Resources Managers
BLS records reveal that "management of companies and enterprises" is the top industry for employment of human resources managers. In 2021, the HR managers working in this industry earned a mean annual salary of $151,750/year. There were 25,060 HR managers employed in this industry as of 2021. This is the industry where it is likeliest for HR managers to find job openings and also earn excellent salaries.
The Highest Paid Human Resource Jobs
Now that you know the industries with high paying HR jobs, you might be interested to learn about salary information for specific HR jobs.  While salary is not the only determining factor in job satisfaction, it is important to consider when choosing which area of HR to pursue.  We highlight some of the highest paying jobs in human resources based on information from the BLS.
Compensation and Benefits Managers
Some of the highest paid HR jobs are for compensation and benefits professionals.  These specialized HR managers plan and oversee programs to pay employees.  A bachelor's degree is the entry level education required for most of these positions.  In 2021, the median pay was $127,530/year.
Human Resources Managers
HR managers lead and oversee the responsibilities of the human resources department.  Depending on the size and structure of the organization, they may be responsible for:
writing and posting job descriptions and openings
interviewing and hiring staff
administering employee benefits and compensation packages
developing workplace policies
For these jobs, you'll need at least a bachelor's degree in HRM or business administration.  The median pay is $126,230/year.  With experience and advanced education, HR managers may be able to move into the role of Human Resources Director, a member of the executive management team.  
Training and Development Managers
Training and Development Manager is one of the highest paying jobs in HR.  Training and development managers have a variety of responsibilities including:
overseeing training and development staff
creating training programs that align with the company's goals
managing a training budget
According to the BLS, the required entry level education for this role is a bachelor's degree.  In 2021, the median pay for these HR management professionals was $120,130/year.
Labor Relations Specialists
Another of the highest paying HR jobs is that of the Labor Relations Specialist.  These HR professionals analyze and administer different labor contracts.  These contracts might relate to areas like wages or pensions.  They have extensive knowledge of labor laws and labor unions.  A bachelor's degree is the entry-level education requirement for these roles.  The median pay for this HR professional role is $77,010/year.
Related Resource: Is an HR Degree Worth It?