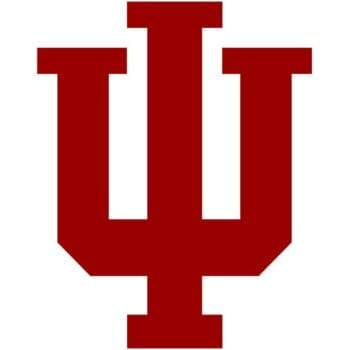 Indiana University HR Degree Programs Available
Indiana University is also featured in our ranking of the Top 10 Ph.D. Programs in Human Resources.
The Bachelor of Science in Business with a Human Resource Management concentration is designed for those who wish to gain a foundational understanding of Human Resources. The curriculum includes information on modern human services presented in an introductory manner. Students gain an understanding of employment, management development, wage and salary administration as well as organizational planning and contract negotiations. There is also information on developments in behavioral science and how they may impact human resources programs. The program requires 120 total credit hours that include 42 credits of general education along with 48 credits in business and economics. In addition, students must complete the following concentration courses in their junior and senior year:
Effective Negotiations
Personnel-Human Resource Management
Wage and Salary Administration – Compensation and Benefits
Wage and Salary Administration – Selection and Development
Students must also choose between Business and Society or Organizations and Organizational Change as an elective. In order to complete the program, an internship or a field project must be completed as well. The degree is only offered on campus at either the Indiana University South Bend or Indiana University-Purdue University Indianapolis campuses.
The Human Resources Management Post-Baccalaureate Certificate is designed for those who have earned a bachelor's degree in any field. Students gain a deeper understanding of how organizations develop additional skills in working with the human capital in an organization. The program provides an understanding of how HR skills impact the direction of a company and how to help individuals, groups, and organizations succeed. Students must complete the following for the certificate:
Developing Employee Skills
Human Resource Selection
Personnel – Human Resources Management
Personnel Research and Measurement
Principles of Management
Wage and Salary Administration
This program is available both online and at the IUPUI campus.
The Human Resource Development Graduate Certificate is designed for those who desire a strong foundation in Human Resource Development. The program combines up-to-date theory with realistic applied practices. The program can be completed both full- and part-time. The certificate is only offered in a traditional format on the Indiana University – Purdue University Indianapolis campus. Courses required include:
Foundations of Human Resource Development
Leadership and Organizational Change
Managerial Training and Development
An elective approved by an advisor is also required.
HR professionals called to research will be interested in the Ph.D. in Organizational Behavior and Human Resource Management (OBHRM) offered through the Kelly School of Business.
About Indiana University
Indiana University began in 1820 by an act of the legislature which established a seminary, the first institute of higher learning west of the Allegheny Mountains. Initially, there were ten men enrolled when the school opened in 1824. By 1828, the school had grown to the point the name was changed to Indiana College and gained university status ten years later. Indiana University was one of the first to admit women when it became co-educational in 1867.
Not only is the school a leader in research, but it is also known for its unique course offerings. It was the first to offer a course on comic books that was accredited. Research has led to discoveries that improve everyday lives, like the formula for Crest toothpaste, as well as those that have saved lives, such as a treatment for testicular cancer, discovered by an oncologist at the University, Lawrence Einhorn. His discovery improved survival rates from 5 to 95 percent.
Today, there are more than 94,000 students enrolled at Indiana University and 27 percent of those are first-generation college students. U.S. News & World Report ranks the university in the top 20 for undergraduate teaching. Reuters ranked the school in the top 30 on a list of the most innovative universities in the world.
Indiana University Accreditation Details
Indian University is accredited by the Higher Learning Commission which demonstrates that the school meets or exceeds criteria that the accrediting agency has determined indicate excellence in education. The school undergoes periodic review to confirm that they continue to meet the Commission's requirements and work to address any areas that are identified as needing improvement during the review process. In addition, programs throughout the school are accredited by various industry-specific organizations. The engineering department is accredited by ABET and the business department is accredited by AACSB International.
Indiana University Admissions Requirements
Admission to the Kelley School of Business is competitive and based on several factors. One of the primary factors is GPA. High school students must have a GPA of 3.2 or higher as well as an SAT score of 1170 or an ACT score of 24.
In order to apply for the Human Resource Development Graduate Certificate, students must have completed a bachelor's degree or higher from an accredited technology, engineering or related programs with an undergraduate GPA of 2.75 or higher. An admissions application, a statement of purpose, evidence of an undergraduate degree along with one letter of recommendation must also be submitted.
The undergraduate certificate requires formal admission by the IUPUI Office of Admissions but they do not need to be a student in Engineering and Technology. Transcripts must indicate a grade of "C" or higher in all courses.
Indiana University Tuition and Financial Aid
Indiana University works to keep tuition as low as possible. In fact, Washington Monthly, Kiplinger's Personal Finance, and Fiske Guide to Colleges list the University as an excellent value.
Full-time undergraduate tuition is $10,680 for residents and $35,456 for non-residents. Indiana uses flat-rate tuition that allows students to take between 12 and 18 credit hours per semester at the flat rate. Full-time graduate tuition is $9,794 for residents and $30,608 for non-residents.
Financial aid is available. In an effort to protect graduates from significant debt after graduation, Indiana University offers the MoneySmarts program. This financial literacy program has allowed students to reduce their borrowing by 17 percent. In addition, students may be eligible for grants, scholarships or work-study programs. All students should complete the Free Application for Federal Student Aid. It is required for those who will need assistance with tuition, but even those who feel their income level is too high may qualify for some assistance.
Indiana University has been providing an outstanding education for almost 200 years. Programs at Indiana University are available in both traditional, online or a hybrid of both formats that allow non-traditional students to complete their higher education goals.
Related Resources: