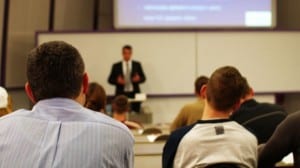 For students who are enrolled in a Masters in Business Administration program with a concentration in Human Resources, the curriculum of the HR MBA courses is made up of two parts. All students pursuing this graduate degree take a number of core courses. To satisfy the requirements for a concentration in HR, participants also complete a number of HR MBA courses in this subject area.
Featured Top-ranked HR MBA Programs
[contentblock id=1]
The MBA program with a concentration in Human Resources is an excellent choice for people working in this field who want to improve their skill set and market themselves for a lucrative or more senior HR MBA job. The program is designed to help the MBA graduate appreciate the various parts of a company and how they work together to keep it running. The specialized HR MBA courses focus on issues directly relating to the people working for the organization.
Core MBA Courses
The exact core courses that a HR MBA student would take vary, depending on the university, but may include titles similar to the following:
Competitive Strategy
Corporate Finance
Decision Models and Uncertainty
Ethics and Responsibility
Financial Accounting
Foundations of Teamwork and Leadership
Fundamentals of Managerial Accounting
Global Strategic Management
Introduction to Financial Management
Macroeconomics and the Global Economic Environment
Management Communication
Management of People at Work
Managerial Economics
Managerial Statistics
Marketing Management: Program Design
Marketing Management: Strategy
Operations Management: Quality and Productivity
Operations Management: Supply Chain Management
Organizational Change
Power and Influence
Statistical Analysis for Management
The Governmental and Legal Environment of Business
Completing these courses gives students a base of knowledge in general business which they can draw on in a number of work settings. They focus on how businesses are run and help students develop a number of transferable skills, including communication and leadership abilities.
HR MBA Courses
Depending on the school, students taking Human Resource Masters Classes will be required to take certain required courses. The student would then choose the balance of his or her courses from a list of options. The HR MBA courses offered would be similar to the ones listed below:
Bargaining, Negotiating, and Dispute Settlement for Managers
Building Human Assets in Entrepreneurial Ventures
Business Strategy
Compensation: Theory and Administration
Corporate Governance, Executive Compensation and the Board
Executive Leadership
Foundations of Teamwork and Leadership
Governance and Management of Chinese Firms
Innovation, Change, & Entrepreneurship
Labor and Employee Relations
Leading Effective Teams
Management of People at Work
Managing Organizational Change
Negotiations
Personnel Staffing and Evaluation
Strategic Management of Human Assets
The HR MBA student can choose courses which will prepare him or her for the responsibilities which come with holding a senior management position in the Human Resources department of an organization.
Benefits of HR MBA Courses
The combination of core MBA courses and electives focusing on HR topics give graduates from this program the skills they need to take on the challenges of helping to run a modern business. The HR MBA courses focus on the skills required to manage the most unpredictable component of an organization – its people.
Featured Top-ranked Master's in HR Programs
[contentblock id=2]
Related Resources: