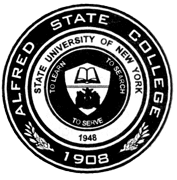 HR Degrees Offered at SUNY College of Technology at Alfred
SUNY College of Technology at Alfred is also featured in our ranking of the 30 Most Affordable Online Bachelor's in Human Resource Management.
SUNY College of Technology at Alfred offers an Associate of Science (AS) in Business Administration and a Bachelor of Business Administration (BBA). Both programs include courses on business technology, administration, and management. Students who want to work in the business industry or transfer to a four-year program should choose the AS track. It includes some classes that will transfer to another university.
The college recommends that students take Algebra 2 and Geometry before enrolling in the AS program. They take four semesters of classes and must complete 62 semester hours to graduate. Students should also maintain a grade point average of 2.0 or higher. Some of the courses they take include Introduction to Personal Financial Planning, Fundamentals of Management, Principles of Microeconomics, Business Communication and Principles of Marketing. The college lets them transfer into the business administration, sports management, financial planning, and other business programs later.
Students in the BBA program must take 122 semester hours of classes with at least 30 credits coming from the upper-division business courses offered by the college. Business majors typically take four to five classes in each fall and spring semesters and one to two classes in the winter and summer terms to complete their degrees in three years. Students can take four to five classes during two terms each year to graduate in four years. Their course load includes business administration and general education courses. Some of the business classes include Principles of Macroeconomics, Management Communications, Principles of Leadership, Organizational Behavior and Legal Environment of Business. They also take some business electives.
About SUNY College of Technology at Alfred
The Alfred State College of Technology is a public college also known as SUNY College of Technology at Alfred and Alfred State. It adopted the SUNY name because it belongs to the State University of New York (SUNY) System. Established in 1908, it grew out of the Alfred Select School that also spawned Alfred University. Known as an equal opportunity school, it accepted students from all backgrounds and areas. The state moved the New York School of Agriculture to the university's campus. This campus would become the New York State Agricultural and Technical College at Alfred in the early 1940s and become a junior college. As enrollment grew at the junior college, the state decided to separate the two campuses. The junior college reopened across the street from the university in 1948.
Though Alfred State served as a junior college for many years, it is now a senior college that offers both two-year and four-year degree programs. Many of the students in the two-year programs transfer to a bachelor program at the college or another SUNY campus. Students can choose from more than 70 fields of study that are available from three colleges, including the School of Arts and Sciences and the School of Architecture, Management and Engineering. The programs available from the School of Applied Technology feature classes on a separate campus in Wellsville. Alfred State and Alfred University co-host Hot Dog Day every year in April to raise money for local organizations.
SUNY College of Technology at Alfred Accreditation Details
Alfred State has the accreditation that students need when they want to transfer credits to and from the college and seek financial aid through the Free Application for Federal Student Aid (FAFSA). That accreditation comes from the Middle States Commission on Higher Education (MSCHE). The college uses a review board to make sure that it meets the standards for MSCHE accreditation. The HR and business programs have accreditation as do the college's nursing programs. It comes from the International Assembly for Collegiate Business Education (IACBE).
SUNY College of Technology at Alfred Application Requirements
To apply to Alfred State, incoming students need to use the Common Application or the SUNY Application, which also allows them to apply to other SUNY schools. They will need to locate the code for the HR program that appeals to them and enter it in the application along with the Alfred State code of 91 to apply directly to the college. There is a supplemental application that they need to use when applying through the Common Application too. After finishing the application, students need to write a short essay and send it to the Admissions Office.
Admissions counselors working for Alfred State look over each application. They make a decision and notify the college, which then sends letters or emails to accepted students. The rolling admissions policy allows students to apply whenever they want without sticking to a set deadline. Students need a GED or high school diploma and an average of 76 in their high school grades. Those applying for any of the college's scholarships must also provide a standardized test score. If the student spent time outside of high school before applying to the college, Alfred State asks for a short essay that explains what they did during that time.
Tuition and Financial Aid
At Alfred State, all New York residents qualify for an in-state tuition rate of $295 per credit hour. They pay fees of $1,782 each year and tuition of $7,070. Though the college charges the same tuition for students in an online program, those students also pay $497 in fees. Students who are not from New York pay the same fees in an online or traditional program. They pay $11,040 each year for tuition in an associate degree program and $16,980 per year for a bachelor's degree program. Nonresidents also pay $295 per credit hour in an online associate program and $353 per credit hour in an online bachelor program. Alfred State also offers room and board packages for students that cost an average of $13,060 each year.
The only way Alfred State students can get financial aid is through the FAFSA. They must submit this form and use their tax records or their parents' tax records to fill it out. The college offers financial aid based on the merit of each student and the need they show on the form. This helps them get loans, grants, scholarships, and work-study. Some of their aid requires repayment later, but other aid does not. The SUNY College of Technology at Alfred offers financial aid packages for students in both the associate and bachelor HR degree programs.