Top Benefits for Employees
Retirement Plans
Medical Insurance
Paid Time Off
Flexible Schedules
Education Assistance
In addition to wages and salaries, a common method of compensating employees is to offer them various employee benefits. By researching the types of benefits that competitors offer and conducting employee surveys with their own employees, human resource professionals are able to determine which benefits would satisfy their staff members the most. There are many different types of benefits that employers can offer to their staff, but five of the most popular benefits are described below.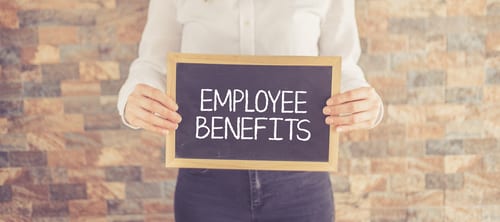 Related Resource: 30 Most Affordable Online Bachelor's in Human Resource Management
1. Retirement Plans
Some of the most common benefits offered by employers today are retirement plans. The 401k plan is probably the most popular retirement plan offered by employers. Under this plan, employees contribute a portion of their wages or salary to their individual 401k accounts. Defined benefit and defined contribution plans are also some of the most common employer-sponsored retirement plans. In the defined benefit plan, employees are promised a certain amount of money upon retirement. Under the defined contribution plan, the employee and the employer contribute funds over time to the employee's retirement account.
2. Medical Insurance
Another employee benefit that is extremely popular today is medical insurance. With healthcare costs increasing at a rapid pace, most employees would likely agree that medical insurance is a necessary benefit. Since implementation of the Affordable Care Act, employers that have 50 or more employees working full time are required to provide health insurance. While smaller businesses are not required to provide medical insurance, offering this benefit can help decrease turnover and increase employee satisfaction.
3. Paid Time Off
Offering paid time off is another very popular benefit for today's employees. Paid time off can help to decrease job stress and burnout. Employers that choose to provide this benefit typically offer paid time off for such events as holidays, sick leave, vacations, and maternity leave. But these are just a few examples. Some employers also maintain paid time off accounts for each employee with a specific amount of funds for the year. As employees use up these funds, they are deducted and are not renewed until the following year.
4. Flexible Schedules
Today's workforce consists of extremely busy persons who are often juggling such responsibilities as work, family, school, and elder care. To help employees in this area, employers often offer what is known as flexible scheduling. Flexible schedules can come in many forms including those listed below. It is important to note however, that these are just some of the more common types of flexible schedules offered today: There are several other types as well.
Telecommuting – Employees work from home or remotely.
Job Sharing – Two persons share the same job.
Flex Time – Employees are allowed to come in late or leave early as long as they are in the workplace for the required eight hours total.
Compressed Work Weeks – Employees work four days rather than five but work 10 hours each day rather than eight.
5. Education Assistance
Yet another employee benefit that is increasing in popularity is education assistance. There are basically two types of education assistance that employers may choose to offer: assistance in obtaining education and assistance in paying off existing student loans. Employers who choose to offer this benefit to employees typically require that the employee's education is relevant to their current jobs. Another common requirement is that the employee must have worked with the company for a certain amount of time before qualifying for assistance.
Offering various benefits to employees is a common method of compensation and can help to decrease turnover by increasing employee satisfaction. There are many popular employee benefits offered by employers today, and the five benefits described above are some of the most common.