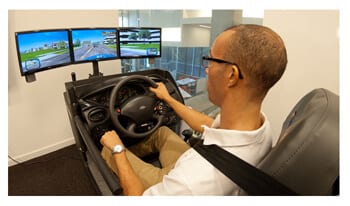 If you're considering earning a human factors degree, it's important to be well-informed about the program's field of interest to ensure you're making a good career move.
Human factors is a specialized branch of psychology that is focused on applying psychological principles to building work environments that boost employee productivity while curbing occupational safety hazards. Human factors psychologists also use their expertise to explore ways people interact with products to develop product designs that improve usability, enhance performance, and prevent errors. Thanks to the growing need for human factors psychologists to play this important role in various industries, human factors degrees are also becoming more popular. In this article, we'll explore what human factors programs look like and who should pursue them.
Types of Human Factors Degrees
Dozens of graduate schools across the United States now offer master's and doctoral degree programs with a concentration in human factors. In most cases, these programs will lead to Master of Science (M.S.), Master of Arts (M.A.), Master of Engineering (M.E.), Master of Applied Science (M.A.S.), or Doctor of Philosophy (Ph.D.) degrees. It's also becoming increasingly popular for larger universities to offer bachelor's programs related to human factors, applied psychology, and engineering psychology. All of these degrees share the common goal of building the essential psychological background and technical skills for improving overall system performance and optimizing human well-being. High-quality human factors degrees will be distinguishable by their accreditation through Human Factors and Ergonomics Society (HFES).
Typical Human Factors Curriculum
Human factors degrees at the undergraduate level may blend ergonomics coursework with general education requirements, but graduate programs typically focus exclusively on increasing understanding of human factors psychology. Human factors majors can expect to take coursework related to engineering, product design, human-computer interaction, human anatomy, ergonomics, human psychology, graphic design, biomechanics, cognition, virtual reality, statistics, organizational psychology, and occupational safety. Accredited programs will also include a thesis paper or capstone project to provide hands-on experience in conducting research that studies the functional relationships between humans and machines.
Careers Available with a Human Factors Degree
Qualified professionals can find human factors jobs in virtually every industry because there is a need to understand what human traits will impact the design of products and the effectiveness of a workplace environment. Many human factors psychologists find employment in academia at university campuses to teach students and publish their own research. Another large group work within government agencies, including the USDOT, NSA, FHWA, FAA, NASA, and U.S. Army. Graduates with human factors degrees also can enter the private sector to take on roles in the research, design, and design validation of different industries. Many human factors graduates enter successful professions in aerospace engineering, automotive manufacturing, computer science, construction, healthcare, mining, security, and telecommunications.
Overall, human factors degrees are focused on training students with the capacity to design, conduct, and apply research on human system interfaces to a variety of professional settings. Within the program, you'll learn which efforts are needed to improve the operability, usability, comfort, safety, and maintainability of certain products to reduce the potential for harmful injury. After earning an accredited human factors degree, you will have the specialized knowledge necessary for conducting scientific research relevant to our everyday lives
Related Infographic: Is Your Job Killing You?
Related Articles:
Top 10 PhD in HR Degree Programs
Top 10 PhD Human Resources Online Programs