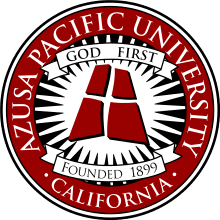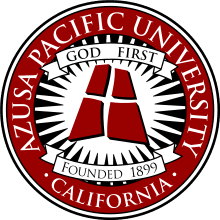 HR Programs at Azusa Pacific University
Azusa Pacific University is also featured in our ranking of the 20 Best Master's in Human Resources (Campus-based).
The top program at Azusa Pacific University for students with an interest in human resources is its Master of Arts in Management, which has a concentration in human resources. This program uses the standards established by the Society for Human Resource Management (SHRM) and has a curriculum that allows students to study all those standards. Courses in this program include Foundations of Human Resource Development, Applied Research and Analysis and Current Issues in Business and Management.
Through the School of Business and Management at Azusa Pacific University, students can also earn a Master of Business Management (MBM). They will take 10 courses to complete the school's business core. Managing Teams and Conflict, Global Business Management, Managing Human Capital and Organizational Development and Change are some of the core classes in the program. Students who choose the human resource management concentration must also take three classes: Human Resource Law, Labor Law and Negotiation for Human Resource Professionals, and Designing and Managing Compensation and Benefit Systems. The university offers other concentrations for MBM students, including sports management, marketing, and organizational development and change.
Also offered is a Master of Business Administration (MBA). In the MBA program, students take 30 credits of core classes and then 12 credits from a concentration area. Those concentrations include entrepreneurship, finance, international business, marketing, organizational science, and sports management. Each concentration requires that students take a capstone and that they do some final project based around a topic within that concentration. Though the Azusa Pacific University MBA program does not focus solely on HR, it gives students a better understanding of accounting, finance, marketing and other areas of business.
About Azusa Pacific University
Established in 1899, Azusa Pacific University is a private university in California. Called the Training School for Christian Workers, the university was originally a small school and did not begin offering degree programs until 1938 when it became Pacific Bible College. Until the late 1950s, the college offered religious degree programs and programs with an emphasis on religion. Its curriculum changed when it became Azusa College and when it merged with other schools such as Los Angeles Pacific College and Arlington College. Those mergers led to the college becoming Azusa Pacific University in 1981. The university also uses the abbreviation APU. Though APU once had affiliations with the Quakers and the Methodist Church, its Methodist affiliation later ended. It still uses some Quaker beliefs in its curriculum today, though it accepts students from all religious denominations.
Both Forbes and U.S. News and World Report both consider APU one of the best colleges in America. The university is home to several libraries that hold special artifacts. One of those libraries offered a showing of religious artifacts in 2010, including original King James Bibles and parts of the Dead Sea Scrolls. A large number of its students come from Christian backgrounds and use their faith and beliefs as they take classes from the university. Though more than 5,000 undergrads attend APU, it also has an enrollment of more than 4,700 graduate and post-graduate students who earn their graduate and doctoral degrees from the university.
Azusa Pacific University Accreditation Details
APU has regional accreditation, which means that students can transfer credits out of and into a university program without any problems. This is also the accreditation that allows students to seek out financial aid. It comes from the Western Association of Schools and Colleges (WASC). The HR and other business and management programs offered by the university have accreditation from the International Assembly for Collegiate Business Education (IACBE).
Azusa Pacific University Application Requirements
The main requirements for admission to a business program at APU include a grade point average of 2.5 or higher and a bachelor's degree from a program with regional accreditation. APU will not accept any student with a GPA below this number. Those with a GPA of above 3.0 who meet all other requirements receive full acceptance, while those with a lower GPA receive conditional acceptance. With conditional acceptance, students must receive grades of "B" or higher in the first 12 credits they take and maintain a GPA of at least 3.0. Those with a lower GPA also need to meet at least one other requirement, including:
A score of 300 or higher on the GRE
Teaching experience
A minimum of 12 credits of graduate work
Future MBM students can submit their applications before the beginning of any of the program's six sessions each year. They need to show the university that they have a commitment to the program and that they will succeed in graduate school. The application requires students to write a personal essay of up to two pages, which they will use to describe their past experiences and how those experiences will help them in the program. APU also asks that students write about the goals they have. All graduate business programs also require a resume, $45 application fee, and official transcripts.
Tuition and Financial Aid
The School of Business and Management at APU charges graduate students $640 per credit hour. Most HR programs offer courses that are worth three credits, though some courses are worth between four and six credits. Students do not need to pay any other fees though, nor do they need to pay extra for room and board. Those who take classes from other departments and schools within the university will find that the tuition rate varies across those departments. They may pay more than $700 per credit hour to take some classes.
All graduate students are independent students when it comes to the FAFSA. No matter how old they are, they can use their tax returns from the last year to apply for financial aid through this form. The FAFSA allows grad students to apply for federal loans. They will need to sign a promissory note to show that they will pay off their loans. Students also need to complete the counseling offered by the university, which goes over their payment options and everything else they need to know. There are also alternative loans and some grants for graduate students today. Azusa Pacific University financial aid packages help students seeking HR degrees reduce their out of pocket costs.
Related Resources:
Top 25 Online Masters in HR No GRE or GMAT Required