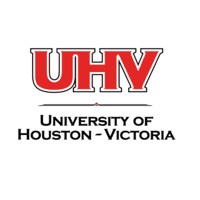 HR Degrees Offered at University of Houston-Victoria
University of Houston-Victoria is also featured in our ranking of the 25 Best Return On Investment Degrees in Human Resource Management (Bachelor's).
The School of Business at the University of Houston-Victoria offers a Bachelor of Business Administration in General Business with a concentration in Human Resources Management. The program is intended for those interested in assisting other professionals in their careers. It involves specialized courses in staffing, training and development, employee relations, and compensation. A minimum of 120 credit hours is needed for completion of the degree. Students must take university core courses, business core courses, and human resources management concentration courses. The HR courses include Human Resources Management, Compensation, Staffing, and Human Capital Development. Graduates of the BBA degree in human resources management possess knowledge about a variety of HR functions to help organizations achieve their strategic goals. The business core courses can be taken on-campus or online, and the HR concentration is available completely online.
About the University of Houston-Victoria
The University of Houston-Victoria (UHV) is a public institution of higher learning located in Victoria, Texas. It was founded in 1973 as an off-campus center of the University of Houston. In 1983, the university was granted permanent degree-granting status in Texas. The institution was renamed the University of Houston-Victoria and became the fourth university of the University of Houston System. During its early years, UHV offered upper-division courses. It officially admitted underclassman and offered lower-division classes in 2009. In 2010, the first residence hall opened. Today, the University of Houston-Victoria is home to more than 4,300 students from 19 states and 38 countries. It operates on the semester-based academic calendar.
The University of Houston-Victoria provides high-quality education at affordable tuition rates. Its mission is to serve Texas and the world. It is committed to providing all students with academic and leadership opportunities to become successful professionals and engaged global members of an international society. It offers innovative educational activities that challenge students to establish meaningful connections between their education and their lives in a dynamic world. The University of Houston-Victoria encourages economic development and progresses quality of life through instruction, research, and service excellence. The core values include academic distinction accessible to a diverse community, constant enhancement and openness to emerging issues, freedom of investigation and expression of truth in a culture of shared respect, collaboration, and teamwork, and the highest standards of integrity, accountability, and ethics. The standing goals of UHV are teaching and learning, research, scholarly activities and outside funding of grants, community involvement and partnerships, management of enrollment and student services, financial and administrative support services, advancement and development of the university, planning, assessment, and accountability, and growth and expansion of programs.
The University of Houston-Victoria offers 70 bachelor's and master's degrees in the arts and sciences, education, business administration, human development, and health professions fields. The programs are offered through four schools of education: University College, School of Arts and Sciences, School of Business Administration, and School of Education, Health Professions, and Human Development. The student to faculty ratio is 16 to one.
The University of Houston-Victoria Accreditation Details
The Southern Association of Colleges and Schools Commission on Colleges regionally accredits the University of Houston-Victoria is grant bachelor's and master's degrees as well as certificates. The School of Business at the University of Houston-Victoria is accredited by the Association to Advance Collegiate Schools of Business International.
The University of Houston-Victoria Application Requirements
The University of Houston-Victoria is deemed a selective institution of higher learning, with a 53 percent rate of acceptance every year. The following materials are needed to apply:
Undergraduate
Application for Admission through ApplyTexas
Official high school transcript
Official transcripts from previously attended postsecondary institutions
Official SAT or ACT scores
Graduate
Graduate Application
Official transcripts from previously attended postsecondary institutions
Official graduate-level standardized tests, like the MAT, GRE, and GMAT
Personal essay
Recommendation letters from a practicing professional in the area of study or related area
Tuition and Financial Aid
Tuition
Undergraduate
Resident students: $203.98 per credit hour
Nonresident students: $625.98 per credit hour
Graduate
Resident students: $352.12 per credit hour
Nonresident students: $774.12 per credit hour
Financial Aid
Scholarships
UHV Presidential Scholarship
Achieve Your Dreams Endowed Scholarship
1st Victoria National Bank Scholarship
Cullen Leadership Scholarship
DuPont Scholarship
Friends of the University Scholarship Endowment
Johnson Foundation Scholarships
Margin of Excellence General Scholarship
Students Come First Endowed Scholarship
UHV Transfer Scholarship
UHV 10th Anniversary Scholarship
Grants
Federal Pell Grant
Federal Supplemental Educational Opportunity Grant (FSEOG)
Federal Teacher Education Assistance for College and Higher Education Grant (TEACH)
Federal Iraq and Afghanistan Service Grant
Toward Excellence, Access, and Success Grant (TEXAS Grant)
Texas Public Education Grant (TPEG)
Loans
Federal Subsidized Direct Loan
Federal Unsubsidized Direct Loan
Federal PLUS Loan
Federal Graduate PLUS Loan
Federal Perkins Loan
Federal Work-Study
The Federal Work-Study is a federally financed program that enables eligible students to work part-time to earn money to help pay for the costs of higher education. Students must demonstrate a significant financial need to qualify for the program. Undergraduate and graduate students may work up to 20 hours a week while they are taking classes. The program encourages students to seek positions that are related to their course of study or those that benefit the community. The pay depends on each student's situation, but students make at least the current federal minimum wage.
Degrees in human resources provide students with the essential knowledge and skills to help human resources departments function effectively and meet their strategic objectives. Various entities house human resource departments, including small businesses, large corporations, health care facilities, schools, and legal agencies. HR degrees offered by the University of Houston-Victoria open the door to a variety of job options, including compensation and benefits analysts, employee assistance plan managers, labor relations managers, wage and salary analysts, recruiting managers, payroll specialists, human resources directors, human resources information systems analysts, and training and development coordinators.