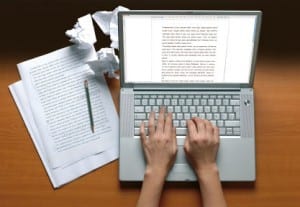 Formulating a well written HR MBA Essay is a crucial part of the application process for a Master's of Business/Master's of Science in Human Resources (MBA/MSHR) Program.
Students interested in a MBA/MSHR degree gain a broad understanding of the business industry with the specialized training necessary to manage operations and employee/employer relations. Admittance into MBA/MSHR programs is a challenging process designed to allow admissions teams to review and select the best candidates and students to display and promote their personal best.
Featured Top-ranked HR MBA Programs
[contentblock id=1]
Applicants who distinguish their skills and experiences by meeting application deadlines, submitting flawless resumes (or Curriculum Vitae), performing their personal best on and submitting GMAT and other tests, gaining experiences through work, volunteer, or internship programs, meeting transcript submission deadlines, and completing an original HR MBA essay often increase their odds of acceptance within increasingly competitive programs. Often an application with a well written HR MBA essay can compensate for low GPA or HR MBA GMAT scores and is a great way to gain an advantage over other candidates.
Applying To MBA/MSHR Programs
The application process to gain admittance into MBA/MSHR programs is similar to the standard MBA application process. Most MBA application processes vary from program to program but generally feature several of the same aspects including: the application form, a resume or curriculum vitae, GMAT scores, transcript submission, an interview, financial aid and scholarship information, and the essay or personal statement. The HR MBA essay is one of the most important steps in the MBA/MSHR application process as it allows students to display their personal, academic, and professional accomplishments through strategic planning and precise presentation.
HR MBA Essay Topics
The advantages of presenting a well written HR MBA essay, through the display of skills, personal attributes, and experiences, often maximize chances of admittance. Students who strategically develop and precisely address their response to the HR MBA essay questions and submit their personal best after careful proofreading and refining often impact admissions teams. Most admission teams seek naturally compelling essays based on common (and increasingly uncommon) essay questions including:
– What matters most to you and why?
– What are your career aspirations and how can this program assist you in meeting them?
– What are your 3 most substantial accomplishments and why do you feel them as such?
– What have you learned from a mistake?
Several MBA program admission teams have added new components to essay questions to push prospective students past traditional, "comfort zone" subjects and evoke originality and skill in their response.
Steps to Writing A Great HR MBA Essay
The first step in writing an application essay involves brainstorming ideas. Carefully weigh the essay question and carefully weigh all possible responses. Create an outline to ensure a well organized thought process is presented. When writing the body of the essay, adequately respond to the question with precision and remaining within word count limits. Proofread the first and subsequently many drafts to guarantee it is error free and grammatically correct. Pass the essay on to peers, professors, and family members whose constructive criticism can help craft the best final draft. Finally, rewrite, revise, and rework the HR MBA essay until the final draft represents the standard of excellence which represents individuality and skill.
Things to Avoid in a MBA/MSHR Essay
Frequently prospective students attempt to respond to essay questions in a manner they assume admission's staff prefer but neglect their own individuality in the process. This often decreases the chances of acceptance and avoiding this, and other, common missteps will increase chances of admittance. Admission teams disregard HR MBA essays which include common mistakes, errors, and lack originality so be certain the final draft of the essay is repetition free, direct, simple, concise, and impressive. Be sure to avoid redundancy, reverberating content from college websites, and keep the perspective focused on the present by not overemphasizing past experiences or future ambitions. Be certain to spend a considerable amount of time writing and revising multiple drafts of the HR MBA essay before submission to present your personal best.
Who Reads the HR MBA Essay?
Admissions teams are responsible for selecting a well rounded class from a diverse group of students with wide ranging backgrounds, experiences, and educational training. Admissions teams receive and review all MBA/MSHR application information and then select students based upon the program's selection criteria. Most admission's teams seek to increase diversity within classes to improve the educational experience. Generally admission's teams select 60%-65% of students from the most popular finance and consulting disciplines and then select students from other backgrounds like investment banking, management consulting, non profit, and technical backgrounds.
Resources for Writing an HR MBA Essay
Prospective MBA/MSHR students have a number of resources available to them designed to assist in the application essay process. Educational journals, books, directories, and websites offer students a wealth of information and tips on how to write and submit an HR MBA essay which displays the student's personal standard of excellence. Many sample HR MBA essays are available through online organizations which allow prospective students to review and better understand the responses admission's teams seek. Students may also refer to a prospective school's website to gain a considerable amount of helpful information. Additionally, some students who struggle with essay writing may hire professional essay writers though most programs discourage applicants who do so. The best resources for writing the application essay are within the student and also his or her peers and professors.
Admission into MBA/MSHR programs is a challenging processes and requires potential students to display their best. Promoting personal, academic, and professional achievements through careful planning, precision, and a steadfast approach ensures that students adequately meet the application guidelines, including the HR MBA Essay, and increases the chances of admittance.
Related Articles:
Master's In Human Resources home page