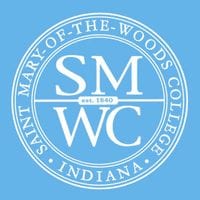 HR Degrees at Saint Mary of the Woods College
Saint Mary of the Woods College is also featured in our ranking of the 30 Most Affordable Online Bachelor's in Human Resource Management.
At Saint Mary of the Woods College, students can choose from HR and related degree programs designed for undergrads. The main program available for them is a Bachelor of Science (BS) in Human Resource Management. Students can take 18 credits to finish a minor in HR management or 48 credits to fulfill the major requirements. Those credits include business courses such as Principles of Management, Business Law, Business Finance, Organizational Behavior, Contemporary Issues in Human Resource Management, Legal Issues in Human Resource Management and Human Resource Management I and II.
A BS in Business Administration is available that looks at HR management and other aspects of business. Through the college's transfer program, students can transfer credits that are up to 10 years old into the program. They also have the option of completing assessments to earn credits based on their business experiences and skills. Business administration majors need to take 51 credits of courses that include the 27 credits in the business core. That core features Principles of Marketing, Principles of Management and Managerial Communications.
Another option is a BS in Healthcare Administration, which includes the business core and a separate healthcare administration core along with electives and general education requirements. This program focuses on healthcare facilities operate in the business world, including how those facilities can maximize profits while keeping patients happy and the best methods for hiring new workers. Some of the courses in the healthcare administration core include Medical Terminology, Healthcare Administration Information Systems, Introduction to Human Services, Healthcare Economics and Strategic Management in Healthcare Administration. Students can earn up to six credits through healthcare administration internships too.
The college also offers a Master of Healthcare Administration that prepares students for working as leaders in the healthcare field. Also called the college's MHA program, it features a curriculum that students can complete in 12 months. They take two classes during each eight-week term and can spend up to 24 months working on their degrees. The MHA program features 36 credits of classes that include Healthcare Human Resource Management, Healthcare Quality, Healthcare Marketing, Long Term Care Management, Financial Management, and Vision and Strategic Planning. At the end of the program, students take a Healthcare Capstone and do a final paper or project too.
About Saint Mary of the Woods College
Saint Mary of the Woods College is a private college located in the Indiana city of the same name. Often called SMWC, it was established in 1840 by Saint Mother Theodore Guerin as a girls' college and operated by the Sisters of Providence from France. Guerin later became canonized as a saint in part because of her dedication to the education of women. During the 1970s, the college added a new program that allowed women to earn their degrees through the mail. This distance education system paved the way for the college's online campus. SMWC changed its admissions policy in 2015 to admit men and is now completely coeducational. The college still has an affiliation with the Roman Catholic Church today through the Sisters of Providence of Saint Mary of the Woods and enrolls many Catholic students every year.
Saint Mary of the Woods College Accreditation Details
With regional accreditation, Saint Mary of the Woods College can grant financial aid packages to students once it receives a copy of the Free Application for Federal Student Aid (FAFSA) from them. This accreditation comes from the Higher Learning Commission (HLC) today and was previously awarded by the North Central Association of Colleges and Schools (NCACS). SMWC also has accreditation for its education, music and nursing degree programs.
Saint Mary of the Woods College Application Requirements
SMWC accepts more than 70 percent of the undergraduate applications received each year. Undergrads will start with the SMWC application, which is free to use. It asks for basic information about the applicant such as where he or she went to high school and what the student plans to study. The minimum requirements for undergrads include high school transcripts and an ACT or SAT score. The college allows students to submit GED scores or transcripts if they did not finish high school. SWMC also requires that incoming undergrads complete the FAFSA to make sure that they get financial aid.
The college's MHA program will only accept graduate students with a GPA of 3.0 or higher in all their undergraduate and graduate courses as well as a completed bachelor's degree. Incoming students will use the SMWC application and submit college or university transcripts through the mail. The college asks for an essay of at least one page but no more than two pages that explains what the student wants to do with an MHA. Prospective students also need to provide a current resume and two letters of recommendation. SMWC only accepts letters submitted through the online system.
Tuition and Financial Aid
Through the SMWC Tuition Guarantee Program, undergrads attending the college pay the same tuition rate in the four years that it takes to complete an online or traditional degree program. This program started in 2020 and is open to all incoming undergrads. Students pay $29,950 each year for full-time enrollment or $496 per credit hour if they take classes part-time. This second rate is what students pay if they take more than 18 hours of classes in a semester. On-campus students pay an average of $11,240 every year for their room and board packages and fees that vary based on their credit hours. In the MHA program, graduate students pay a flat rate of $565 per credit hour and a $125 fee when they graduate.
With the FAFSA, SMWC students can qualify for all types of financial aid without completing multiple applications. The government aid that goes to undergrads includes subsidized loans that help them avoid interest fees, grants and work-study, which is a program that lets them work a maximum of 10 hours a week for the college. They may qualify for some of the grants available from the state government or for the scholarships offered by SMWC. Graduate students can qualify for on-campus jobs and unsubsidized loans too. Students enrolling in an HR management degree program at Saint Mary of the Woods College receive notice of their financial aid packages before the semester starts.