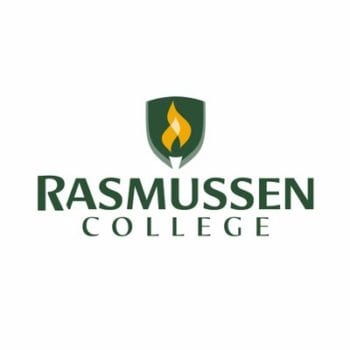 Rasmussen College Human Resources Degrees
Rasmussen College is also featured in our ranking of the 30 Most Affordable Online Bachelor's in Human Resource Management.
Rasmussen College provides robust degree programs at the associate's, bachelor's and master's degree levels. Each of these degrees is earned online.
The Associate's Degree in Human Resources and Organizational Leadership provides students with the basic skills and concepts that they need to obtain an entry-level position in the field. Students who finish the program are eligible to take the Certified Associate in Project Management or the Project Management Professional certification exams. In addition to becoming familiar with the fundamentals of human resources, students develop critical thinking, management and communication skills through courses such as Introduction to Human Resource Management and Introduction to Organizational Leadership. This program may be completed in as few as 18 months.
With the Bachelor's Degree in Human Resources and Organizational Leadership, students are prepared to sit for the Society of Human Resource Managers Certified Professional certification exam as well as the Associate Professional in Human Resources and the Professional in Human Resources certification tests. Through classes such as Strategic Human Resource Management, Compensation Administration and Law and Ethics, students become adept at all facets of positions within the industry. Requiring the completion of 24 courses and 90 credits, it may be possible to complete this program in as few as 18 months if the student takes advantage of the Flex Choice program to leverage prior academic efforts and work experience.
Rasmussen also offers a fully online Master of Human Resources Management program. Designed for the working professional, this flexible option is designed to help students advance their careers by improving their ability to make decisions based on data, increasing their emotional intelligence and honing their organizational leadership. Individuals who complete this degree are qualified to sit for the Senior Professional Human Resources certification. Twelve courses, each one lasting for 11 weeks, are required to earn the degree. Students may be able to complete the courses within 18 months.
About Rasmussen College
Founded in 1900 by Walter Rasmussen in Stillwater, Minnesota, the institution was originally known as the Rasmussen Practical School of Business. Rasmussen believed that there was a shortage of qualified candidates for open positions at local businesses, and his new school was designed to address this need.
The campus flourished, seeing a large increase in female enrollees in the 1920s and tremendous diversification of the curriculum through the 1950s. Rasmussen College began acquiring other higher-learning institutions and opening additional campuses in the 1970s and 1980s.
When the technology became reliable, Rasmussen was one of the first colleges to open an online campus. Since 2002, the school has pioneered online learning, allowing students across the country and around the world to take part in its courses. More than 100,000 people have graduated from Rasmussen's programs.
Today, Rasmussen College has several campus locations in Florida, Illinois, Kansas, Minnesota, North Dakota, and Wisconsin but most students earn their degrees without ever stepping a foot inside a traditional classroom. Rasmussen offers in excess of 70 programs in seven schools. These are: Business, Design, Education, Health Sciences, Justice Studies, Nursing, and Technology.
Rasmussen College Accreditation Details
Minnesota's regional accreditor, the Higher Learning Commission, first accredited Rasmussen College in 2001. That accreditation was reviewed and renewed in 2009.
At this time, Rasmussen College has elected not to seek specific accreditation for its Human Resources and Organizational Leadership degree programs.
Rasmussen College Application Requirements
Degree programs at Rasmussen at the undergraduate level have few entrance requirements. Typically, a high school diploma or GED is a sufficient credential. A copy of a high school transcript may be asked for in some cases.
First-time college students are encouraged to contact an admissions advisor before beginning the online application. The application itself is short and straightforward, and no application fee is necessary. Students are then asked to complete an entrance placement exam to determine the level of classes that they will be taking after enrollment. For certain programs, placement exams may not be required. The admissions advisor will let the student know whether or not these tests are needed.
The advisor then forwards the necessary enrollment documents for completion and will complete a background check if one is required for the chosen program. All students are then automatically enrolled in an online orientation that will introduce them to Rasmussen College and the online learning environment.
Transfer students are given credit for coursework that they have already completed and they will work with an admissions advisor throughout the application process. They fill out an online application, take placement exams if they are required and complete the necessary enrollment documents. Working with their advisor to transfer their credits also is part of the process.
Students who are applying for a master's degree program must hold a bachelor's degree from an accredited institution. A GPA of no less than 3.0 in the undergraduate program is required. GRE test scores are not needed.
Tuition and Financial Aid
Students at the undergraduate level pay approximately $229 per credit hour. Military students receive a discount, making the price per credit hour just $167. At the master's degree level, students pay $360 per credit hour.
All students who apply for admission to Rasmussen College are encouraged to fill out the Free Application for Federal Student Aid, or FAFSA. This helps to determine the student's eligibility for loans and other financial aid. Loans may be obtained through the federal government or via a private banking institution. Funds received must be paid back.
Rasmussen College makes several grants available to students. The Fast Track Grant enables students to receive a discount on tuition if they are enrolled in 16 or more credits. A military grant makes it possible for qualified students to attend college at a reduced rate. Any students who are employed by a corporate partner of Rasmussen College may be eligible for a corporate grant. Other possibilities include the Federal Supplemental Educational Opportunity Grant and the Federal Pell Grant Program.
Students further are welcome to apply for Rasmussen's Change of Life Scholarship or scholarships offered by other businesses and organizations.
Today's human resources professionals require cutting-edge skills and in-depth knowledge of all ethical and legal considerations in order to excel. The human resources degree programs at Rasmussen College provide essential preparation for success.
Related Resources:
Entry Level Human Resources Jobs