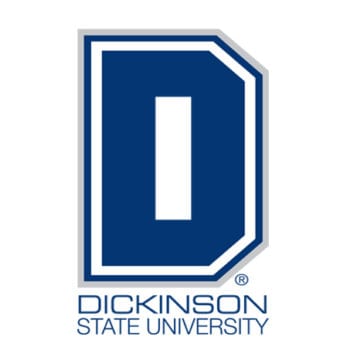 Human Resource Management at Dickinson State University
Dickinson State University is also featured in our ranking of the 30 Most Affordable Online Bachelor's in Human Resource Management.
Students who enroll at Dickinson State University will have three options for studying human resource management. The university offers a Bachelor of Business Administration with a major in Human Resource Management, a Bachelor of Science in Human Resource Management, and a Human Resource Management Certificate. Degrees are available in a variety of formats, and students can enroll in online study or attend classes in Bismarck.
Applicants who choose the BBA in Human Resource Management will enroll in several general education classes, pre-major courses, business core courses, and human resource management classes, as well as electives. Students must maintain a cumulative GPA of 2.25 or higher to graduate. Some of the business core classes include Management and Leadership, International Business, Managerial Finance, and Business Policy.
For human resource management major core courses, students will take Labor Relations, Human Resource Management, Staffing and Workforce Diversity, and Compensation Management. The total credit hours required to graduate is 120. Within the program, students will get to choose 12 credit hours from classes ranked level 200 and higher.
Enrollees who choose the Bachelor of Science in Human Resource Management will also take classes in areas like business and human resources. Similar to the BBA degree, students must achieve an average GPA of at least 2.25 to graduate with the degree.
Learning outcomes include being able to apply knowledge and demonstrate an understanding of topics like accounting, finance, and management, as well as being able to understand concepts like labor relations, occupational safety, and equal opportunity laws. Electives students can take include Fraud Examination, Business Valuation, and Intermediate Accounting.
The final option for students who want to study human resources at Dickinson State University is the Human Resource Management Certificate. The program requires that students complete a total of 16 credits, and those classes may be taken in Bismarck or online. To enroll in the certificate program, students must already have a bachelor's degree and have already taken at leat one class in accounting.
Classes required in the program include Management and Leadership, Organizational Behavior, and Human Resource Development. Students will also take Business Ethics and Critical Thinking and participate in an independent study or undergraduate research project that should take anywhere from one to six credits to complete.
Related Resource: What is Workforce Diversity?
About Dickinson State University
Dickinson State University is located in Dickinson, North Dakota and has operated since 1918. The school is part of the North Dakota University System and was originally designed as a teacher's college with the name of Dickinson State Normal School. The school would gain university status in 1987. The school's motto is "Small Community. Big Opportunity." Its campus covers 110 acres in Dickinson
The athletic nickname for sports at Dickinson State University is the Blue Hawks, and the school's official mascot is Buster Blue Hawk. Students participate in the North Star Athletic Association. Students can pursue bachelor's degrees in more than 75 different fields of study within 10 academic divisions. There are also pre-professional programs available, as well as two-year degree programs. Its specialties include business management, nursing, and teacher education.
Dickinson State University Accreditation Details
Dickinson State University is regionally accredited by the Higher Learning Commission., which is a private company recognized by the U.S. Department of Education for its approvals of institutions of higher learning throughout the Midwest. Attending an accredited institution is important for securing financial aid and transferring to or from other colleges. Students can visit the official university website to read official documents relating to accreditation, like the DSU HLC Self-Study Report 2015.
In addition to institutional accreditation, some programs are also accredited by various agencies. Organizations that have accredited programs at Dickinson State University include the Accreditation Commission for Education in Nursing, the National Council for the Accreditation of Teacher Education, and the Council for the Accreditation of Educator Preparation. Additional accreditations come from the National Association of Schools of Music and the International Accreditation Council for Business Education.
Dickinson State University Application Requirements
Students who apply to Dickinson State University can avoid paying the application fee if they submit their application between November 15 and December 15. To apply, students will create an online account with the university, which will allow them to complete the official application. Also required by the university are a copy of the student's immunization records, official high school transcripts, and the College Preparatory Course Report Form.
Students who are required to pay the application fee will pay $35 during the application process. Students who have attended some college will also need to submit their college transcripts. ACT or SAT scores are required for students who have completed fewer than 24 college-level credits. Students who are above the age of 25 don't need to submit standardized test scores.
Tuition and Financial Aid
Dickinson State University has several tuition rates that are based on a student's residency. Applicants who enroll and are considered North Dakota residents will pay $303.40 per credit hour. Enrolling in at least 13 credit hours means a total tuition cost of $3,891.63. Residents of nearby states like Minnesota and Montana receive a reduced rate of $333.50 to $366.11 per credit hour, and non-residents pay $4288.82 per credit hour.
Graduate study is $336.26 per credit hour, and distance education classes or online enrollment is $303.40 per credit hour. International students will pay $491.52 per credit hour. There are some mandatory/institutional fees that students must pay, and some students will also pay for a room & meal plan. Housing ranges between $1,515.00 per semester to $1,724.00 per semester. Meal plans range from $1,986.00 to $2,119.00 per semester.
Students will fill out the Free Application Federal Student Aid (FAFSA) to qualify for financial aid packages, and applicants may call the Office of Financial Aid for assistance filling out that online form. Students will receive electronic communication regarding their financial aid award and will need to go online to accept or deny the award.
Financial aid may be awarded as loans, scholarships, or grants, and some students may need to submit additional materials to qualify for federal student loans. Some of the scholarships that students may apply for through Dickinson State University to help with tuition costs include the Bakken U Scholarship, the DSU Heritage Foundation Scholarship, and various athletic scholarships.