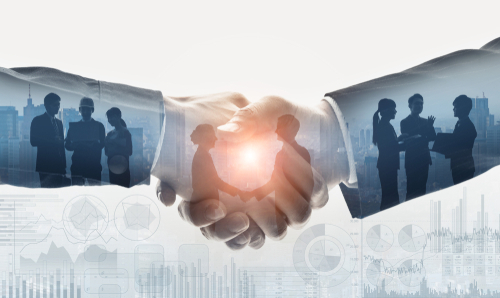 HR certification programs California can be easy to find, but are they top quality SHRM aligned human resources programs? Are you looking to attend graduate school and further your education to advance in the field of human resources? California has top graduate programs in human resources!
Due to a combination of having the highest population of all the states in our nation and an excellent geographical situation, California occupies several metaphorical "cat bird" seats. It has universal attraction to all ethnic and cultural factions as a fine place to call home. Surprisingly, so many folks from vastly divergent backgrounds interacting and co-existing in constant close proximity have actually proven to be a good thing for California. The primary beneficial by-product is an exceptionally tolerant and liberal social environment. Endemic exposure to diverse opinions and cultures also has its advantages. An old adage posits that, "When two great thinkers get together, they always give birth to a third brain."
New ideas, themes, and concepts continuously emerge within California's borders. In fact, most new trends in the country begin in California. Education is certainly no exception to this rule. For instance, the famous "California Idea" began as a statewide model designed to maximize higher education access and quality evolved into a statewide statutory mandate called the "1960 California Master Plan for Higher Education." Since then, it has become a nationwide benchmark.
Like its politico-geographic counterpart, the Society for Human Resource Management (SHRM) is known for its progressive posture and aggressive advocacy of the profession's interests. One of SHRM's best tools to advance that agenda is a set of guidelines designed to gauge relative quality of HR education. This indicates some of the best master's in human resources California. Degree programs deemed in full compliance are nominated as "SHRM aligned." SHRM's standards are so high and exacting that an ultra-elite echelon of just over 100 human resources programs have managed to make the grade. Cal SHRM master's degrees can be hard to find. Are you interested in a human resources degree California? Read on to find out more about some of the best masters in human resources California.
Related Resource: What is Workforce Diversity?
National University – LaJolla, CA (NULC)
School of Business and Management, Department of Leadership and Human Resource Management
Master of Arts in Human Resource Management (MHRM)
National University has one of the best human resources programs for masters human resources California. Providing students with relevant knowledge and critical skills essential to effective HR management professionals is this program's stated primary purpose. Its learning objectives include:
• Completing job analyses of specific positions for the purposes of personnel selection, recruitment, performance assessment, compensation, and training
• Planning recruitment strategies and designing personnel selection processes that pertain to interviews, recruiting, and selection in harmony with specific organizational goals
• Conducting needs assessments and designing training programs for existing personnel on specific subjects based on organization-specific goals
• Contextual employee benefits assessment sensitive to organizational structure and personnel population demographics to devise compensation schemes based on skills, education, and merit
• Evaluate and develop methodologies for employer risk management and labor dispute resolutions
• Development of proposals and plans of action based on organization-specific issues, changes, and/or challenges
• Recognizing, analyzing, and effectively addressing legal, safety, and ethical workplace issues
• Applying acquired knowledge to improve personal level of professional performance and career development
This master's degree curriculum consists of 54 quarter credits distributed across 12 courses
Accreditations
Contact
Baum, Associate Professor
Scripps Ranch
9980 Carroll Canyon Rd
San Diego, CA 92131
Phone: (619) 563-7287
E-mail: [email protected]
Website
Azusa Pacific University – Azusa, CA (APU)
School of Business and Management, Master of Arts Program
Master of Arts in Management, Concentration in Human Resource Management
Azusa Pacific University has one of the best human resources masters California and a top notch APU human resources department. Like all graduate master's degree offerings at APU's School of Business and Management, this program has a 39-credit curriculum. Nine of those comprise concentration-specific classes that feature the famous Oxford tutorial model of one-on-one independent study.
In the interest of providing full access to academic advancement, APU subdivides its academic year into a series of nine-week terms. Students may opt for concentrated, full-time studies for program completion in 12 months, extended studies for program completion in 18 to 30 months, or even fewer credits per semester.
Accreditations
WASC
 The School of Business and Management holds accreditation by the International Assembly for Collegiate Business Education (IACBE) and candidacy for Association to Advance Collegiate Schools of Business (AACSB) accreditation.
Contact
Graduate Center
Azusa Pacific University
PO Box 7000
Azusa, CA 91702-7000
Phone: (800) 825-5278 or (626) 815-4570
Fax (626) 815-4571
E-mail: [email protected]
Website
Argosy University – San Diego, CA (AUSD)
College of Business, Master of Science in Management Program
Master of Science in Human Resource Management (MSHRM)
Are you interested in talent management? Argosy University has one of the best human resources masters programs California. Argosy's master's degree program is accessible in both on-campus and online formats. Whatever its delivery method, all AUSD graduate HRM education features 30-credit curricula comprised of 12 credits in generalized management coursework and 18 credits of specialty-related coursework. Targeted learning outcomes are:
• Evaluate practices of any HR sub segment in context of financial and human impacts on organization
• Proper application of prevailing standards and best business practices in HR decision making and policy formulation
• Providing accurate advice and counsel to key organization members pertaining to fundamental labor law and application of assimilated concepts to internal HR policy implementation and adherence
• Situational-specific revision and implementation of personnel compensation, benefits, and incentive schemes per workplace environmental characteristics and dynamics
• Creating, initiating, and maintaining personnel communications protocol per explicit organizational objectives incited by external crises with direct impact
• Contextual evaluation of existing level of skill and potential for future development in individual employees and recommending changes to maximize overall personnel productivity
• Analyzing systemic plans for talent management and/or succession to maximize efficiency
• Demonstrating the value of HR to non-HR organizations and decision makers
• Employing effective managerial methodologies and templates to diverse personnel pools
Accreditations
Contact
Argosy University
333 City Boulevard West
Suite 1810
Orange, CA 92868
Phone: 1.800.377.0617
Website
UMass Global –Irvine, CA
School of Business and Professional Studies
UMass Global, formerly Brandman University, has one of the top human resources programs. U.S. News & World Reports ranks UMass Global among its Best Online Graduate Business Education Programs and Best Online Graduate Education Programs listings. Each of the master's degrees below is available online.
Master of Science in Human Resources (MSHRM)
This program has a curriculum with a trifurcated structure that includes 36 credits. Within its first phase are 24 credits of coursework in core subjects. Its second segment consists of nine credits in elective subjects, while the final stage of study encompasses a single 3-credit Capstone course. Targeted MSHRM program learning outcomes include:
• Critical Thinking: Evaluating the impact of labor laws on organizations and their personnel
• Diversity: Demonstrating the effect of multiculturalism on organizations and society
• Theory: Designing integrated systemic HR models for workforce training, compensation, benefits, training, and planning
• Application: Designing and evaluating HR policies, practices, and strategies in alignment with organizational objectives
• Methods: Skills development in research interpretation and utilization
• Legal and Ethical: Integration of legal and ethical issues into decision-making processes
Master of Business Administration with an Emphasis in Human Resources Program
This business administration program has a curriculum with a unique bifurcated structure that consists of 24 to 36 credits, depending on course waiver eligibility. The first phase of the business administration master's degree includes 24 to 36 credits of core subjects, followed by a second phase that includes 12 credits of coursework in Human Resources Management subjects. The stated desired program learning outcomes are as follows:
• Business Functions and Processes: Analyzing and evaluating business processes and functions with a view toward effective application to HR operations and policies
• Strategic Planning: Evaluating and formulating meaningful domestic and global commercial strategies that directly pertain to HR processes and settings
• Ethics and Sustainability: Integrating ethical principles as well as organizational sustainability and social responsibilities into the decision making process
• Leadership: Identifying, evaluating, communicating, and executing effective managerial policies and functions within organizational environments of personnel diversity
• Innovation: Researching, designing, and applying theoretical creativity to devise and implement HR solutions
Accreditations
Contact
UMass Global (formerly Brandman University)
7460 Mission Valley Road
San Diego, CA, 92108
Phone: 800-746-0082
Website
Golden Gate University – San Francisco, CA (GGUSF)
Ageno School of Business, Human Resources Department
Master of Science in Human Resource Management (MSHRM)
GGUSF has one of the top California masters programs. This central California SHRM aligned program's curriculum is comprised of 33 credit hours of graduate-level coursework. Three of those credits come from a mandatory completion of a Program Foundation course. Students may apply for waiver of the Program Foundation course requirement, however, by presenting proof of prior completion of comparable coursework in another program. SHRM aligned goals of this master's degree program include:
• Forming strategic alliances between separate organizational components
• Providing accurate, competent advice in HR-nuclear areas by efficient dissemination to all concerned key organizational members and recommendations for adjustments and preventive measures
• Developing, implementing, monitoring, and competently assessing HR policies, procedures, and processes
• Application of and adherence to all applicable statutory and regulatory labor provisions to HRM policy and procedure administration
• Being a source of leadership and catalyst of positive change in organizations
• Managing multi-functional HR operations such as cultural, ethnicity, and globalization campaigns in an efficient and expert manner
MSHRM program completion currently takes 2 to 4 years or longer, depending on whether study is full-time, part-time, or entirely self-paced. Currently, however, program administrators are in the latter process of constructing a One-Year Accelerated Cohort Program to allow program completion in just 12 months.
Accreditations
Contact
Golden Gate University
536 Mission Street
San Francisco, CA 94105-2968
Phone: (800)-GGU-4YOU or (415)-442-7800
E-mail: [email protected]
Website
Related Articles: