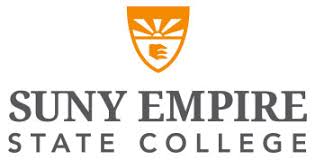 SUNY Empire State College Human Resources Degrees
SUNY Empire State College is also featured in our ranking 50 Most Affordable Human Resource MBA Degree Programs.
The Bachelor of Arts in Business with a Human Resource concentration at SUNY Empire State College helps individuals develop an understanding of how to put the right people in the right places throughout an organization. Instruction includes information on HR policies, procedures, and practices as they need to be matched to an organization's strategy. Students gain an understanding of recruitment, staffing, training, planning and development, as well as reward systems, both direct and indirect, workplace safety, employee and labor relations. They gain the ability to interact with people at all levels of the organization, building strong integrity, discretion, and discernment.
Human resources is an ever-changing field and the issues that face the industry are complex. There are legal, economic and political issues at many different levels that can impact how a company must manage HR strategies. Students are provided with a broad framework of relevant laws, including equal opportunity, income security, safety, health, and labor-management. Courses cover such subjects as:
Accounting
Economics
Finance
Globalization
Information Systems
Law
Managerial Psychology
Management
Marketing
Operations
Organizational Behavior
Political Science
Psychology
Quantitative Analysis
Sociology
Statistics
Workplace Diversity
The Master of Business Administration in Business Management is available completely online and is designed for those who wish to move into leadership roles in HR. Students develop strong critical thinking skills as well as cross-cultural competence and sensitivity that they can apply to various levels of human resources. The program is 36-credit hours and can be completed in 20 months if attending full-time or 27 months if attending part-time. Students should have a background in financial accounting, principles of economics and applied business statistics before entering the program. Courses required include:
Corporate Communication and Marketing Strategy
Financial Management
High Performance Management
Leadership and Organizational Behavior
Management Information Systems
Managerial Economics
Operations Management
Strategic Perspectives of Global Management
The program is aligned with the Society of Human Resource Management HR Curriculum Guidebook and Templates.
About SUNY Empire State College
SUNY Empire State College was established by the SUNY Board of Trustees in 1971 with a focus on non-traditional teaching. The school was created based on a document written by Ernest Boyer entitled "Prospectus for a New University College." Boyer imagined a school that was dedicated to adult, student-centered education. The school would allow students to define their needs, purposes, and efforts while the college would provide flexibility and support.
For more than 40 years, the school has committed to valuing the education gained from life and work experience, awarding college credit for those experiences to help adults achieve their higher education goals. Tuition is kept affordable and students are able to tailor their degree to meet their own needs.
SUNY Empire State College has been ranked the most popular for general business and commerce, public administration, social service and physical science programs by College Factual. It has been ranked among the top schools for college safety as well as one of the best college locations in the country by Niche.
SUNY Empire State College Accreditation Details
SUNY Empire State College is accredited by the Middle States Commission on Higher Education. The commission is a voluntary, non-governmental association that confirms that the educational quality of SUNY Empire State and other institutes of higher learning meet accountability, self-appraisal, improvement and innovation criteria as determined by the agency. The Commission uses a peer review process and rigorous application of standards to confirm that students are receiving the highest level of education. In addition, programs throughout the school are accredited by:
Commission on Collegiate Nursing Education
International Accreditation Council for Business Education
Teacher Education Accreditation Council
SUNY Empire State College Application Requirements
Applicants to undergraduate degrees at SUNY Empire State College must provide proof of high school graduation through official high school transcripts. They must complete an application and submit an application essay. Applicants who have earned college credit after high school must also submit official transcripts from all colleges and universities attended.
Applicants to the graduate programs at SUNY Empire State College must complete an application and submit official transcripts from all colleges and universities attended. An essay, current resume, and two recommendations are also required. Official GRE or MAT scores must also be submitted unless the applicant holds a graduate degree. Those that hold an advanced degree may request a waiver for the graduate admission examination requirement.
SUNY Empire State College is also committed to the idea that students should be rewarded for experience that can lead to college-level learning. Credit may be granted for verifiable learning in several ways. Students may use CLEP, DANTES, UExcel and TECEP Examinations to earn credit based on experience. Students who believe they have the work and life experience necessary for college credit should discuss their qualifications with an admissions counselor.
SUNY Empire State College Tuition and Financial Aid
Tuition for undergraduate programs at SUNY Empire State College is $286 per credit hour for New York residents and $343 for out-of-state and online students. Tuition for the MBA program is $619 per credit hour for New York residents and $743 for non-residents and online students.
Financial aid is available and all students are asked to complete the Free Application for Federal Student Aid (FAFSA), regardless of income. Some financial aid awarded is based on merit rather than need. Students may be eligible for scholarships and grants to help cover the cost of attendance. On-campus students may be offered work-study programs while graduate students may be offered fellowships or assistantships. Federal and private loans may also be offered as part of the financial aid packet.
The mission of SUNY Empire State College is to motivate adult learners and provide them with access to flexible, high-quality and innovative programs designed to empower them while also strengthening communities. The school builds on diversity, using life and work experiences in order to help them achieve their higher education goals. SUNY Empire State College has a vision to be the leading public college, not only in New York State but nationally and globally, distinguished by an outstanding faculty, student success and personalized learning opportunities.
Related Articles: