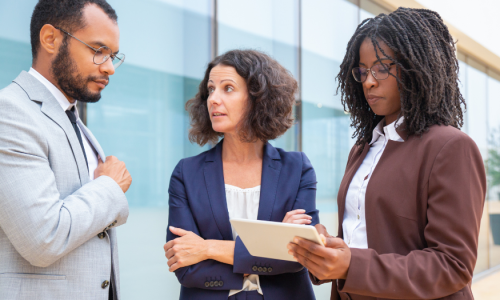 While there are a number of careers available to those with human resources experience, you might want to look into the role of an employee relations manager.  
What Does an Employee Relations Manager Do?
As a branch of HR management, employee relations managers look out for employees' best interests and assist employers with contract disputes and negotiations. An employee relations manager is important in maintaining a positive work environment.  They foster a culture of effective communication throughout the organization.  While specific job requirements may differ depending on the size and nature of the organization, we highlight some of the most common aspects of the employee relations role.
Related Resource: 20 Companies With the Best Benefits
Consult on New and Existing Policies
The policies that a company has in place determine the way employees can act. There are also policies and procedures related to labor laws and regulations. An employee relations manager provides guidance to employers on managers on policy interpretation and adherence.   These policies might relate to:
sexual harassment
drug and alcohol use
social media
professional conduct
Create Benefits Packages
An employee relations manager works closely with human resources managers when a company creates or updates its benefits package. Benefits packages refer to all benefits awarded to employees, including:
vacation time
sick leave
maternity leave
health insurance
stock incentives
An employee relations manager talks with employees to find out what benefits are important to them.  They take that information and work alongside HR to compare prices from different insurers and decide if all employees should receive the same package. Some companies now offer better benefits for employees who have been with the company longer and provide fewer benefits to new employees.
Act as a Union Representative
Depending on the industry, an employee relations manager may need to act as a union rep. Unions provide job stability and security to workers who pay annual dues. If a problem arises, a rep from the union will meet with reps from the company to determine what to do next. You may work as a representative for that union or meet with one of those reps on behalf of your employer. The union will want to know that your company followed all the standards it put in place and that workers did not violate any laws.
Negotiate New Contracts
Contract negotiations are another critical duty of those working as employee relations managers. Some employees sign a contract before they begin work that outlines their benefits and job expectations. Once that contract is about to expire, the employee relations manager meets with management to determine whether to extend, modify, or end the contract.  If the decision is to extend or modify the role, the employee relations manager works with both parties to come to a new agreement. This may involve adding more paid time off, reducing a benefits package, or increasing a worker's salary.
Employee Engagement
The role of employee relations managers is also to assist with organizational initiatives meant to enhance employee engagement.  They collaborate with human resources to design and implement programs that improve morale and motivation.  They work with department managers and other executives to offer opportunities for leadership and development.  By encouraging employee voice and feedback, an employee relation manager can foster a positive work culture.
Performance Management
Employee relations managers play an important role in the performance management process.  They provide guidance on writing performance improvement plans and on delivering disciplinary actions.  Managers work closely with employee relations professionals to ensure fairness and consistency in performance-related decisions.
Employee Investigations
Another of the top employee relations roles and responsbilities relate to conducting employee investigations.  An employee relations manager conducts investigations within an organization related to:
allegations of misconduct
policy violations
inappropriate workplace behavior
They gather information by interviewing relevant parties and analyzing evidence to reach a conclusion.  They share recommendations with leadership based on their findings.
What Skills do you Need to Be an Employee Relations Manager?
An employee relations manager needs a varied skill set to be effective on the job.  Some of the top skills and qualities include:
Communication skills: An employee relations manager needs to have exceptional verbal and written communication skills.  These skills help build trust and maintain positive relationships on the job.  Other employee relations manager skills include active listening to understand employee concerns and group facilitation skills.
Strong interpersonal skills:  Empathy and emotional intelligence help an employee relations manager understand and relate to employees.  They use their interpersonal skills to provide appropriate employee counseling or feedback to improve job performance.
Problem-solving skills: Problem-solving and analytical thinking skills help an employee relations manager address complex situations.  They are able to use their skills to consider multiple perspectives to develop effective solutions.
Leadership skills: An employee relations manager is typically viewed as a leader within an organization.  Their skill set allows them to work effectively across departments while engaging with individuals at all levels.  They provide relevant and effective support to staff throughout the organization.
What Role Does HR Management Play in Employee Relations?
While human resource management and employee relations are closely related, they are two distinct areas of an organization.  They differ in both scope and focus.  Human resource management includes a broad range of responsibilities including things like recruitment and compensation.  Employee relations focuses specifically on the relationship between an organization and its employees.
What Are the Educational Requirements for an Employee Relations Manager?
The educational requirements can vary depending on the organization and type of industry.  Most organizations require a minimum of a bachelor's degree in an area like human resources or business administration.  Majors like industrial and organizational psychology may also be accepted.
While not always required, many organizations give preference to a candidate with a master's degree.  A master's degree reflects advanced knowledge and skills that can be valuable to an organization.
See also: Top 10 Best Online Master's in HR Degree Programs (MSHR)