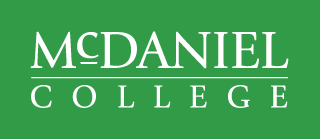 Two McDaniel Options for Human Resources Careers
McDaniel College is also featured in our ranking of the 20 Most Affordable Online Master's in Human Resources
At Lewis Recitation Hall, the Economics & Business Department grants a B.A. in Business Administration with five concentrations, including Management, for McDaniel College Green Terror to develop a broad, basic understanding of how productive organizations are structured. Chaired by Dr. Ethan Seidel, the 1991 Distinguished Teaching Award recipient, this 128-credit, four-year degree builds atop a liberal arts core to nurture ethical corporate leadership acumen. Expect in-depth Westminster courses like Intercultural Communication, Psychology in the Workplace, and Econometrics with an engaging 11:1 learner-faculty ratio. Majors might also intern at T. Rowe Price, enter the Innovation Challenge, spend Jan Term abroad from Athens to Andros Island, and join Alpha Phi Omega.
Each August, the School of Graduate & Professional Studies admits McDaniel College cohorts of 10-15 into the M.S. in Human Resources Development to learn advanced, ethical strategies for training an organization's prolific personnel. Directed by Dr. Michael Tyler, a Six Sigma Black Belt, the 36-credit, ASTD-aligned curriculum spans 2.5 years part-time for current managers and career changers seeking leadership promotions. The eight-week, 500-level courses, such as Workplace Wellness, Employee Morale, and Staff Recruitment, are available fully online. Hybrid sessions in Westminster or Arundel Mills are also offered on Wednesday evenings and Saturday mornings. After the three-credit field practicum, students complete the SHRM-CP certification for 95 percent job placement at Meridian, Crawford Yingling, Marriott International, Lockheed Martin, Colfax, McCormick, and more.
About McDaniel College
McDaniel College originated in September 1867 when Fayette Rufus Buell opened Western Maryland College as the first coeducational institution south of the Mason-Dixon line. In 1868, an inaugural class of 37 enrolled in liberal arts academics tied to the Methodist Protestant Church. In 1881, it expanded to form the Westminster Theological Seminary next door. In 1934, Frederick C. Malkus Jr., the United States' longest-serving state legislator, graduated. On April 20, 1958, the Baker Memorial Chapel designed by Otto Eugene Adams and E.G. Riggs was dedicated. In 1975, an ACLU settlement led to the college severing all religious affiliations. Two decades later, Western Maryland College Budapest was opened to educate overseas. In July 2002, the Board of Trustees renamed it McDaniel College after the school's long-time treasurer. Until 2011, McDaniel was also a training location for the Baltimore Ravens.
Endowed for $120.7 million, McDaniel College now employs 149 full-time faculty inspiring 1,629 Green Terror from 30 countries online, at the 70-building Westminster headquarters, or on the Central European campus in Budapest with 100+ clubs like the SHRM Chapter. In 2018, McDaniel won the Professional Grounds Management Society's University Honor Award. In 2017, McDaniel accepted the AVCA Team Academic Excellence Award. McDaniel was selected for the 2013 "Colleges That Change Lives" list by Loren Pope too. The U.S. News & World Report crowned McDaniel College the 124th best national liberal arts school. On Niche, McDaniel is America's 153rd best liberal arts college, 375th best small institution, and 419th safest campus. Money magazine declared McDaniel the 162nd top value. The Wall Street Journal named McDaniel College 383rd for overall teaching performance.
McDaniel College Accreditation Details
On June 27, 2013, the Middle States Association of Colleges and Schools (MSA) Commission on Higher Education (CHE) announced that the Level III accreditation at McDaniel College was satisfactorily reaffirmed through 2022-23 under its ninth president, Dr. Roger N. Casey, a Carnegie National Professor of the Year Award finalist. Located 131 miles east via Interstate 76 in Philadelphia, this superb six-state Northeast Region accreditor is recognized by the U.S. Education Department to evaluate McDaniel's 33 baccalaureate, 17 master's, and 11 advanced certificate programs. Particularly, the M.S. in Human Resources Development was designed to meet both the Society for Human Resource Management (SHRM) and the American Society for Training & Development (ASTD) standards.
McDaniel College Application Requirements
Admission to McDaniel College is classified "moderately difficult" by Peterson's though 2,392 of the 2,814 Fall 2017 applicants were triumphant for solid 85 percent acceptance. First-year Green Terror seeking the B.A. in Business Administration must obtain a licensed high school diploma or the GED certificate. Four years of English, three years of Math, and three years of Social Science are prerequisite. Admitted freshmen present a median 3.51 GPA. The middle 50th percentile earn SAT scores of 580-670 on Reading and 550-630 on Math. Mid-range ACT composite scores are 21-28. The McDaniel Honors Program only considers scholars with a minimum 3.5 GPA or 1380 SAT score. Competitive Economics & Business Department transfers will have maintained GPAs above 2.5 in one to six semesters of accredited schooling. Foreign undergrads typically need at least 550 paper, 213 computer, or 80 internet TOEFL marks. The M.S. in Human Resources Development considers four-year bachelor's grads with upper-division GPAs of 2.75 and higher.
McDaniel College set freshman deadlines of November 1st for Early Decision, December 15th for Early Action, and February 1st for Regular Decision. It's recommended international students apply before January 15th. B.A. in Business Administration transfers must file by June 1st for Fall or December 15th for Spring enrollment. The M.S. in Human Resources Development only considers Fall cohorts until June 15th. Accordingly, complete the McDaniel or Common Application online with $75 or the NACAC fee waiver. Forward official high school or university transcripts to 2 College Hill in Westminster, MD 21157. Use ACT code 1756 or SAT/TOEFL code 5898 for testing scores. Attach the 750-word personal essay, 1-3 recommendation letters, certification of finances, residential student release form, and resume or portfolio. Contact (410) 857-2246 or [email protected] with questions.
Tuition and Financial Aid
For 2018-19, McDaniel College billed full-time B.A. in Business Administration majors $21,630 per semester or $43,260 annually. Freshmen paid a one-time matriculation fee of $400. Living at the Westminster campus' dorms like Daniel MacLea Hall added $5,250 for yearly housing. Standard meal plans for Englar Dining Hall were $6,180 extra. McDaniel budgeted $1,200 for books, $750 for transport, $900 for personal expenses, and $70 for loan fees. Annual bachelor's attendance equaled about $58,010 on-site or $49,760 if commuting. The M.S. in Human Resources Development charged $500 per credit or $1,500 each three-credit course. Note post-grads also cover a $75 administrative fee each semester.
According to the NCES College Navigator, the Financial Aid Office on Elderdice Hall's 1st Floor connects 96 percent of full-time McDaniel Green Terror to tuition assistance averaging $27,934 apiece for $42.04 million combined. Institutional programs include the Presidential Scholarship, Dorsey Scholarship, Alumni Legacy Scholarship, Educator's Legacy Scholarship, Military Legacy Scholarship, Phi Theta Kappa Scholarship, International Student Scholarship, Charlotte Newcombe Scholarship, and Griswold-Zepp Student Volunteerism Award. The Honors Scholarship gifts $25,000 yearly to outstanding freshmen with minimum 3.7 GPAs. Since 1993, the Community Foundation of Carroll County has developed 85+ funds like the Denion Family Scholarship, Emily Burke Memorial Scholarship, and Jessica Belknap Memorial Scholarship. Federal resources, such as the Pell Grant or Perkins Loan, require FAFSA applications coded 002109 by June 30th. Maryland residents also pursue the Delegate Scholarship, Senatorial Scholarship, 2+2 Transfer Scholarship, Veterans of Afghanistan & Iraq Conflicts Scholarship, and Conroy Memorial Scholarship.
Keep reading about McDaniel College at the Human Resources Development Program website.