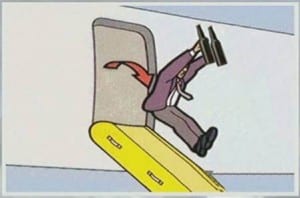 Quitting a job can change your life. Some disgruntled employees have executed epic resignations that have spread like wildfire across social media. In many cases, these creative quitters have leveraged their skills to spawn new and better opportunities.
New York Times Op-Ed
Former Goldman Sachs executive Greg Smith announced his resignation to the entire nation by publishing a scornful editorial in the New York Times. After 12 years at the financial firm, Smith charged the prestigious investment bank with prioritizing profits over clients' best interests. He also blamed the current leadership for product-pushing and "ripping [off] clients."
According to Bloomberg , Smith was offered a $1.5 million book deal after the resignation letter printed.
Icing on the Cake
After the birth of his first child, Chris Holmes decided it was time to leave his job as a border patrol agent at Stansted Airport and establish the bakery he'd always dreamed of. Holmes iced his message in tidy script on a large passion cake made from carrot cake, coconut, pecans, sultanas and orange buttercream. He handed the cake to the duty manager and walked away.
According to the official Mr. Cake story, the ensuing publicity earned Holmes the Smarta Business Award for Best Use of Marketing 2013.
Emergency Exit
After 20 years of flight attendant service, Steven Slater lost his temper with an unruly passenger on JetBlue Flight 1052. As the plane landed at Kennedy airport, a passenger defied instructions by trying to unload the overhead compartment before clearance had been given.
After an altercation with the passenger, Slater used the plane's public-address system to unleash a tirade against the passenger. Immediately afterward, he activated the emergency evacuation slide, snatched a beer from the beverage cart and slid down the ramp. Although he managed to drive away, he was later arrested at his home. The New York Times reported that Slater was charged with "felony counts of criminal mischief and reckless endangerment," presumably related to the dangerous and unannounced deployment of the emergency chute.
Mario Delivers the News
'A Message for 2K Australia' is a short flash game created by developer Jarrad Farbs to announce his resignation from Australia's sole AAA developer. The game, which is playable on Farbs' blog, features Mario delivering a polite and memorable resignation. After profusely thanking the company for his paycheck, project opportunities and talented coworkers, Farbs concludes that "my princess is in another castle."
Like Mr. Cake, Farbs used his inventive resignation to draw attention to his next career endeavor: creating his own independent games full-time.
Viral Video
After mass-producing viral news videos for Taiwanese company Next Media Animation, Marina Shifrin became frustrated at the constant focus on quantity over quality. When she was ready to resign, Marina made a video of herself doing an interpretive dance around the empty office to the sound of Kanye West's "Gone." At the end, she announced, "I quit! I'm gone."
Shifrin states she intended to focus on a comedy career after leaving the company. Following her viral resignation, she received job offers from Queen Latifah, Y&R Israel and the award-winning television show Midnight with Chris Hardwick.
From jail time to million-dollar deals, these five brave individuals changed their lives with these viral resignation sensations. Thanks to the Internet, the creative ways these people quit their jobs won't soon be forgotten.