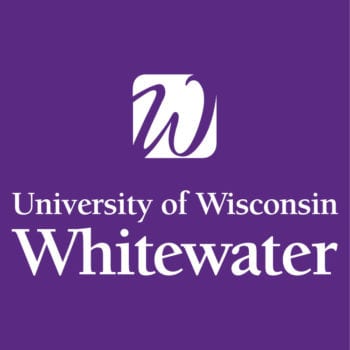 HR Management Programs at the University of Wisconsin – Whitewater
University of Wisconsin – Whitewater appears in our ranking of the 25 Best Return On Investment Degrees in Human Resource Management (Bachelor's).
The University of Wisconsin – Whitewater offers three business programs for students who want to work in human resource management. At the undergraduate level, the university has a Bachelor of Business Administration (BBA), which includes a concentration in human resource management. Students must take seven required classes, including Staffing, Compensation Management, Employee Benefits, Labor and Management Relations and Training and Development. They must also complete three units of work such as doing an internship or an independent study project or taking Introduction to Occupational Safety and Health and Employment Law.
Through the university's Master of Business Administration (MBA) program, students can also select a concentration in human resource management. This program has a 100 percent placement rate among students entering a doctoral program or finding employment once they graduate. Within six months of finishing their studies, the university estimates that students will earn nearly $60,000 a year. The program also has a high satisfaction rate among those who completed it.
In the MBA program, students need to take up to 14 courses to demonstrate their knowledge of various business subjects. Based on the transcripts they provide when they apply, the university may waive one or more of these courses such as Operations Management, Accounting Foundations, Economics Foundations and Technology and Information Systems. The MBA core features 10 courses, including Leadership Development, Ethics in the Marketplace, Business Valuation Using Financial Statements and Business Policy and Strategy. Students will also need to take three HR management courses after choosing this concentration. Other concentrations available for MBA students include finance, environmental health and safety, information technology management, management and supply chain management.
The MBA program is available on-campus, online or as a hybrid program. Also available is a graduate certificate in human resource management. Students only need to take 15 credits of classes and can take courses on the Whitewater campus or online. Those classes include Staffing and Evaluation, Current Issues in Compensation and Benefits, Strategic Management of Human Resources, Training and Development and Labor and Employee Relations. Students can also take courses on negotiation, international management, and society and business.
About the University of Wisconsin – Whitewater
The University of Wisconsin – Whitewater is a public university that is part of the UW System, which is why it uses the nickname of UW-Whitewater. Established in 1868 as the Whitewater Normal School, the first group of students graduated just two years later. As a normal school, the original programs ran for only two years and awarded graduates diplomas rather than degrees. This changed in 1927 when it became the Whitewater Teachers College and added bachelor's degree programs. That change helped the college gain university status and become UW-Whitewater. It also served as Wisconsin State College – Whitewater for several years. The university is known for its Research Apprenticeship Program, which allows undergrads to do research work. With an enrollment of more than 12,000 students, UW-Whitewater is one of the largest campuses in the UW System and Wisconsin.
University of Wisconsin – Whitewater Accreditation Details
Students at UW-Whitewater can use the university's regional accreditation to get financial aid through the Free Application for Federal Student Aid (FAFSA). That accreditation is also a form of institutional accreditation and comes from the Higher Learning Commission (HLC). All of the university's HR management and business degrees have accreditation from the Association to Advance Collegiate Schools of Business (AACSB) too.
University of Wisconsin – Whitewater Application Requirements
The application deadline for freshmen is May first for the fall semester and December first for the spring semester. UW-Whitewater needs to receive an application and all requirements by one of those deadlines. Students need to apply on the university's website and pay a $50 application fee through that portal. UW-Whitewater asks for both an official high school transcript and a test score, though it accepts both the ACT and SAT. Their transcripts must show that they took a minimum of three units of math, natural science and life science and four years of English classes.
UW-Whitewater will accept students into the MBA program who have military experience or a minimum of four years of professional experience. Students with two years of experience can apply if they have a GPA of 3.0 or higher in college. The university also accepts students who have a degree from a school with business accreditation and a GPA of 3.0 or higher. If the student attended a university or college with only regional accreditation, they need a minimum GPA of 3.25. UW-Whitewater offers an interactive evaluation form that lets students answer a few questions to see if they qualify for the program. They will need to submit an application, pay the application fee and provide their official transcripts. The university will accept a GMAT score or a score from any similar exam. UW-Whitewater has the same application requirements for the HR management certificate program too.
Tuition and Financial Aid
Wisconsin residents pay $7,694 each year to attend UW-Whitewater. Most nonresidents will pay $16,416 per year unless they are from Minnesota. Those students receive a discount and pay $8,709 each year. The university also offers a discount for students who are the children or grandchildren of alumni. They pay $12,660 per year. Those who choose to live on the Whitewater campus pay an average of $6,900 a year for room and board too. Graduate students in one of the business programs will pay $539.27 per credit hour or $9,212.75 each year as a Wisconsin resident. Nonresidents pay $1,079.08 per credit hour or $9,711.75 per year. Graduate students taking business classes online will pay $637.43 per credit hour.
Assistantships are one type of financial aid available for graduate students. They need to apply for one of these positions and will receive compensation in the form of tuition waivers, stipends and health insurance. These positions are only open to traditional students, but online students may qualify for work-study. Academic scholarships include one program for Wisconsin residents that gives them up to $2,250 each year based on their high school grades. Students only qualify for scholarships if they apply by January first. Other financial aid options are available for students enrolling in the HR management programs at the University of Wisconsin – Whitewater include state grants and federal loans.
Related Resources: