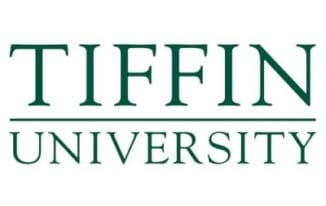 HR Degrees Offered at Tiffin University
Tiffin University is also featured in our ranking 50 Most Affordable Human Resource MBA Degree Programs.
Tiffin University offers a Bachelor of Business Administration in Management with a Concentration in Human Resource Management and a Master of Business Administration with a Concentration in Human Resource Management. Both programs are offered both online and on-campus.
The Bachelor of Business Administration in Management with Concentration in Human Resource Management provides students with the understanding and abilities for human resource management in today's world. Students learn about the fair treatment of employees, benefits, training, and other aspects of human resources. The program requires the completion of a total of 121 credit hours, including core business courses and concentration courses in human resource management. The concentration courses include Human Resource Management, Human Resource Risk Management, Total Compensation, Managing Diversity in the Workplace, Training and Development, Strategic Human Resource Management and Emerging Issues, and Employment and Labor Law. Students must also complete an internship component.
The Master of Business Administration with Concentration in Human Resource Management allows students to incorporate the knowledge and abilities acquired from core courses to address the challenges in today's human resources field. A total of 36 credit hours are needed for completion of the program, including the MBA core courses and human resource management concentration courses. The concentration courses include Human Resource Planning and Talent Acquisition, Negotiations and Conflict Management, Talent Development and Performance Management, and Strategic Human Resource Management.
About Tiffin University
Tiffin University is a private, coeducational university residing in Tiffin, Ohio. Established in 1888, Tiffin University has maintained its commitment to a nurturing atmosphere that is centered on students to provide a powerful sense of inclusion to all students, faculty, and staff. Tiffin University started out as part of Heidelberg College and remained with the college for its first 30 years. It emerged as an independent entity in 1917 and moved to Tiffin, Ohio. Its initial growth was slow, but enrollment took off in the 1990s. Today, Tiffin University is home to more than 3,000 on its rural 135-acre campus. It operates on the semester-based academic calendar.
Tiffin University is committed to providing practical and personal education and the environment concentrates on innovation and the success of all students. The values of the university include interdependence, accountability, communication, entrepreneurship, and respect. Tiffin offers over 25 associate, bachelor's, and master's degree programs as well as a doctoral program. The programs are offered through the School of Arts and Sciences, School of Business, and School of Criminal Justice and Social Sciences. Popular majors include psychology, business, management, marketing, homeland security, law enforcement, and health professions. The student to faculty ratio is 15 to one, with the average class size of 20 students. The faculty members are committed to functioning as mentors and advisors to all students that help with the selection of courses that most benefit each individual.
The US News and World Report ranks Tiffin University between 128 to 165 in its 2019 Regional Universities Midwest publication.
Tiffin University Accreditation Details
Tiffin University holds regional accreditation from the Higher Learning Commission. It is authorized to award associate, bachelor's, master's, and doctoral degrees.
The Accreditation Council for Business Schools and Programs accredits the School of Business at Tiffin University.
Tiffin University Application Requirements
Tiffin University features a rolling admissions policy where students have the ability to apply any time throughout the year. The university is categorized as selective, with a 69 percent annual acceptance rate. Students must submit the following materials to start the application process:
Undergraduate
Application for admission
$20 nonrefundable application fee
Official high school transcript
Official transcripts from previously attended postsecondary schools
Official SAT or Act scores
Graduate
Application for Graduate programs
$20 nonrefundable application fee
Official transcripts from previously attended postsecondary schools
Current resume
300-word writing sample
Tuition and Financial Aid
Tuition
Undergraduate
Full-time students taking 12 to 16 credits per semester: $857 per credit hour or $25,710 yearly
Part-time students taking less than 12 credits per semester: $790 per credit hour
Graduate
Graduate tuition varies by specific program. The programs typically range from $550 to $700 per credit hour
Online and Extended Learning Bachelor's Degree
Doctorate
Financial Aid
Tiffin University prides itself on functioning as one of Ohio's most affordable private institutions. More than 90 percent of students are granted some form of financial aid, such as scholarships, grants, loans, and work study.
Scholarships
President Scholarship
Trustee Scholarship
Dean Grant
1888 Grant
Activity Scholarships
Athletic Scholarships
Dragon Diversity Scholarship
Dragon Leadership Scholarship
Fraternal Order of Police Scholarship
Legacy Scholarship
Phi Theta Kappa Scholarship
Tiffin University Endowed Scholarships
Grants
Federal Pell Grant
Federal Supplemental Educational Opportunity Grant (FSEOG)
State of Ohio College Opportunity Grant
Loans
Federal Subsidized Direct Loan
Federal Unsubsidized Direct Loan
Federal PLUS Loan
Federal Graduate PLUS Loan
Federal Perkins Loan
The Federal Work-Study, FWS, is a program funded by the federal government that enables financially needy students to work part-time to earn money to help pay for their college education. They have the ability to work up to 20 hours a week while they are enrolled in classes. The program encourages students to select jobs that are related to their major. The pay is at least the current federal minimum wage but differs on each position and student situation.
The human resource management programs are career oriented and prepare students to make a difference in the lives of others in an array of work settings. Students who finish an HR degree from Tiffin University have a variety of career opportunities, including human resources managers, training and development specialists, compensation and benefits managers, human resource information systems analysts, employee assistance plan managers, and employee, recruitment, and placement specialists.
Related Resources: