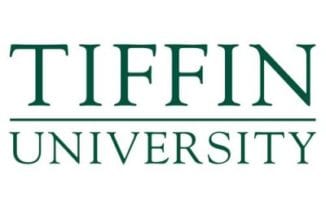 Tiffin University is also featured in our ranking 50 Most Affordable Human Resource MBA Degree Programs.
In 1888, Heidelberg University made the decision to start a business college which was to be operated as a financially independent college. The Commercial College opened in downtown Tiffin, Ohio, providing students with instruction in typical business courses found in colleges during the late 19th and early 20th centuries. The college struggled with enrollment and finances over its first 30 years and, in 1917, made the decision to separate from Heidelberg. The school was strongly student-focused, creating a sense of community among faculty, staff and students.
Over the years, Tiffin University has transitioned from traditional classrooms to a combination of traditional and online programs. The school now has a global reach, but still provides students with a practical education rooted in hands-on learning. Faculty members have worked in their field of expertise, allowing them to bring real-world knowledge into the classroom.
Today, enrollment at Tiffin University is 3,350 students studying in three different schools, including the School of Arts and Sciences, School of Business as well as the School of Criminal Justice and Social Sciences. Victory Media named Tiffin University a Military Friendly School for 2018.
Tiffin University Degree Program(s) Available
MBA with Concentration in Human Resources
The Master of Business Administration with a concentration in Human Resources provides students with the knowledge and skills they need to face today's human resource challenges while also helping them develop business management leadership skills. Students are exposed to theories and applications related to the acquisition and retention of talented employees as well as how to manage the company's relationship with their biggest asset. Students also gain an understanding of how to remain competitive through strategic human resource policies. Students learn that people are the most important asset a company has and that a business is only successful if their staff feels valued. An MBA in Human Resource Management helps students develop teams that provide competitive advantages to companies.Courses required for the program include:
Business Research Analysis
Financial Accounting
Global and Transnational Management
Human Resource Planning & Talent Acquisition
Individuals and Teamwork
Information and Decision Support
Legal and Ethical Issues in Management
Management of Human Resources
Managerial Accounting
Managerial Economics
Managerial Finance
Marketing Management
Negotiations and Conflict Management
Operations Management
Statistical Methods for Managers
Strategic Human Resource Management
Strategic Management
Talent Development & Performance Management
Courses explore the nature and steps necessary for conflict resolution as well as how to plan, recruit and select the right people for the right position. Students also learn how to retain and develop employees while helping the employee align their strengths with the goals of the organization. Human resource strategies are also discussed, providing students with the tools they need to measure outcomes and how HR impacts the bottom line.
The online and on-campus programs are offered in two seven-week terms each semester starting in January, March, May, July, August and October.
The average student enters the MBA program at Tiffin with ten years of experience and many have degrees in other fields. The life experience brought into the classroom by both students and instructors creates a dynamic learning experience that offers a real-world connection to classroom learning. The program keeps students as connected as possible as Tiffin understands that success comes from students who feel personally supported during their higher education career.
Tiffin University Accreditation Details
Tiffin University is accredited by the Higher Learning Commission. This means that students, parents and employers can be assured that graduates of programs offered at the university are well-prepared for leadership roles in their area of study. The university undergoes periodic review by the agency to confirm that programs meet criteria and to identify areas that could use improvement.
Business programs at Tiffin University are accredited by the Accreditation Council for Business Schools as well as the European Council for Business Education.
Tiffin University Application Requirements
Undergraduate students who have not earned college credit after graduating from high school are first-year students at Tiffin University. They must complete an online application and provide official high school transcripts. Transfer students who have earned college credit after high school graduation must provide official transcripts from all colleges and universities attended. The student must be in good standing at the last college or university they attended.
Graduate students must hold a bachelor's degree or higher from an accredited college or university. They must provide an online application as well as official transcripts from all colleges and universities attended. Some programs may have additional admission requirements, so students are encouraged to speak to an admissions representative before applying.
Tiffin University Tuition and Financial Aid
Undergraduate full-time tuition at Tiffin University is $23,700 per year or $790 per credit hour. Online undergraduate courses are $440 per credit hour and graduate tuition per credit hour are as follows:
Master of Business – $700
Master of Education – $500
Master of Humanities – $500
Master of Science in Criminal Justice – $700
Master of Science in Psychology – $500
Tiffin University prides itself on being one of the most affordable private colleges in Ohio. More than 90 percent of the students at Tiffin receive financial aid. This may be in the form of Tiffin University scholarships and grants or federal and state grants. They may also qualify for federal and private loans or federal work-study programs. In order to qualify for financial aid, students must complete the Free Application for Federal Student Aid (FAFSA). The FAFSA must be renewed each year in order for the student to continue qualifying for aid.
Tiffin University began as a small college within a larger university, but, from the beginning, it was autonomous and independent. Since 1919, Tiffin University has been providing students outstanding education and preparing them for leadership roles in their chosen field fo study. The university prides itself on offering the highest quality education possible at an affordable price. Students at Tiffin University are well-prepared for careers in the field of study they have chosen and are prepared to lead in any position they obtain upon graduation.