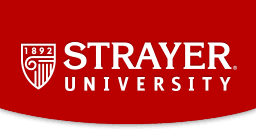 HR Management Programs at Strayer University
Strayer University appears in our ranking of the Top 15 Online Master's in HR With a Low GPA Acceptance.
As Strayer University started life as a business college, it's not surprising that it offers so many human resources programs for professionals and future professionals today. One of the more popular options is the university's online Bachelor of Science in Business Administration (BSBA) in Human Resource Management. Unlike other programs that only start during select semesters, this program has one start date almost every month. The BSBA program has different concentrations, but all students must take some classes, including Business Ethics and Management Concepts. They will also take at least five concentration courses such as Compensation Management, Staffing Organizations, and Training and Development.
The university's online Master of Science (MS) in Human Resource Management gives students the edge that they need in today's competitive job market. Students can choose the generalist track, which looks at multiple areas in human resources. This track includes classes such as Performance Management, Total Rewards, and Employee and Labor Relations. The human resource and organizational development track includes Human Resource Management Consulting, Developing Human Capital and Developing a Learning Organization. Both tracks ask students to take the same required classes such as Managing Human Resources Projects and Leadership and Organizational Behavior.
Also available is a Master of Business Administration (MBA), which ranks as one of the top online programs. MBA students must all take major courses, including Financial Accounting for Managers, Marketing Management, Strategic Management and Leadership and Organizational Behavior. The human resource concentration includes other classes such as Strategic Human Resource Management and Human Resource Management Foundations. Strayer offers other concentrations for MBA students, including accounting, public administration, sales, and IT security management. This and the MS program are available both online and on many of the Strayer campuses.
About Strayer University
Strayer University is a chain of for-profit university campuses across the country as well as a virtual campus. Named for its founder Dr. Strayer, the university opened in Baltimore as Strayer's Business College in 1892. The economy in Baltimore was changing at the time as the need for trained business workers increased as the need for farmers decreased. Many of its early students lost their farms and/or jobs and wanted to enter a new field. As the need for government workers increased, the college added new accounting programs, which later evolved to include taxation and similar programs. The college would later change its name to Strayer College and begin building new campuses outside of Maryland. Strayer became a university system in 1998.
Though Strayer now offers degrees in education and other subjects, it still offers a wide range of business programs. It has nearly 80 campuses in the United States, including some in Maryland and Washington DC. Suitland, Maryland is home to the university's biggest campus, which opened in 2014. Most of its campuses are in commercial and business parks that share space with companies and offices. Students will find that those campuses are often close to major highways too. Though some like the idea of taking classes with professors and other students, some prefer the online programs that the university offers. The addition of online classes and both graduate and undergraduate programs helped enrollment at Strayer climb to more than 42,000 students.
Strayer University Accreditation Details
Strayer has the accreditation recognized by the United States Department of Education for those seeking financial aid. That accreditation comes from the Middle States Commission on Higher Education (MSCHE). This accreditation is also why Strayer can accept credits when students transfer from another school.
Strayer University Application Requirements
One of the easiest ways for undergrads to apply to Strayer University is with a phone call. When they call the university, they will speak to an admissions advisor. That advisor can take down all the necessary information, help the student fill out the application and get them enrolled on the spot. Advisors can also help students apply for financial aid. There is also an online application that asks for general information. Students will need to digitally sign the application and agree to follow the university's code of conduct.
Both graduate and undergraduate students use the same Strayer application. They must fill out a contact information section and check a box to show the university that it can contact them. Strayer can use email or call students directly. The application also asks students to pick a home campus. Those who want to take classes on the web can choose the online campus instead. Graduate students must agree to follow the university's code of conduct and its honors code. Strayer will usually have an admissions advisor contact students to get other information. MBA and other graduate students may need to submit letters of recommendation and/or a resume. Most programs do not require any type of test score.
Tuition and Financial Aid
The cost of attending Strayer University depends highly on the type of program. Online students in a bachelor's program pay $1,465 per class rather than a rate based on their credit hours. They will take 40 classes to complete an online degree. Grad students in either of the human resource management tracks will pay $2,465 per class. They take a total of 12 classes to complete either version of this program. MBA students pay a higher rate of $2,955 per class. They usually take 10 classes, including both concentration and major courses. Students who do not have a business background may need to take prerequisites at Strayer. The university will charge them rates based on the cost of the programs attached to each class.
Strayer established a fund as a way to help students save money. For each class that they take, they receive credits. Those credits allow them to get discounts of up to 25% on any of their future classes. Students can also bring credits with them from community colleges and other schools. The university will accept more than 50% of the credits that they need to graduate from the schools they previously attended. Students can also use government funds and institutional aid. Strayer offers a small number of scholarships and allows students to use the FAFSA, which helps them qualify for both grants and loans. HR management majors applying to any of the graduate or undergraduate programs online and on Strayer University campuses can get financial aid.