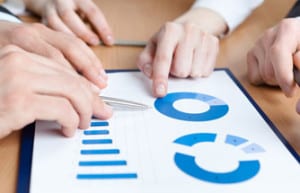 If you find the field of human resources to be interesting and want to learn more about its scientific elements, human resources analytics could be the career choice for you.
Although broadly defined, human resources analytics is basically a sector within the broader field of analytics that involves the application of analytic processes within a human resource department for the purpose of improving employee performance. When this process is actualized, businesses benefit by attaining a greater ROI (return on investment).
While some people reduce the field of human resources analytics to the accumulation and review of data regarding employee efficacy, its scope is much broader. Specifically, human resources analytics involves providing insight regarding the process of gathering data and making advantageous, relevant decisions about how these processes can be improved upon.
What Human Resources Analytics Does
In short, HR analytics demonstrates the causal relationship between the activities exacted by an HR department and the business outcomes that result from this activity.



While the aforementioned definition of human resources analytics provides you with a basic knowledge of what this field consists of, gaining a more holistic understanding of the term necessitates understanding what transpires in this sector. As many human resources experts know, what human resources analytics actually does is demonstrate the impact that an HR department has on the organization in which it is embedded. In short, HR analytics demonstrates the causal relationship between the activities exacted by an HR department and the business outcomes that result from this activity. Once this causal relationship is discovered, HR analytics professionals will devise and implement a strategic plan to assist the business in attaining better outcomes.
Core Functions
Although the realm of human resources analytics can involve a wide range of activities, there are generally four core functions that manifest within the field. Those core functions are the acquisition, optimization, development, and paying of the employees within a business or organization. To optimize each of these core functions, human resources analytics representatives will work with managers by gaining information from them regarding the issues and problems that pertain to their unique workforce.
Careers In Human Resources Analytics
One of the most common careers within the field of human resources analytics is that of a human resource analyst. This position involves the completion of human resources administrative work such as:
• Administers assigned functions, including but not limited, to compensation studies, recruitment, benefits administration, and employment analysis
• Collects and analyzes information
• Tracks developments and trends in specific functional areas
• Performs research, conducts studies, and prepares reports
• Recommends, reviews, and interprets policies
• Participates in working councils, committees, and groups
• Ensures compliance with established regulations and policies
According to Indeed.com, the average annual salary for a human resources analyst is $60,000.
Individuals who are interested in pursuing the field of human resources vocationally should note that human resources analytics plays an integral role in facilitating the smooth functioning of HR processes. Now that you have an answer to the question "What is human resources analytics?," you can make an informed decision regarding whether pursuing a career in this sector would be appropriate and advantageous for you.
Related Resource: Society for Human Resource Management Aligned HR Degrees