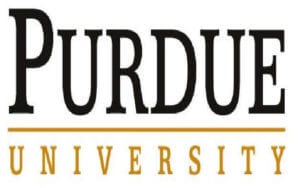 SHRM-Aligned Human Resources Degrees at Purdue
Purdue University is also featured in our rankings of the Top 10 Ph.D. Programs in Human Resources and the 50 Most Affordable Human Resource MBA Degree Programs.
Founded in 1962, the Krannert School of Management offers the BS in Human Resource Development for Purdue University majors to study workplace structures and corporate methods that enhance employee productivity. Overseen by Dr. Richard Cosier, a Teaching Excellence Award recipient, the 120-credit, AACSB-accredited sequence prioritizes staff training design. Courses like Statistical Quality Control, Talent Acquisition, and Total Rewards Compensation maintain a 13:1 learner-faculty ratio at the West Lafayette Polytechnic campus. Off-site, seniors preparing for the SHRM-CP exam complete 16-week internships, such as Accenture, Eli Lilly, Cummins, Brown-Forman, Amway, and Thomson Reuters. Undergrads may also utilize the HRD Analytics Lab, attend the Summer Business Academy, study abroad in Taipei, join Delta Sigma Pi, and enter the Caterpillar HR Case Competition.
Ranked #2 by Eduniversal, the MS in Human Resource Management accepts post-grad Purdue University cohorts with a median 609 GMAT score to advance strategic decision-making capacity on employee matters. Coordinated by Dr. David Schoorman, the 2007 Distinguished Educator Award winner, the 48-credit program fosters upward mobility in HR departments. Expect 18 months of accelerated eight-week modules, including Managerial Communication Skills, Industrial Relations, and Gender & Diversity in Business, with one "Global Week" abroad. Working hands-on with employers like Dell, Dow Chemical, PepsiCo, and Procter & Gamble for the Human Capital Consulting project raises average base pay to $76,800. Krannert post-grads could pursue the Five-Year BS+MS, attend the HR Executive Dinner, join Net Impact, engage in the Brock-Wilson Center, and get Susan Bulkeley Butler Scholarships.
The Krannert Full-Time MBA placed 53rd by the U.S. News & World Report gives Purdue University graduates 14 specialization options, including Human Resource Management, at Rawls Hall for building executive problem-solving skills. Directed by Dr. Mark Bagnoli, a Jay N. Ross Faculty Scholar Award recipient, the intensive 60-credit, two-year degree empowers 48 students from 29 countries for the highest organizational authority. August cohorts begin the $44,836 in-state and $84,368 out-of-state program's eight-week modules like Business Law, Staffing Tools, and Negotiations. Launching Global Leaders (LGL) participation is required for consulting and global experiences that assist with 94 percent job placement. Individuals might also select the Weekend MBA, add the Human Resources Post-Baccalaureate Certificate, attend the Dr. Cornell Bell Opportunity Program, and join the SHRM Chapter.
Advised by Dr. Meara Habashi, the 2007 Bilsland Dissertation Fellow, Purdue's Ph.D. in Organizational Behavior & Human Resource Management hones scientific techniques for designing impactful workplace research. Currently, three post-grads with minimum 3.5 GPAs are admitted yearly for this 48-credit, post-master's curriculum to become university scholars. Featured West Lafayette courses include Introduction to Operations Management, Multivariate Statistics, Experimental Design, and Human Resource Systems. The fourth year is dedicated to dissertation work at cutting-edge facilities, such as the Burton D. Morgan Center and Dauch Center for the Management of Manufacturing Enterprise. Please note some HR leaders prefer the 20-course Ph.D. in Industrial and Organizational Psychology, which celebrates its 80th year producing SIOP scientist-practitioners for investigating employee behaviors.
About Purdue University
The land upon which Purdue University sits was ceded to the State of Indiana in 1862 as part of the Morrill Land Grant Act. The Lincoln Administration wanted to encourage the study of the mechanical and agricultural arts and granted these lands to states who promised to build schools to teach those arts. The State of Indiana finally voted in 1865 to begin building. Six years later, they broke ground, and Purdue University conferred its first degree in 1875.
In those early days, the school conferred two-year degrees. In fact, Purdue University didn't award its first bachelor's degree until 1959. The university had been providing post-graduate education since 1929, however. In 2018, the school's agricultural program is the best in the country, and many of its degree programs count themselves among the top 20 or top 10 in their respective fields. The university also received more than $400 million in 2017 for research grants and fellowships.
Purdue University Accreditation Details
Purdue University has earned the accreditation of The Higher Learning Commission, a prestigious regional award that verifies the quality of the university's education. In addition to this, the university has also earned the following accreditations:
Academy of Nutrition and Dietetics
Accreditation Council for Pharmacy Education
American Association for Marriage and Family Therapy
American Psychological Association
American Speech-Language-Hearing Association
American Veterinary Medical Association
Commission on Collegiate Nursing Education
National Association of Schools of Art and Design
National Association of Schools of Theatre
National Council for Accreditation of Teacher Education
Council for Accreditation of Counseling and Related Educational Programs
Society of American Foresters
Aviation Accreditation Board International
Council for Interior Design Accreditation
American Council for Construction Education
Association of Technology, Management, and Applied Engineering
The Association to Advance Collegiate Schools of Business
American Society of Landscape Architects
Accreditation Commission for Education in Nursing
ABET
Purdue University Application Requirements
Students must have earned a bachelor's degree from an accredited college or university. Students who attend an international university for their undergraduate work are considered under the Bologna process, which means they might qualify by earning a three-year degree instead of a four-year degree. All applicants must achieve at least a 3.0 GPA to be considered for graduate school admission at Purdue University.
Some graduate programs have more stringent requirements for admission than others. The Master of Science in Human Resource Management, for example, requires not only the GPA and the degree but also the Graduate Record Exam or Graduate Management Admittance Test. Two letters of reference are required. These may not be from friends, family, acquaintances, or the like. They should be from either a student's direct supervisor or someone else notable in the student's place of employment who can render an opinion on the student's performance over a long period of time. The letters may also be from professors or other relevant educators should the student not have had any employment prior to applying for graduate school. These letters must be submitted through Purdue University's online system.
Transcripts are also required, and they must be sealed official copies sent by the student's former schools. No self-sent transcripts will be accepted. International students must be proficient in English and must take one of the approved tests to prove it. International students must also have all immigration documents on file with the Admissions Office prior to enrollment, and this includes work visas for those international students who decide to participate in the work-study program. For all graduate students, various essays are also required, and these must also be submitted through the online system.
Tuition and Financial Aid
The graduate tuition at Purdue University for Indiana residents is $4,603.90 per semester. The following fees are also assessed each semester:
Technology fee – $94.10
Repair and rehabilitation fee – $161.00
Student fitness and wellness fee – $117.00
Student activity fee – $20.00
The total comes to $4,996 per semester. Nonresidents pay an additional $9,401 per semester, which makes their total $14,397. Candidates for the Master of Science in Human Resource Management at Krannert pay $6,208 additional, which makes their semester total $11,204. The nonresident tuition is higher, too, at $9.883. The nonresident semester total at Krannert is $21,087.
Graduate students at Purdue University may apply for financial aid by filling out the Free Application for Federal Student Aid, or FAFSA. The university and the government evaluate each student's FAFSA and deliver a decision based on need. Some of the money to which students are entitled, even if such money does not come from grants or scholarships, does not have to be repaid. Loans, however, must be repaid.
Many grants and scholarships have academic criteria. Failure to meet these criteria could mean that the grant or scholarship gets converted to an unsubsidized Stafford loan. Students should "check the fine print" on all forms of financial aid they receive to make sure they know and understand the associated requirements and policies. Graduate students may also work either on or off campus, and such work does not necessarily have to be part of a federal work-study program. In any event, all students should check with the Office of Financial Aid or the bursar to get any additional information.
Purdue University leads the way in many educational categories in the United States and provides its graduate students with superb opportunities.
Related Articles: