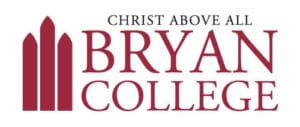 Four Bryan Options for Human Resources Careers
Bryan College is also featured in 50 Most Affordable Human Resource MBA Degree Programs.
Founded in 1930, Bryan College has advanced to award a Bachelor of Business Administration (B.B.A.) fully online using Moodle for $365 per credit within three tracks: Healthcare Management, Human Resource Management, or Leadership. Placing "Christ Above All," the 48-credit degree completion option coordinated by Dr. Samuel Youngs accelerates managerial preparation for associate transfers. Some segue from Bryan's own 60-credit Business (A.S.) that fulfills general education online. Extra credits are earned for work/life experiences through the TimewiseTN Program. Undergrads study topics like Employee Benefits, Performance Management, and Organizational Communication in six-week sessions. Academic advisors meet with majors one-on-one each term to map progress toward SHRM certification. Bimonthly start dates get nontraditional students with 2.0 or better GPAs enrolled fast.
Exclusively in Dayton, Tennessee, the Business Administration (B.S.) lets traditional Bryan College undergrads at Washington Monthly's 231st best baccalaureate institution pick from four concentrations, including Management, with a 15:1 learner-faculty ratio. Chaired by Dr. Adina Scruggs, the 124-credit, four-year Christian liberal arts major teaches organizational theory from a distinctively free-market perspective. Full-time residential tuition presently bills $27,900 annually for courses like Managerial Economics, Operations Management, and Labor Relations. Reporting a PayScale ROI of $139,000, students undertake 16-week senior internships, such as Unum Group, Eastman Chemical, LifePoint Health, Delek, and HCA Holdings. Majors might also compete with Enactus, take the Scotland Semester, attend the Future Ready Institute, earn the Bryan Director's Scholarship, and declare the Leadership Studies Minor.
Ranked among America's top 284 by the U.S. News & World Report, the Master of Business Administration (M.B.A.) presently has 12 PhD-level faculty teaching 131 post-grads entirely online for an 87 percent completion rate in five specializations, such as Human Resources. The 36-credit, IACBE-accredited curriculum coordinated by Dr. Jeffrey Bruehl develops the ethical Christian leadership traits for astute corporate strategy. Totaling $21,420, the M.B.A. lasts only 14 months with nine-week Moodle sessions delving into Employment Law, Management Accounting, and Training & Development. Bryan's Business Department seeks minimum 3.0 GPAs in regionally accredited bachelor's on the $50 applications. Online students still receive access to the Career Services Center's resources like Mock Interview Day. There are also Marketing, Healthcare Administration, and Sports Management Specializations.
Every nine weeks, Bryan's Continuing Education Department starts a Human Resources Graduate Certificate online via Moodle for working adults seeking the latest staff retention techniques in less time and tuition than the MBA. At Niche's 10th best online college, the 15-credit sequence led by Dr. Michael Chase obeys SHRM standards to unlock the Senior Certified Professional credential. Expect flexible 24/7 access to accelerated, faith-informed courses like Managing Organizational Change and Compensation Management at the 500-level. Costing just $8,625 in total, the program admits bachelor's grads with GPAs above 2.5 each March, May, August, October, and January. Classified "Military Friendly," the Bryan College Veteran Services Center will deduct $1,000 for eligible Armed Forces members though. Since 2016, some credits have been transferrable to the MACM Concentration in Administration online too.
About Bryan College
Bryan College is a private, independent, Christian institution of higher learning residing in Dayton, Tennessee. It was established in 1930 as William Jennings Bryan University, a four-year liberal arts institution. It was named after William Jennings Bryan, who was a prominent statesman and national leader that encourages the interests of common individuals. He was also an advocate for the world and value of the Bible. The school became William Jennings Bryan College in 1958 and finally Bryan College in 1993. In 2005, Bryan College began offering graduate degrees. Today, Bryan College is home to nearly 2,000 students on its 128-acre rural campus. It is a member of the following organizations: Association of Christian Schools International, Tennessee Independent Colleges and Universities Association, and the Appalachian College Association. Bryan College uses a semester-based academic calendar.
Bryan College is committed to educating students to lead lives as servants to Christ and make a significant impact on today's dynamic world. It provides students with a Christian liberal arts foundation that complements rigorous academic offerings in various fields. It offers 26 major programs with 43 unique areas of study and three graduate programs at the associate, bachelor's, and master's degree levels. The programs are offered through the School of Arts and Sciences and School of Adult and Graduate Studies. Bryan College offers Residential Undergraduate programs that are typically traditional on-campus learning. It also offers Adult and Graduate Studies programs to enable adult students to pursue their education on a part-time basis. These programs allow students to take classes in the evening and online. The most popular majors include business, marketing, management, education, psychology, theology, and recreation. The master's degrees include Master of Business Administration, Master of Arts in Christian Studies, and Master of Education.
At Bryan College, the student to faculty ratio is 14 to one, with nearly 70 percent of classes with less than 20 students. The average freshman retention rate is 69 percent. About 77 percent of instructors hold a terminal degree in their fields. Notable alumni from Bryan College include Andrew Dorn, Rachel Held Evans, David C. Fisher, David Alward, and Robert Clouse.
The U.S. News and World Report ranks Bryan College number 34 in its Best Value Schools publication and 68 in its Regional Universities South publication. Niche ranks Bryan College number 26th Best Online College in America, 85th Best College for Religious Studies in America, 99th Most Conservative College in America, and 160th Best Christian College in America.
Bryan College Accreditation Details
The Southern Association of Colleges and Schools regionally accredits Bryan College to grant associate, bachelor's, and master's degree.
The business programs at Bryan College are accredited by the International Assembly for Collegiate Business Education.
Bryan College Application Requirements
Bryan College features a selective admission rate, with an acceptance rate of 42 percent of applicants admitted every year.
Undergraduate
 Complete and submit the online application for admission
 Pay the $35 application fee
 Submit official high school transcript
 Submit official transcripts from all colleges and universities previously attended
 Submit official scores from the SAT or ACT examinations
 Submit the application essay
Graduate
 Complete and submit the online application for admission
 Pay the $50 application fee
 Submit official transcripts from all colleges and universities previously attended
 Submit a professional resume or curriculum vitae
 Submit two professional recommendations
 Submit a statement of intent
Tuition and Financial Aid
Tuition
Undergraduate
 Full-time students (12-19 hours per semester): $13,400 per semester
 Part-time students (one to 11 hours per semester): $1,200 per credit hour
Graduate
Graduate tuition varies by program, ranging from $425 to $575 per credit hour
Financial Aid
Bryan College participates in various financial aid programs, including scholarships, grants, loans, and work-study.
About 79 percent of full-time undergraduate students receive some type of financial assistance and the average need-based aid is $12,382 per year.
Scholarships
 Presidential Scholarship
 Dean's Scholarship
 Director's Scholarship
 Director's Achievement Award
 Dean's Leadership Service Award
 Presidential Honors Award
 The Great Commoner Award
 Transfer Scholarship
 Phi Theta Kappa Scholarship
 Word of Life Scholarship
 Rhea County Scholarship
Grants
 Federal Pell Grant
 Federal Supplemental Educational Opportunity Grants (FSEOG)
 Federal TEACH Grant
 Bryan Need-Based Grant
 Alumni Grant
 Christian Worker Grant
 Foreign MK Grant
 Homeschool Grant
 Sibling Grant
Loans
 Federal Subsidized Direct Loan
 Federal Unsubsidized Direct Loan
 Federal PLUS Loan
 Federal Graduate PLUS Loan
 Federal Perkins Loan
 Alternative Loan
Work Study
Bryan College participates in the Federal Work Study program that enables students to work on a part-time basis to earn money to pay for college-related costs. It is available for students who show financial need and meet certain requirements. Both on and off campus jobs are available and the pay is at least minimum wage. The average job is about eight hours per week. Actual job placement, amount of hours, and pay vary.
Related Articles:
Top 10 PhD in HR Degree Programs
Top 10 PhD Human Resources Online Programs