University conference centers are frequently used by local businesses and organizations to hold meetings, trainings, or conferences. Many are also popular choices for weddings and parties. The most impressive also host world leaders and dignitaries. University conference buildings often house state-of-the-art meeting facilities.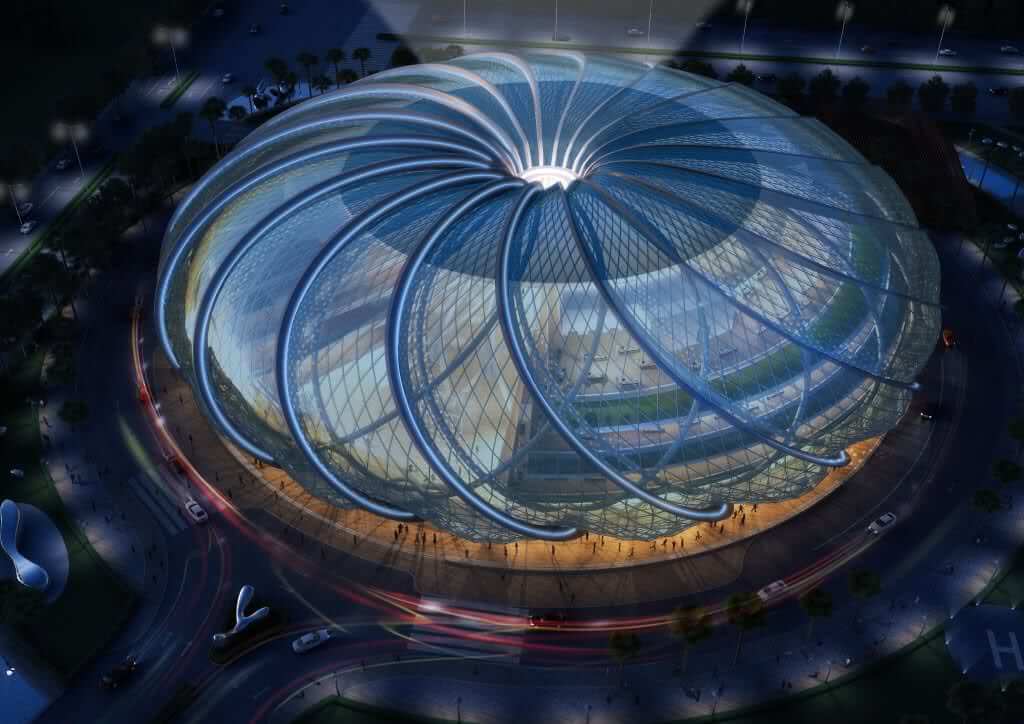 The 25 university conference centers on this list are among the world's most impressive facilities. In addition to meeting rooms, many of these conference centers also have:
grand ballrooms
luxurious hotel
upscale catering service
generous amenities
beautiful architecture
eco-friendly operations
We present our list of the 25 most impressive university conference centers in alphabetical order, featuring stunning photographs and unique features of each facility. If you're looking for a fancy conference room, check out these university conference centers.
1. AT&T Executive Education and Conference Center
The University of Texas at Austin: Austin, TX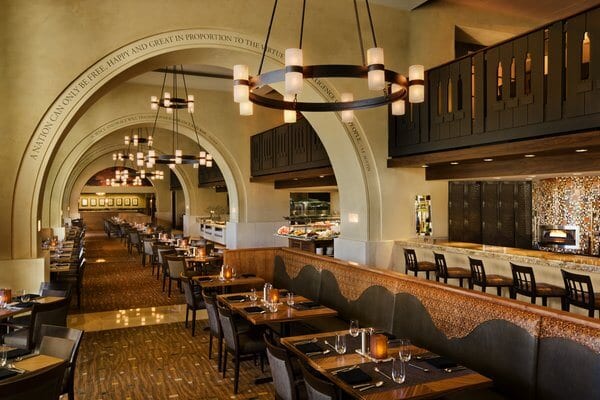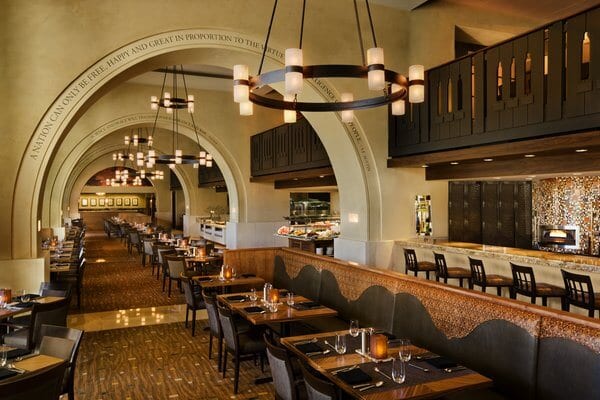 The AT&T Executive Education and Conference Center is at the University of Texas at Austin. It is one of the top luxury conference centers. It has recently been accredited as an IACC conference center. It is located right in the heart of Austin. This conference center is within walking distance to several of the area's most popular attractions. These attractions include the Blanton Museum of Art and the Texas Memorial Stadium. AT&T has outfitted the conference center with the latest in communications and learning technology. It also has wireless access in every part of the conference center. There is 40,000 square feet of meeting space, 276 guest hotel rooms, and 21 guest suites. It also meets LEED gold certification standards.
2. BYU Conference Center
Brigham Young University: Provo, UT

The BYU Conference Center is an impressive mix of modern and traditional. It is situated on the beautiful BYU campus. The conference center has views of trees and plenty of green space. The facility can host meetings, conferences, seminars, and grand special events. It has:
over two dozen meeting rooms
an auditorium with a stage
a media center
a ballroom
a covered patio
This conference center is a popular choice for special events in Utah.
3. Clemson University Conference Center & Inn
Clemson University: Clemson, SC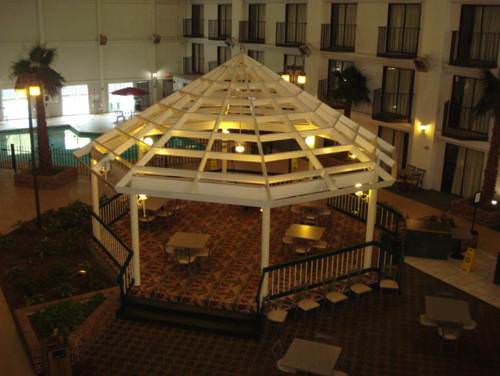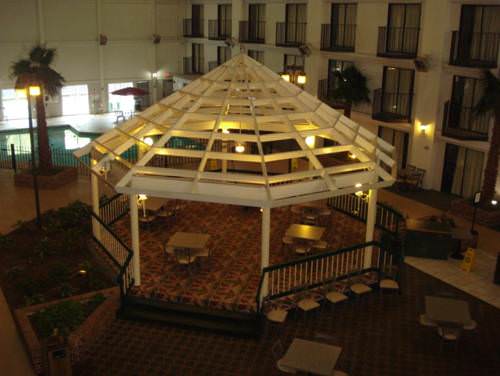 The Clemson University Conference Center and Inn was recently given the Readers' Choice Award by ConventionSouth Magazine for the center's impressive facilities. Located in Clemson, South Carolina, guests enjoy mild weather year round. As a result, the center's on-site golf course is a popular option for guests. The conference center has:
a 3,170 square foot auditorium with classroom seating
an executive board room
four meeting rooms with attached training rooms
two seminar rooms with interactive audio-visual capabilities
a state-of-the-art teleconference room
For weddings, parties and other special events, the conference center also hosts the beautiful 10,000 square foot open-air lakefront Owen Pavilion and a 5,660 seat grand ballroom.
4. Gainey Conference Center
University of St. Thomas: Owatonna, MN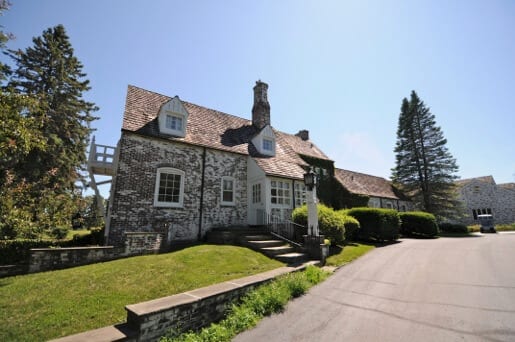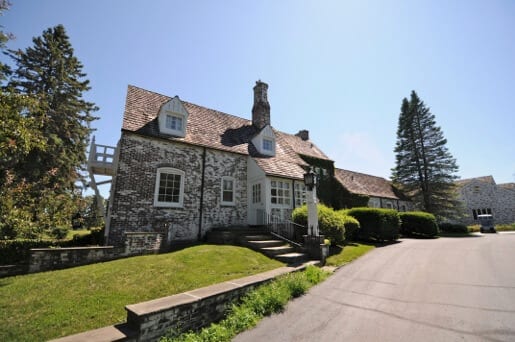 The Gainey Conference Center at the University of St. Thomas is nestled on 180 acres of rolling prairie land with gorgeous views of horse stables. The conference center is home to the world-famous Frank Gehry Winton Guest House. It boasts amazing architecture and a small museum. The conference center is designed to host conferences, large events, and retreats. The center can host 150 wedding guests in the ballroom. It is complete with a grand staircase. It can host 200 at an elegant outdoor event on the picturesque grounds. Horse-drawn carriage rides are even available for rental for special events.
5. Hagerty Conference Center
Northwestern Michigan College: Traverse City, MI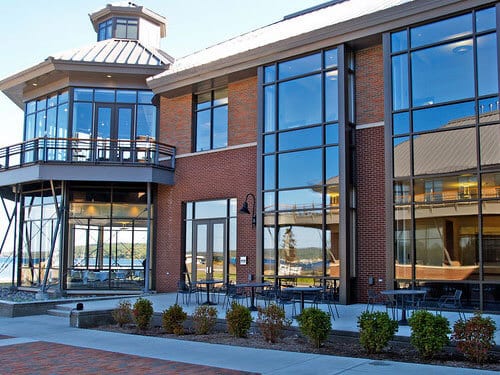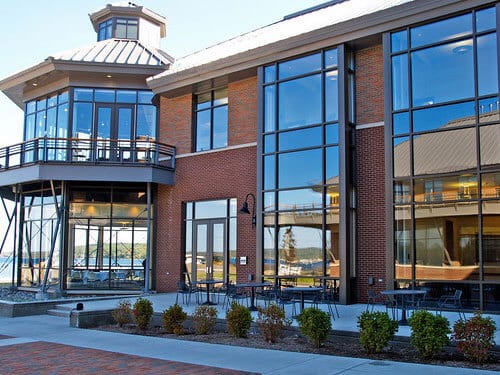 Offering breathtaking lakefront views, the Hagerty Conference Center on the campus of Northwestern Michigan College has been named one of Michigan's best conference centers by Michigan Meetings and Events Magazine. The conference center is walking distance to downtown Traverse City, Michigan. The center features:
meeting rooms ranging from 600 to 6,000 square feet
a grand ballroom
an outdoor patio
a courtyard for ceremonies
Outdoor events include speakers, wireless microphones, podiums, and chairs as needed. Indoor rooms include tables, linens, china, and audio-visual equipment as needed.
6. Harry Sudakoff Lecture and Conference Center
New College of Florida: Sarasota, FL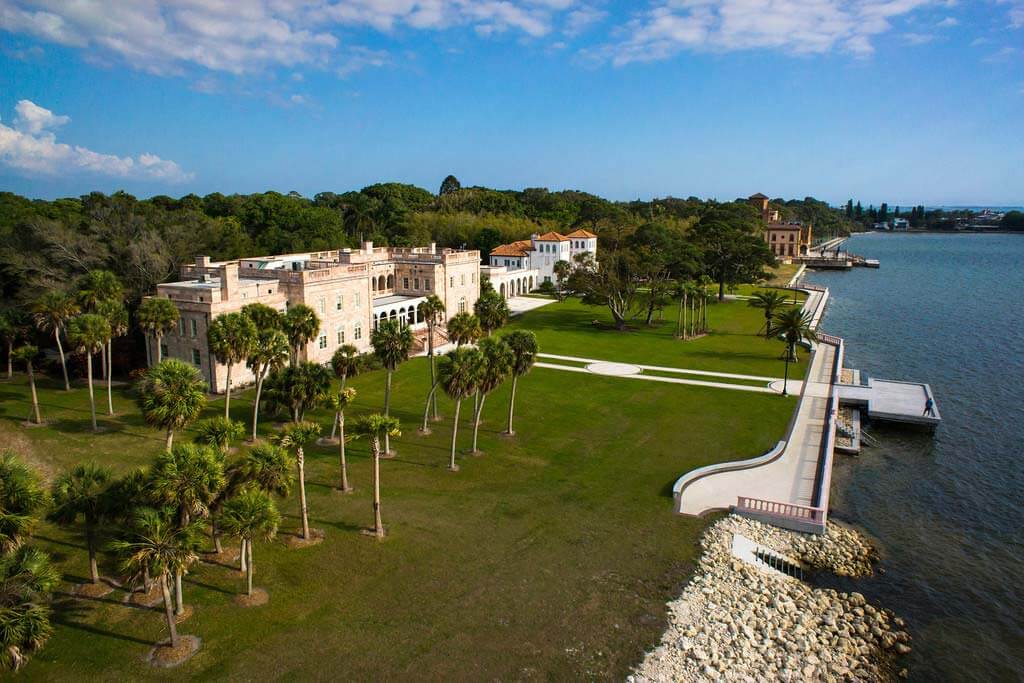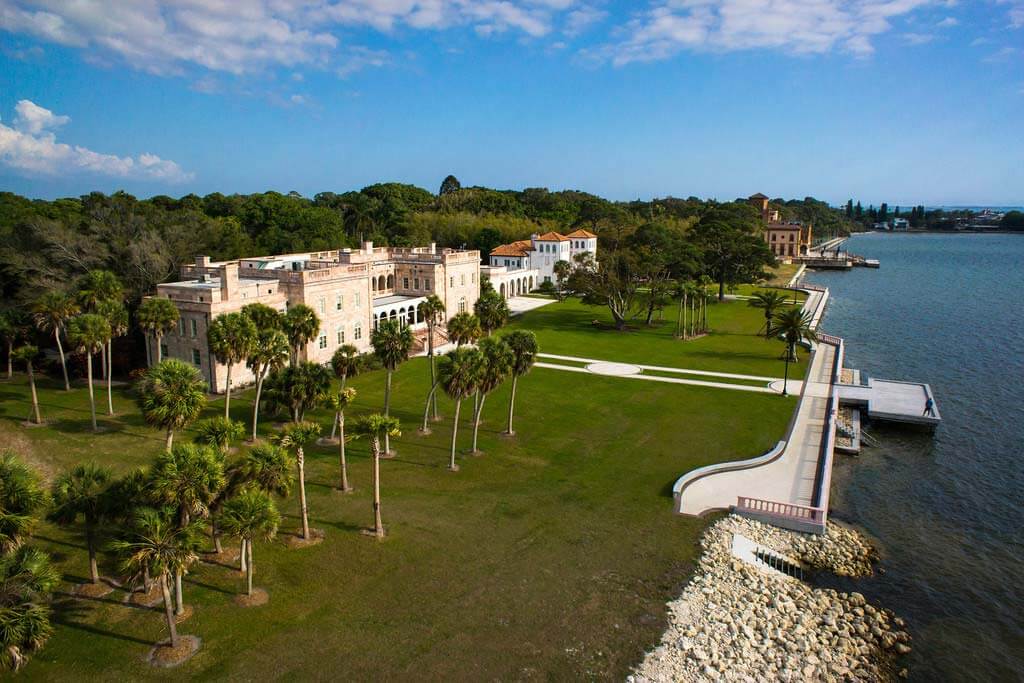 The Harry Sudakoff Lecture and Conference Center at New College of Florida sits on gorgeous bay-front property in northern Sarasota County, Florida. The campus also houses College Hall and the Mildred Sainer Pavillion. Those, along with the Harry Sudakoff Lecture and Conference Center, allows the campus to host meetings, weddings, exhibitions, lectures, musical performances, and even cabaret-style concerts. College Hall is a historic mansion that was once the home of circus creator Charles Ringling. With fireplaces, a curving wrought-iron staircase and an enclosed patio overlooking the bay, this facility is perfect for:
weddings
receptions
fundraisers
cocktail parties
The Harry Sudakoff Center has a 400 seat auditorium that can also be used as an exhibition hall.
7. Henley Business School: Facilities at Greenlands
University of Reading: Reading, UK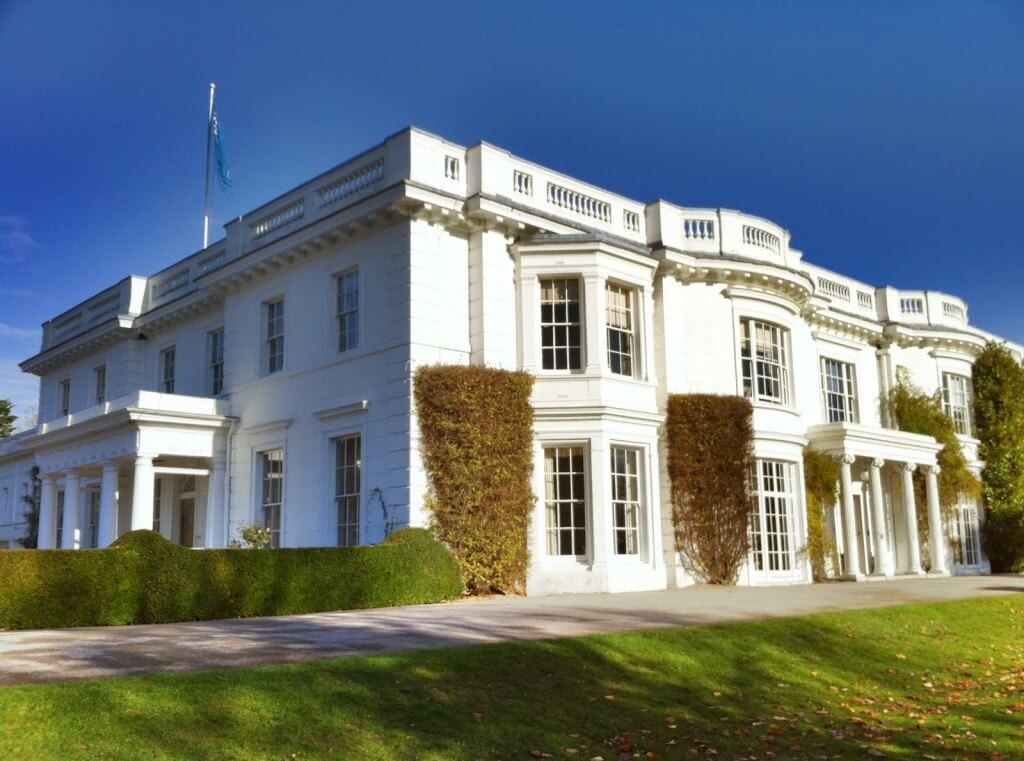 The Henley Business School is one of Europe's largest and most popular business schools. It has one of the most beautiful business conference centers. The school allows use of the conference center at the Greenlands campus for:
lectures
meetings
presentations
workshops
trainings
exhibitions
All rooms have state-of-the-art audio-visual equipment available. However, even more impressive than the meeting facilities is the unique modern architecture and design of the building. The spectacular arches, curves and stained glass make this one of the most uniquely designed campus conference centers in the world.
8. Removed by editor.
9. Kellogg Hotel and Conference Center at Tuskegee University
Tuskegee University: Tuskegee, AL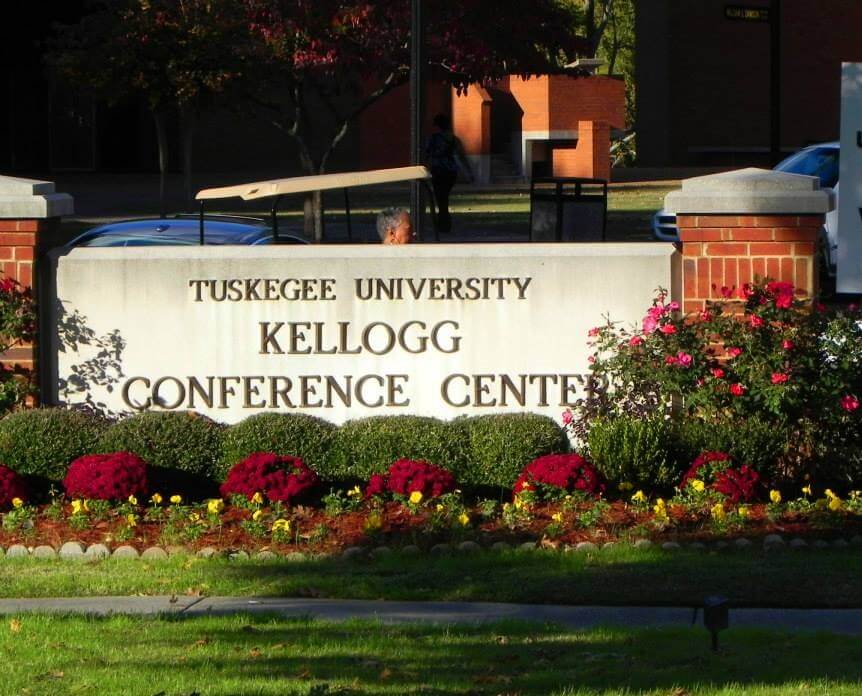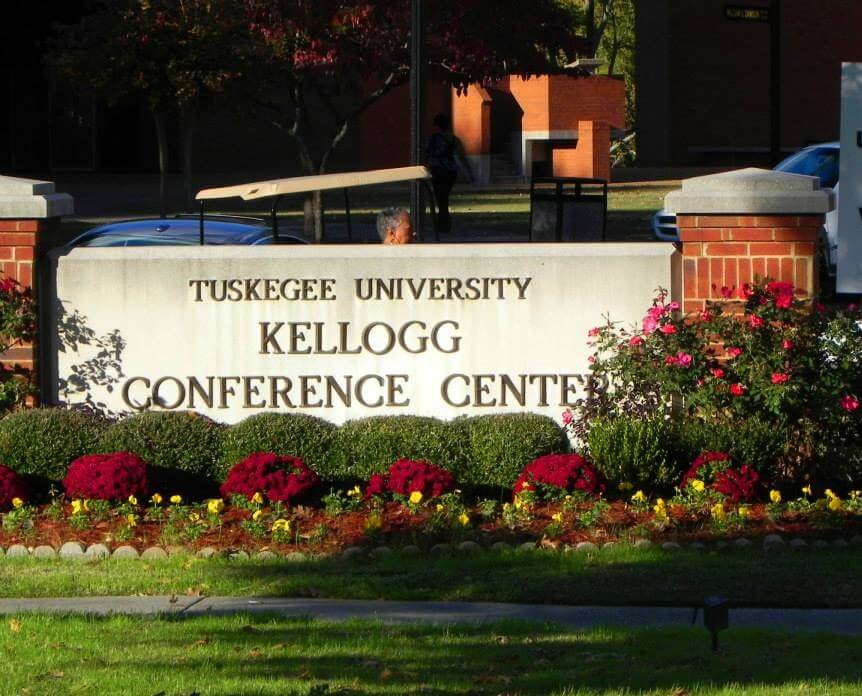 The Kellogg Hotel and Conference Center is at Tuskegee University. It combines stately Georgian architecture with the historical southern grandeur you'd expect from one of the largest and most well-known conference centers in the southern United States. What you may not expect, however, is the full range of modern amenities and extras that make a meeting or event at the Kellogg Hotel even more memorable. The conference center features 17,000 square feet of event space and state-of-the-art audiovisual and multimedia equipment. There is a large fitness center, complete with indoor pool. On-site restaurants, room service, and full service catering are also available. They serve a full range of southern food with special themed days that include Soul Food Wednesday and Sunday Brunch.
10. Kent State University Hotel and Conference Center
Kent State University: Kent, OH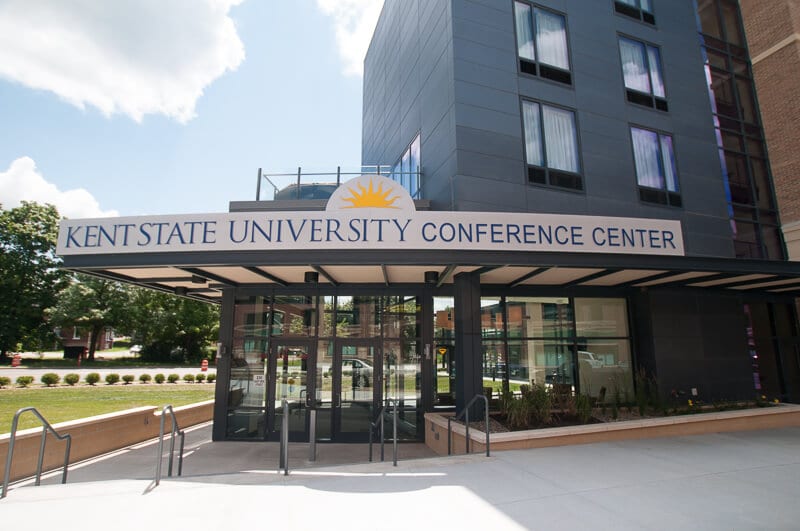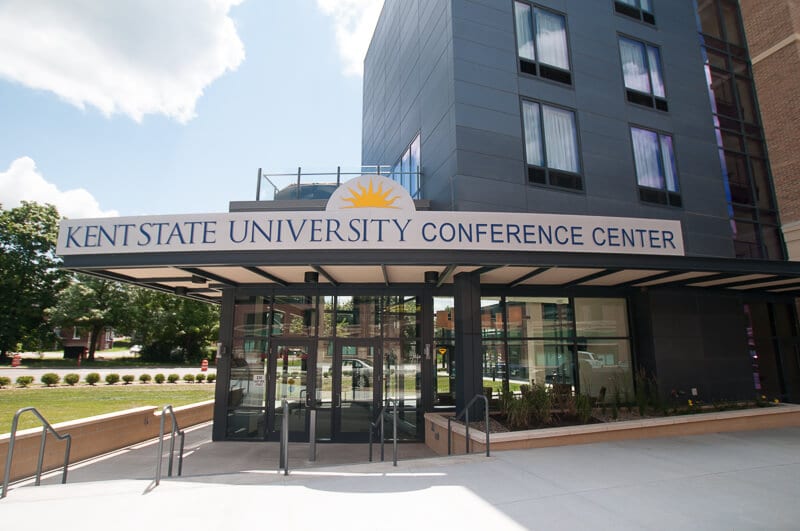 Kent State University's Hotel and Conference Center is one of Ohio's most impressive conference centers. The hotel includes:
heated indoor pool
impressive fitness center
spa
boutique-style rooms and suites
The conference center boasts 5,000 square feet of meeting pace with wireless printing available from a laptop, tablet, or smartphone. The facilities offer space for:
weddings
graduations
parties
business parties
fundraisers
bar mitzvahs
11. Mission Bay Conference Center at UCSF
University of California, San Francisco: San Francisco, CA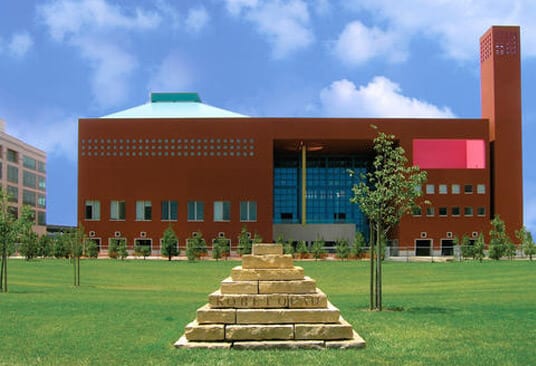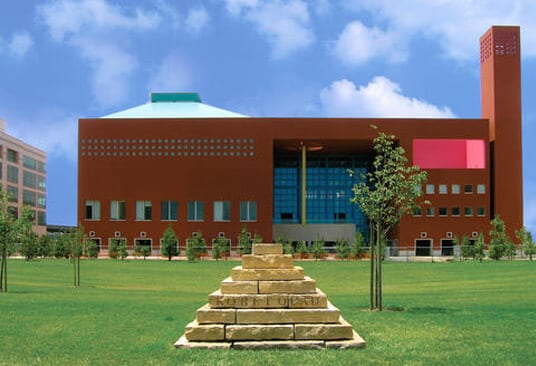 The Mission Bay Conference Center at UCSF is architecturally impressive. It is an eco-friendly and green establishment, down to the center's new tables that are so aesthetically pleasing that they do not need table linens. The on-site pub and catering facilities offer health conscious and nutritious food, with most of it also being organic. The ballroom is gorgeous with large windows that let natural light stream in. This highlights the plants and eco-friendly amenities. The conference center also has a large auditorium, several meeting rooms, and an executive boardroom.
12. Moller Centre
University of Cambridge Churchill College: Cambridge, UK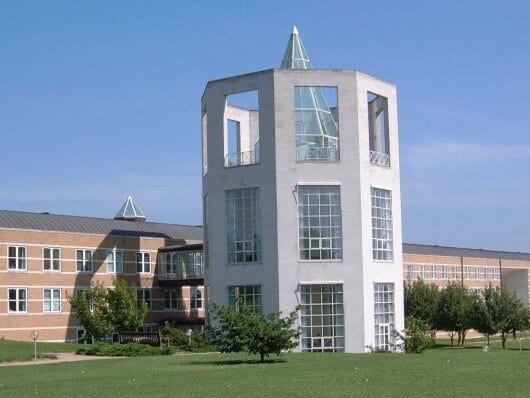 The Moller Centre is housed on the beautiful campus of Churchill College. There are 23 meeting rooms, 71 guest rooms, a bar, a restaurant, and a rooftop terrace. For guests staying after the meeting, there is also an on-site gym, tennis courts, and room service. The Tower Lounge Bar offers complimentary tea and coffee along with a full line of bar meals. This adults-only facility provides the peace and serenity needed for successful business meetings and conferences.
13. Rutgers University Inn and Conference Center
Rutgers University: New Brunswick, NJ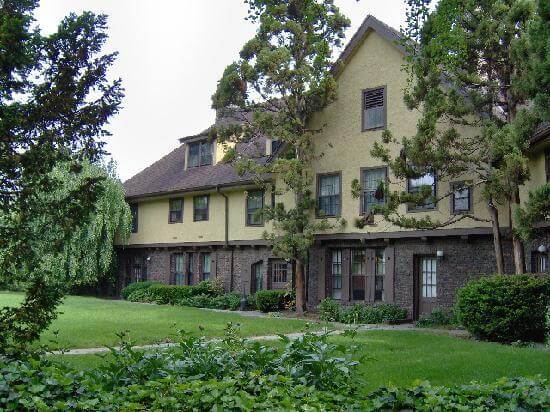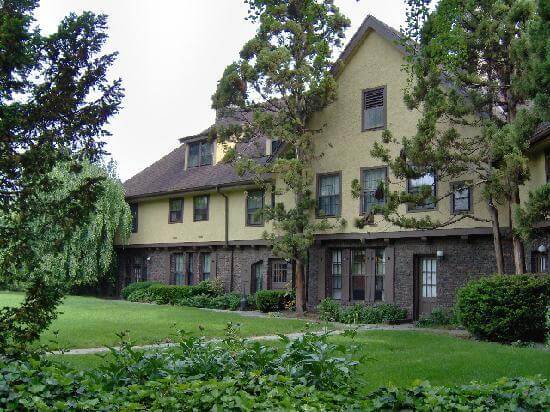 The Rutgers University Inn and Conference Center is a major conference center. It is also a retreat center for business and leisure travelers. The center is nestled on 21 wooded acres, offering an atmosphere of serenity and peace. The center's historic Lindenwood Carpender House is a Tudor revival style mansion with a modern addition. That makes this former estate into a large conference center with a sun porch, offices, a large hall, and one of the coolest conference rooms complete with fireplaces. The modern guest rooms are 100% smoke free and are designed to provide a retreat-like atmosphere for all travelers.
14. Steinberg Conference Center
Wharton School, University of Pennsylvania: Philadelphia, PA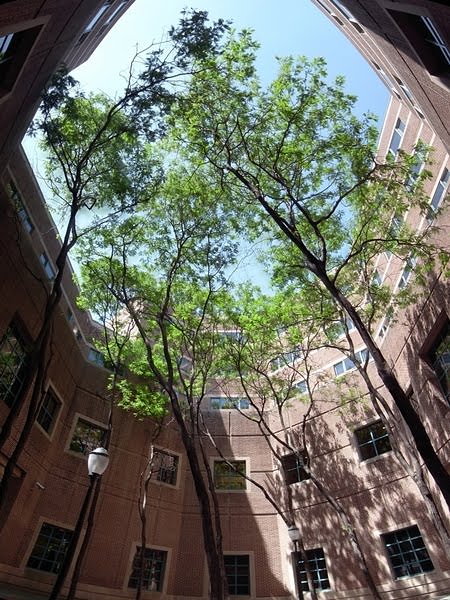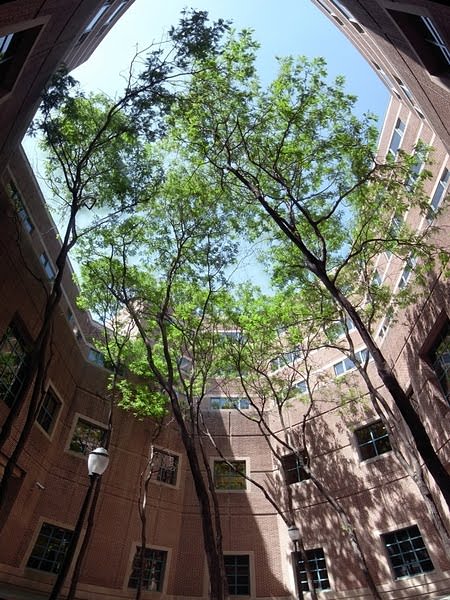 The Steinberg Conference Center is a beautiful historic hall with many modern amenities. It features:
five amphitheaters
four flat floor classrooms
21 beautiful conference rooms
15 study rooms
a gym
gourmet executive dining facilities
a private bar
Beautiful full-service guest rooms complete with high-speed internet, organic linens, and flat screen televisions make staying overnight comfortable. There is also an evening lounge with flat screen televisions, a Wii gaming system, and darts.
15. The Centro Residenziale Universitario di Bertinoro
University of Bologna: Bertinoro, Italy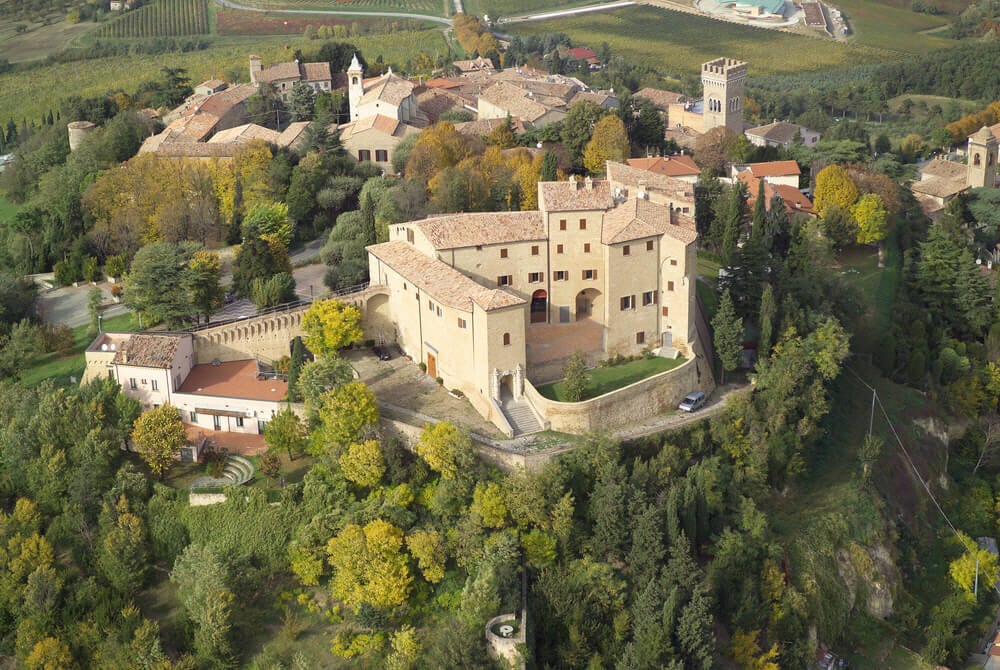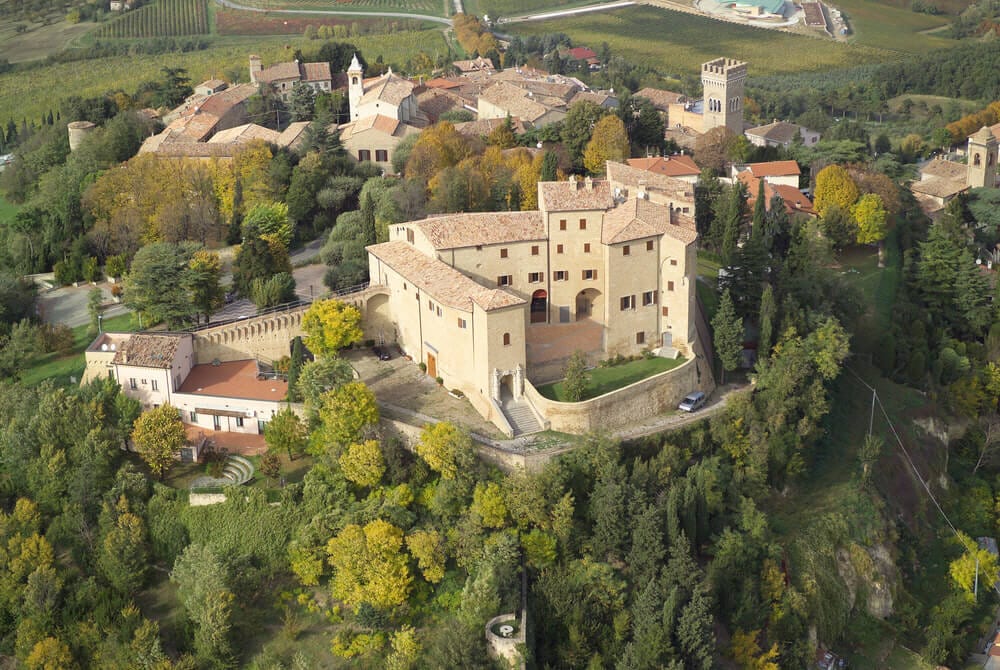 The Centro Residenziale Universitario di Bertinoro is the vocational training center for the University of Bologna. Situated in ancient Bertinoro and perched over the beautiful city, the impressive views are just one draw to this incredible facility. Each year, close to 30,000 guests attend a meeting or spend the night at the The Centro Residenziale Universitario di Bertinoro. The facility has:
several unique buildings (including St. Sylvester Church)
a theater
the Rivellino
the Bishop's Fortress
Inside these buildings are 14 training rooms, 2 computer labs, 86 guest rooms, and a canteen that seats 200.
16. The Conference Center at Shippensburg University
Shippensburg University: Shippensburg, PA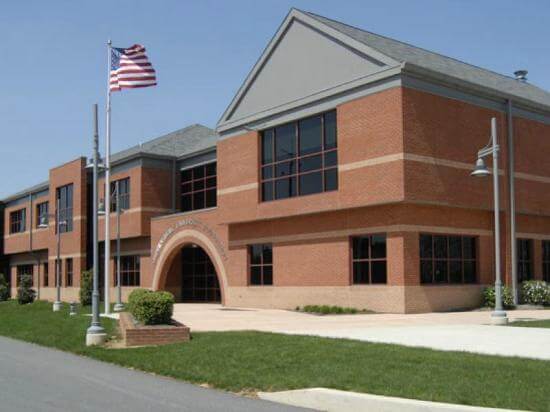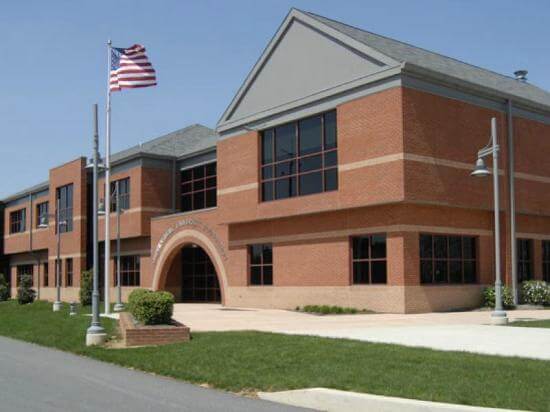 The Conference Center at Shippensburg University has 12,000 square feet of meeting and event space within 13 unique rooms. There is also a gorgeous courtyard perfect for outdoor events. The center's amenities include audio-visual equipment, the ability to use video conferencing equipment, onsite catering and free internet. There are several meeting rooms, including an executive board room. The reception area can accommodate up to 200 guests, making it perfect for weddings or business celebrations.
17. The Cook Hotel and Conference Center at LSU
Louisiana State University: Baton Rouge, LA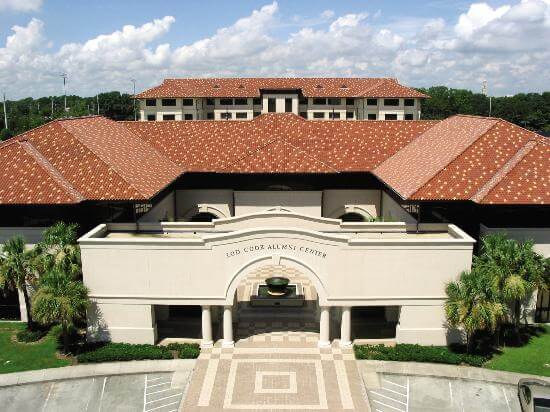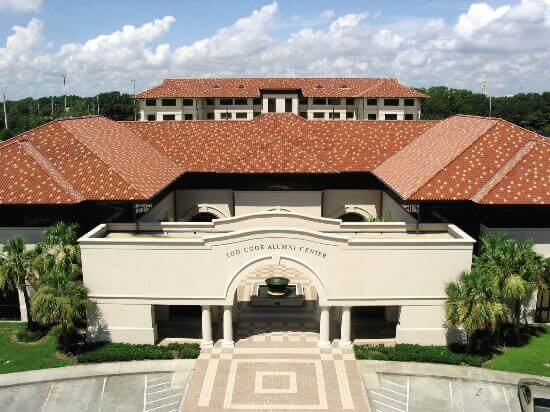 The Cook Hotel and Conference Center at LSU is the city's only independently owned and operated boutique hotel. Situated on beautiful lake-front property, this beautiful, serene and picturesque conference center is perfect for business meetings and large formal gatherings alike. The center features 128 deluxe guest rooms and luxury suites. More impressive than the upscale guest rooms, however, is the 13,000 square feet of flexible meeting space, including a grand ballroom filled with natural lighting from the beautiful large windows.
18. The Hotel and Dixon Conference Center at Auburn University
Auburn University: Auburn, AL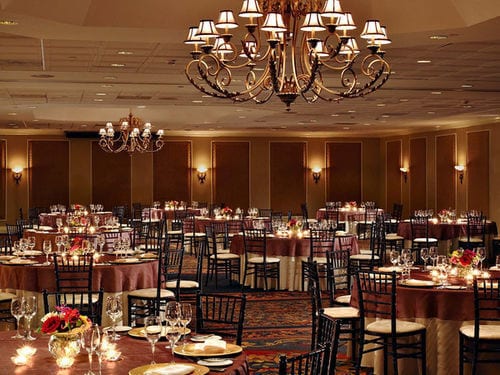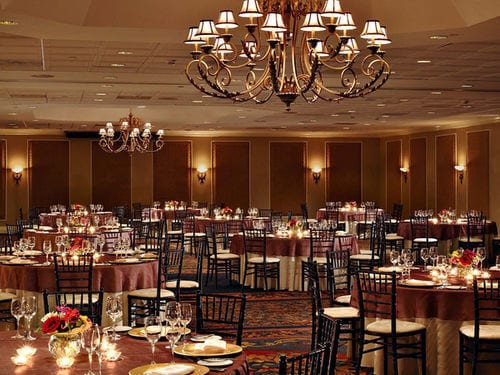 The Hotel and Dixon Conference Center at Auburn University has all of the stately ambiance, historic charm and southern hospitality you would expect to find in an Alahttp://www.auhcc.com/default-en.htmlhttps://www.auhcc.combama college town. The two grand ballrooms can seat up to 600 guests each and is perfect for the most upscale gatherings. With beautiful decor, majestic crown molding, elegant wall coverings and specialty linens, this space is perfect for weddings and balls. The conference center features 22,000 square feet of meeting space in 15 flexible rooms. The state-of-the-art auditorium can seat up to 356 guests and an executive board room is also available.
19. The Marcum Hotel & Conference Center at Miami University
Miami University: Oxford, OH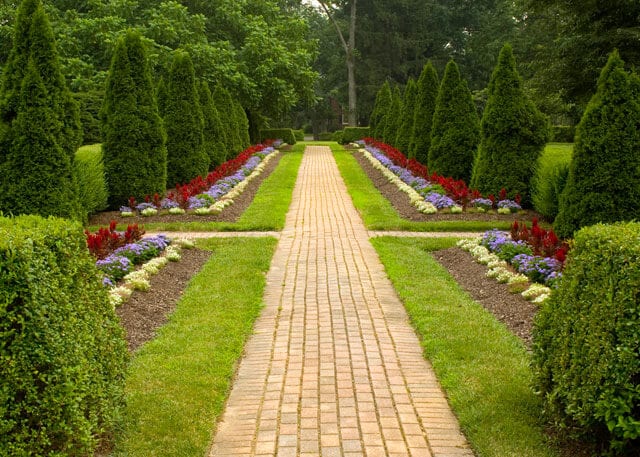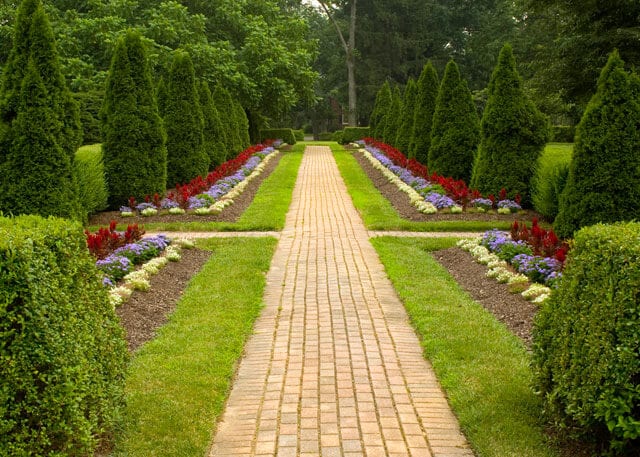 The Marcum Hotel & Conference Center at Miami University has 13,000 square feet of flexible meeting space that can accommodate groups up to 275. Each room features ergonomic meeting room chairs, individual lighting and temperature controls, conference call capabilities, internet access and a professional conference planning staff. There are 55 elegant guest rooms, with some overlooking formal gardens. Hotel guests enjoy a free deluxe continental breakfast. The beautiful ballroom can accommodate up to 175 for weddings and other large gatherings. With two on-campus Romanesque chapels, Miami University is a popular option for weddings and other special religious celebrations.
20. TRU Conference Centre
Thompson Rivers University: Kamloops BC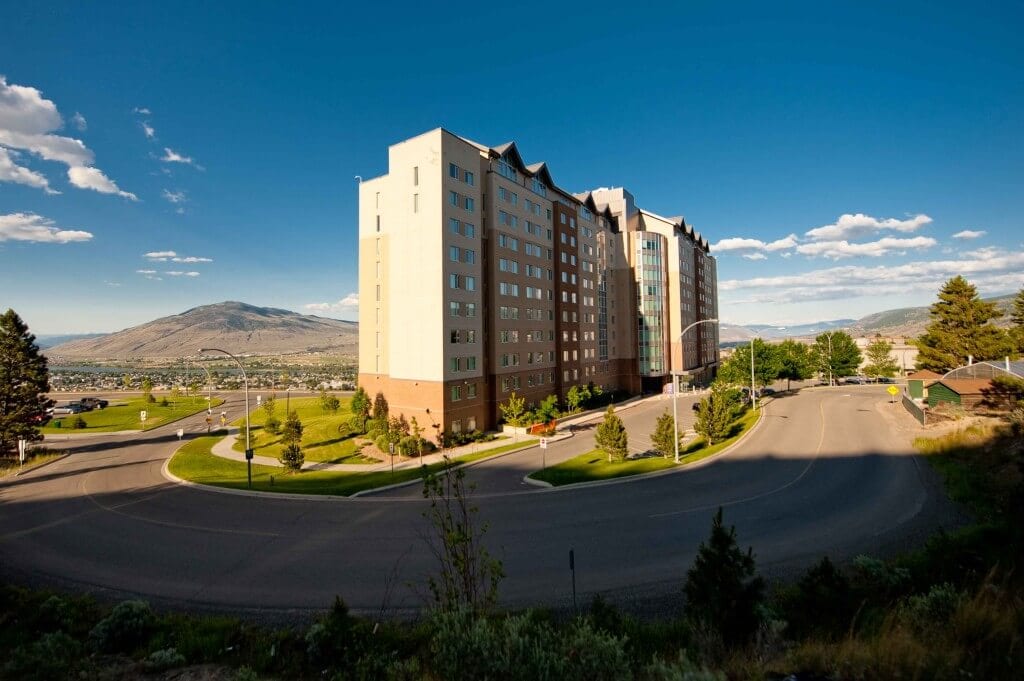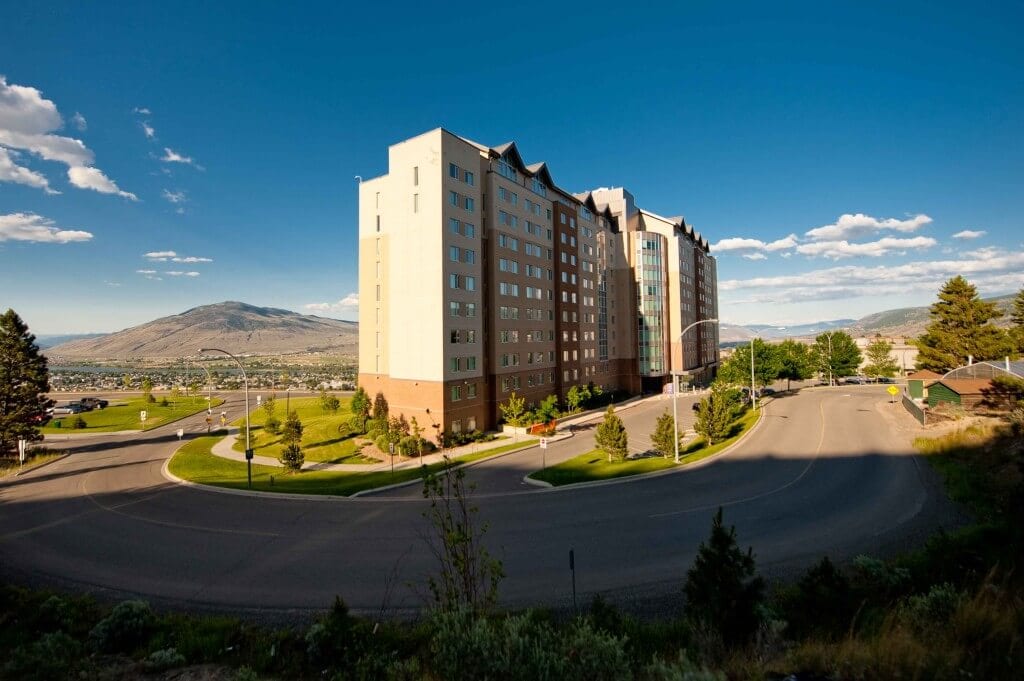 The TRU Conference Center at Thompson Rivers University is one of the top conference centres. It has an impressive 30,000 square feet of meeting and convention space. The Grand Hall can accommodate up to 600 people and is perfect for weddings, meetings, conferences and trade shows. The Terrace can accommodate up to 300 people and is used for weddings, meetings and dances. The Barber Centre is the largest in-the-round lecture theater in the province and can accommodate up to 300 guests. The Mountain Room has picturesque campus views and is perfect for smaller weddings. There are also several smaller meeting rooms, a panorama room, an executive boardroom and an on-site pub. The Horticulture Garden is a beautifully manicured outdoor area that can be used for weddings, reunions and business gatherings.
21. Villanova University Conference Center and Hotel
Villanova University: Radnor, PA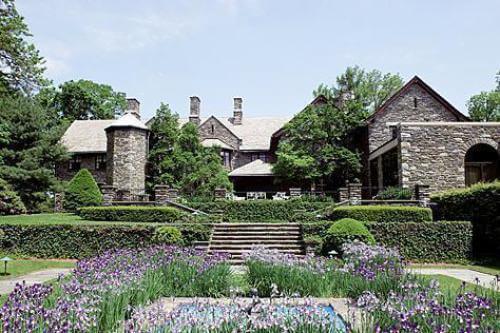 The Villanova University Conference Center and Hotel is housed on a beautiful wooded estate and combines 20th century architecture with 21st century technology. There are 58 luxurious guest rooms, an impressive fitness center, ropes and challenge courses, volleyball courts, bocce facilities and basketball courts. There is also a game room with a pool table, poker table and shuffle board. There is over 14,000 square feet of meeting space and an executive business center open 24 hours a day. The elegant mansion living room and private dining room are perfect for cocktail receptions and upscale parties.
22. UBC Conferences & Accommodation
University of British Columbia: Vancouver, Canada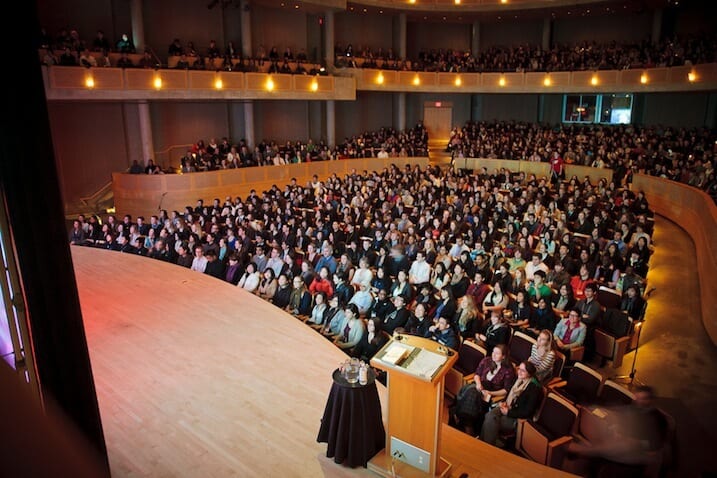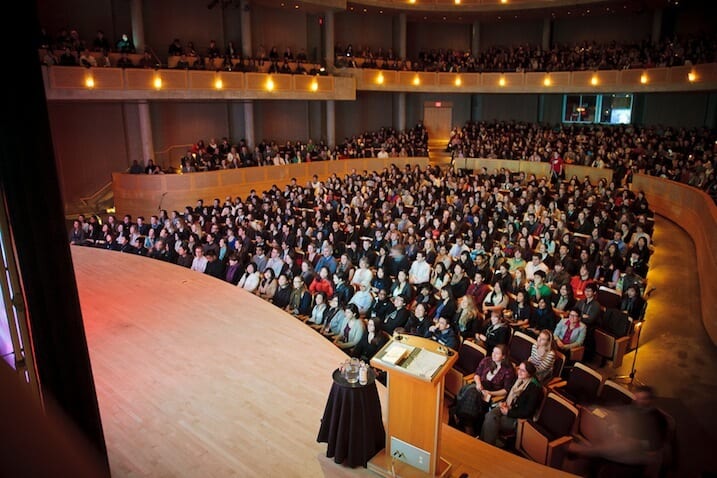 The UBC Conferences and Accommodation Center is one of Vancouver's most impressive conference centers. Situated on scenic wooded and bay front property, guests can enjoy views of mountains, water and nature at this serene and peaceful conference center. There are several auditoriums, meeting rooms and theater venues, including a very impressive large theater with balcony seating that can accommodate up to 500 guests. The conference center accommodates between 50 and 2,000 guests, with space to host even the largest international meetings.
23. UCLA Lake Arrowhead Conference Center
University of California, Los Angeles: Lake Arrowhead, CA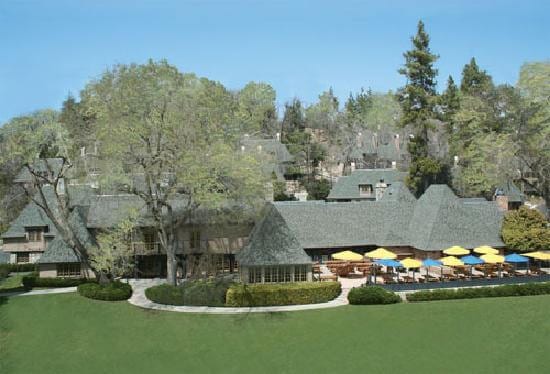 The UCLA Lake Arrowhead Conference Center features a retreat-like atmosphere situated on 42 wooded mountain acres. Groups from 10 to 200 guests can enjoy the facilities from September through mid-June. There are resort-like guest rooms with personal amenities, continuous refreshment breaks, buffet breakfasts and lunches, and a four-course dinner included in the cost of facility rental. Many of the 14 impressive guest rooms have mountain and lake views, as well as outdoor decks and fireplaces. The largest of the meeting rooms is 1,512 square feet and can accommodate 200.
24. University of Central Oklahoma Conference and Event Services at the Nigh University Center
University of Central Oklahoma: Edmond, OK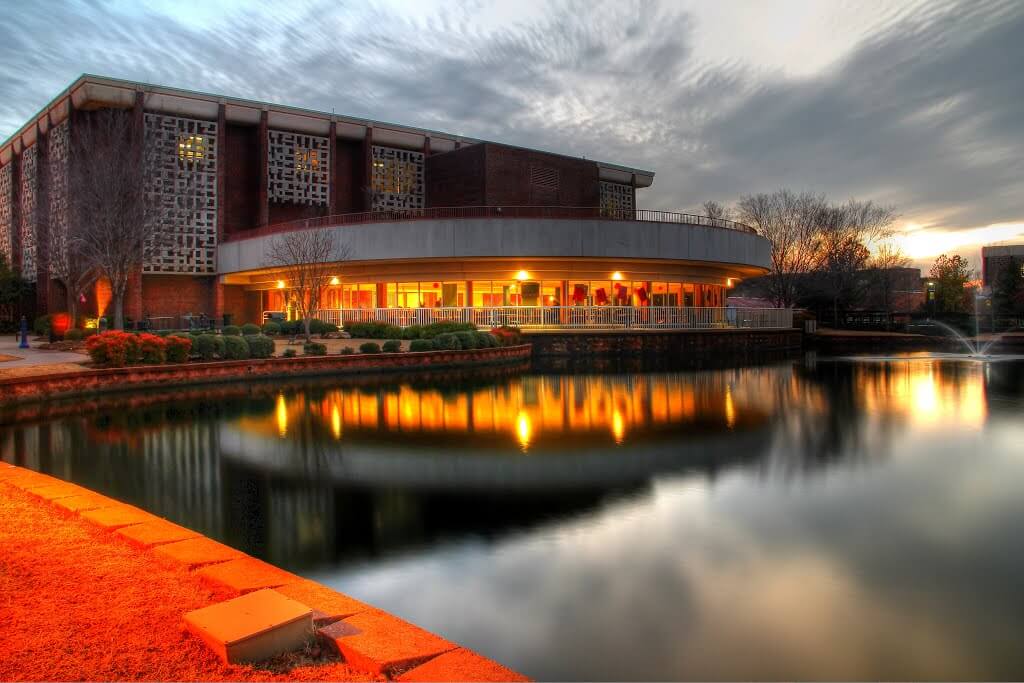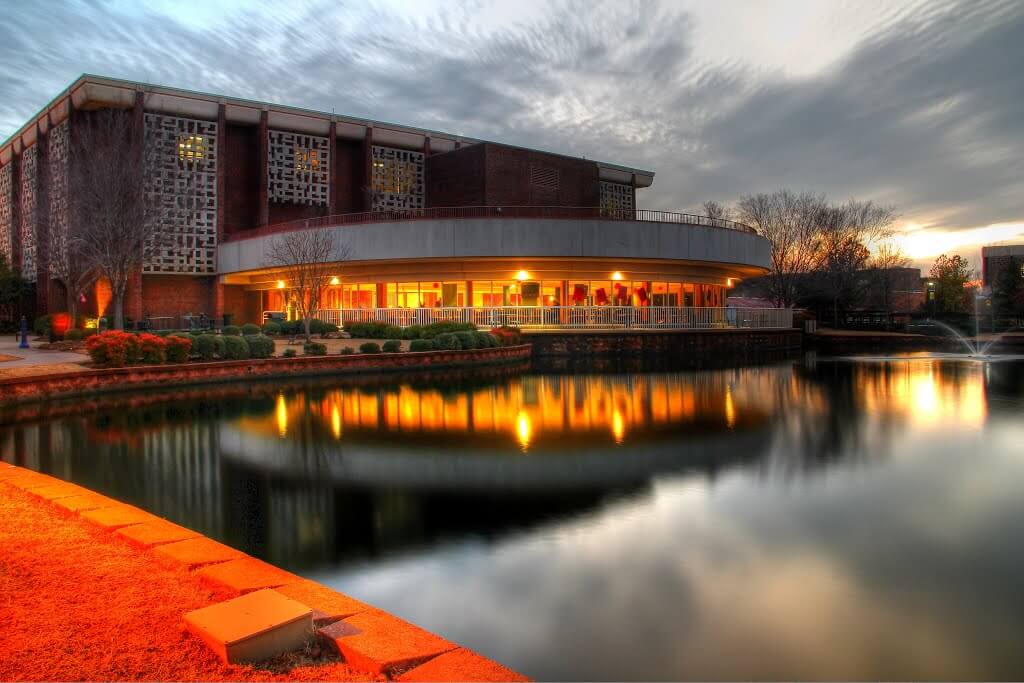 The Nigh University Center is a top university conference center. It located just minutes from Oklahoma City and boasts over 37,000 square feet of meeting space. There are 25 meeting rooms that can accommodate both small and large groups. However, more impressive is that the conference center acts as a miniature town, complete with a post office, a food court, a restaurant, a full-service print shop, an on-site Starbucks and a Barnes and Noble bookstore right on campus. This full-service conference center makes guests feel like they are on vacation or retreat, even during business meetings and conferences. Guests can enjoy views of the picturesque campus, including a beautiful pond and fountain right outside the conference center. The grand ballroom is perfect for fairy tale weddings and upscale galas for up to 500 guests. Smaller weddings and other special special events can also be held in the conference center's beautiful outdoor courtyard.
25. University of Wisconsin-Extension Conference Centers
University of Wisconsin: Madison, WI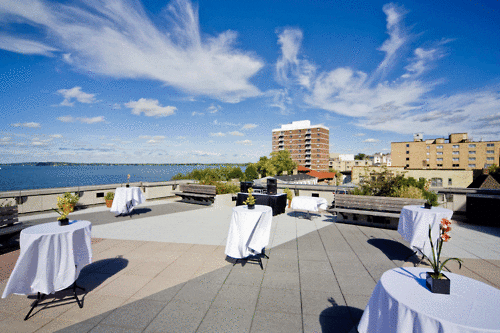 University of Wisconsin-Extension Conference Centers feature two facilities: The Pyle Center and The Lowell Center, both in Madison. Both facilities have some of the best conference rooms, small breakout rooms, lounges and dining facilities. The Pyle Center has 135,000 square feet of meeting space, including 30 rooms, a 95-seat auditorium, a reception area for 300 guests and an impressive rooftop terrace that can host up to 400 guests. The Inspiration Room is a beautiful conference room and is a multipurpose room that can host up to 15 guests and can be used free of charge for conference center guests. The Lowell Center is a seven story conference center with 137 guest rooms, seven meeting rooms, two reception areas and a gorgeous modern dining room with large windows that allow for abundant natural lighting.
Whether one is hosting a small, intimate business meeting or a 600 guest fairy tale wedding, university conference centers can often be used to host the event. While many universities have conference centers, a few are truly spectacular, with stunning architecture, breathtaking views or luxurious amenities. These impressive university conference centers are sure to make any event memorable.
Other Rankings of Interest: