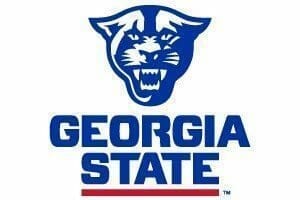 Three Levels of HR Degrees at Georgia State
Georgia State University is featured in our ranking of the 50 Most Affordable Human Resource MBA Degree Programs.
Endowed for $10 million by the Atlantic American Corporation CEO in 1998, the J. Mack Robinson College of Business attracts 6,214 Georgia State University undergrads into 11 majors, including a B.B.A. in Managerial Sciences with the Human Resource Management Emphasis. Ranked 44th nationally by the U.S. News & World Report, this 121-credit, four-year curriculum headed by Dr. Pamela Barr focuses on the inner workings of effectual enterprises and their people. Maintaining a minimum 2.8 GPA is required during courses like Critical Thinking, Managing Human Resources, and Business Communication with a 23:1 learner-professor ratio until the RCB exit exam. Majors may also attend the HR Executive RoundTable, exchange to HEC Lausanne, attend the Panther Leadership Academy, join the WomenLead cohort, pledge Beta Gamma Sigma, and take the Panthers on Wall Street Immersion.
Crowned the world's 12th best by CEO magazine, the Flex MBA at Georgia State University currently supports 1,733 early-stage professionals at the Downtown and Buckhead locations to grow market value in 15 concentrations, such as Human Resource Management. The 39-54 credit, AACSB-accredited program led by Dr. Richard Phillips presently costs Georgians $8,838 and non-residents $23,400 yearly for custom leadership training. Core courses, such as Data Driven Decisions, Digital Innovation, and Organizational Behavior, meet on-site Mondays through Thursdays. In Fall 2016, admitted cohorts had an average 3.29 GPA, 542 GMAT, and 298 GRE mark plus 5.2 years of full-time experience. After the Competitive Strategy capstone, Robinson College alumni have 87 percent three-month job placement at Randstad, Deloitte, Allstate, Delta, Norfolk Southern, Pepsico, Wellstar Health, and more.
Accepting $50 applications until January 15th, Georgia State University's J. Mack Robinson College selectively picks Fall cohorts of 3-8 for a Ph.D. in Managerial Sciences with two specialized tracks: Organizational Behavior & Human Resources or Strategy. Advised by Dr. Kris Byron, the 42-credit, post-master's option trains research scholars for scientific inquiries into corporate and workplace culture. Students with 3.0 GPAs and GRE scores in the top 50th percentile enter 9000-level Atlanta courses like Multivariate Data Analysis and Theory Development for $702 to $1,563 per credit. On-campus research centers, especially the W.T. Beebe Institute of Personnel & Employment Relations, aid the in-depth dissertation project. Since 1987, the Panther People At Work Group has hosted the PHRRG Conference. Doctoral candidates contribute to the Academy of Management Journal and Personnel Psychology too.
About Georgia State University
Georgia State University was founded in 1913 and has grown to become the largest university in Georgia with more than 51,000 students. The comprehensive university offers more than 250 degree options that are housed within eight academic colleges. More than 3,500 faculty members serve students at the university, which boasts an extensive law library containing millions of volumes and official documents of the federal government. The school's official colors are white, red, and blue, and the school's teams are nicknamed the Panthers in their NCAA Division I games. The school's mascot is Pounce, a blue panther. The urban campus covers 518 acres in downtown Atlanta and is considered an "R1 research university" by the Carnegie Foundation. When it was founded, the university was a simple night school for adults, but it would become part of the University of Georgia system in the 1940s.
Georgia State University Accreditation Details
The Southern Association of Colleges and Schools Commission on Colleges has accredited Georgia State University to award college degrees. The school is also authorized by the state to offer degrees and has several programs with specialized accreditation. Within the Andrew Young School of Policy, the Master of Public Administration degree is accredited by the National Association of Schools of Public Affairs. The Bachelor of Social Work and the Master of Social Work are accredited by the Counseling on Social Work Education organization. The degrees in Business Administration offered by the J. Mack Robinson College of Business are accredited by the Association to Advance Collegiate Schools of Business International. Accreditation ranges from the Bachelor of Business Administration to the Master of Business Administration, as well as the Ph.D. in Business and an assortment of specialized graduate degrees in business.
Georgia State University Application Requirements
High school students who wish to enter Georgia State University will need to submit an application, pay the application fee, submit their high school transcripts, submit a letter of recommendation, and have official test scores delivered to the university. The school will grade a prospective student's application on the quality of the student's high school GPA, college preparatory classes taken, and standardized test scores. To apply for the MBA program at Georgia State University, students must submit the official application, standardized test scores, colleges transcripts, essays, a resume, and letters of recommendation. Students must also participate in a video interview, which is an opportunity to get to know the admissions committee, as well as let the committee get to know the student.
Tuition and Financial Aid
Tuition and fees are charged at Georgia State University based on the level of the program a student wishes to enter. Undergraduate tuition for in-state residents is $291 per registered hour, and tuition for out-of-state residents is $910.14 per registered hour. There are a variety of mandatory student fees charged to students that include an activity fee, athletic fee, health fee, and library facility fee, as well as a handful of other fees. For graduate students, the in-state tuition rate is $390 per registered hour and $1,251 per registered hour for out-of-state residents. For the Flex MBA, Georgia residents will pay $37,878 for the program and out-of-state students will pay $81,594 for the program. For the Executive MBA, in-state students will pay $69,500 for the program and out-of-state residents will pay $74,500 for the program.
Students may apply for financial assistance at Georgia State University which may result in loans, grants, or scholarships to help pay for tuition and other costs associated with attending college. Students must submit a FAFSA form to gain eligibility for federal student loans, as well as to qualify for institutional grants and scholarships. Some students in graduate programs may receive tuition waivers when they participate in research or are hired as teaching assistants. There is also a program in Georgia called the Georgia State Payment Plan, which allows students to defer payments for tuition and fees for half of the account balance. Students may also use tuition vouchers if they participate in AmeriCorps, as well as apply for assistance through the Veterans Administration if they are a current member of the military or are a veteran. Students interested in the MBA program at Georgia State University should explore all available financial assistance options to fund their education.
Related Articles: