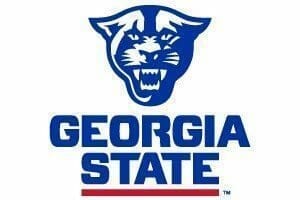 Georgia State University is also featured in our ranking 50 Most Affordable Human Resource MBA Degree Programs.
Human Resources MBA at Georgia State University
The MBA program at Georgia State University is offered with 15 available concentrations, as well as with no concentration and an emphasis on general management. Available concentrations include those in Accounting, Business Analysis, Entrepreneurship, Health Administration, Human Resources Management, and Risk Management & Insurance. Students who choose human resources as their concentration will take three extra courses for their concentration, as well as an elective class. Human resources classes include Strategic Compensation, Human Resources Management, and Human Resources Recruitment & Selection. Students will choose Legal & Ethical Environment of Human Resource Management or Strategic Human Resource Management as their elective.
One of the unique facets of the MBA program at Georgia State University is its MBA Career Pathway program, which allows students to fully customize their degree beyond their chosen concentration. For example, students may choose the Analytics Consulting pathway, which is designed to help students use data to aid their companies in business problem solving and communications. Topics within Analytics Consulting include data mining, machine learning analytics, and data management for analytics. Students may also choose the Global Business pathway, which helps students understand global business operations, international negotiations, and organizational change. Topics up for debate in Global Business include Leading Organizational Change, Analyzing International Business Problems, and International Negotiations.
The MBA program at Georgia State University offers students more concentrations than any other program in Georgia, and also offers options for self-paced study with the Flex MBA program and its part-time schedule. Students can graduate in two to five years based upon how many classes they take each semester. Students may also choose the Executive MBA program, which is a full-time program and may be completed in just 17 months. While enrolled at the university, students can participate in a variety of events and career fairs that can aid in professional development and finding work after graduation. Some of the companies where graduates have found jobs after receiving a Master of Business Administration include AT&T, Marriot International, Verizon, Georgia-Pacific, and the Federal Reserve Bank of Atlanta.
About Georgia State University
Georgia State University was founded in 1913 and has grown to become the largest university in Georgia with more than 51,000 students. The comprehensive university offers more than 250 degree options that are housed within eight academic colleges. More than 3,500 faculty members serve students at the university, which boasts an extensive law library containing millions of volumes and official documents of the federal government. The school's official colors are white, red, and blue, and the school's teams are nicknamed the Panthers in their NCAA Division I games. The school's mascot is Pounce, a blue panther. The urban campus covers 518 acres in downtown Atlanta and is considered an "R1 research university" by the Carnegie Foundation. When it was founded, the university was a simple night school for adults, but it would become part of the University of Georgia system in the 1940s.
Georgia State University Accreditation Details
The Southern Association of Colleges and Schools Commission on Colleges has accredited Georgia State University to award college degrees. The school is also authorized by the state to offer degrees and has several programs with specialized accreditation. Within the Andrew Young School of Policy, the Master of Public Administration degree is accredited by the National Association of Schools of Public Affairs. The Bachelor of Social Work and the Master of Social Work are accredited by the Counseling on Social Work Education organization. The degrees in Business Administration offered by the J. Mack Robinson College of Business are accredited by the Association to Advance Collegiate Schools of Business International. Accreditation ranges from the Bachelor of Business Administration to the Master of Business Administration, as well as the Ph.D. in Business and an assortment of specialized graduate degrees in business.
Georgia State University Application Requirements
High school students who wish to enter Georgia State University will need to submit an application, pay the application fee, submit their high school transcripts, submit a letter of recommendation, and have official test scores delivered to the university. The school will grade a prospective student's application on the quality of the student's high school GPA, college preparatory classes taken, and standardized test scores. To apply for the MBA program at Georgia State University, students must submit the official application, standardized test scores, colleges transcripts, essays, a resume, and letters of recommendation. Students must also participate in a video interview, which is an opportunity to get to know the admissions committee, as well as let the committee get to know the student.
Tuition and Financial Aid
Tuition and fees are charged at Georgia State University based on the level of the program a student wishes to enter. Undergraduate tuition for in-state residents is $291 per registered hour, and tuition for out-of-state residents is $910.14 per registered hour. There are a variety of mandatory student fees charged to students that include an activity fee, athletic fee, health fee, and library facility fee, as well as a handful of other fees. For graduate students, the in-state tuition rate is $390 per registered hour and $1,251 per registered hour for out-of-state residents. For the Flex MBA, Georgia residents will pay $37,878 for the program and out-of-state students will pay $81,594 for the program. For the Executive MBA, in-state students will pay $69,500 for the program and out-of-state residents will pay $74,500 for the program.
Students may apply for financial assistance at Georgia State University which may result in loans, grants, or scholarships to help pay for tuition and other costs associated with attending college. Students must submit a FAFSA form to gain eligibility for federal student loans, as well as to qualify for institutional grants and scholarships. Some students in graduate programs may receive tuition waivers when they participate in research or are hired as teaching assistants. There is also a program in Georgia called the Georgia State Payment Plan, which allows students to defer payments for tuition and fees for half of the account balance. Students may also use tuition vouchers if they participate in AmeriCorps, as well as apply for assistance through the Veterans Administration if they are a current member of the military or are a veteran. Students interested in the MBA program at Georgia State University should explore all available financial assistance options to fund their education.