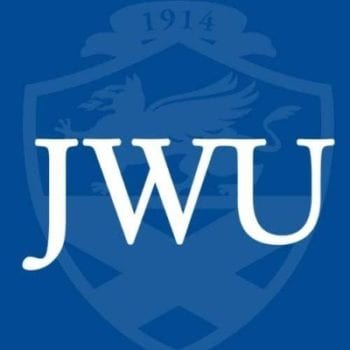 Human Resource Management Programs at Johnson and Wales University
Johnson and Wales University is also featured in our ranking of the 30 Most Affordable Online Bachelor's in Human Resource Management.
Johnson and Wales University offers many options for students with an interest in human resource management through its College of Business. One option is a Bachelor of Science in Business Administration (BSBA) in Human Resource Management. This program helps students learn the basics of hiring laws and practices, including benefits packages, talent recruitment, and organizational leadership. It features Strategic Human Resource Management, Special Topics in Human Resource Management, Labor Relations, Workforce Planning and Deployment, and other courses.
The BSBA program includes a management focus too, which allows students to study all types of management. It is available with an online track for students and on campuses in Rhode Island and Florida. More than 96% of the graduates of the program report finding full-time work after finishing their studies. Foundations of Leadership Studies, Organizational Behavior, Managerial Technology, and Process and Quality Management are courses in this program.
Through the university's Master of Science (MS) in Human Resource Management, students take a more detailed look at contemporary management strategies and business foundations. The flexible curriculum allows students to keep their full-time jobs and handle their other commitments while in the program. They will take classes that provide them with real-life projects and ask them to find solutions to those problems to gain practical experience. Students learn more about financial literacy, operations management, human capital, and business planning by the end of the program. Some of the required classes include Organizational Change Management, Human Resources in a Global Environment, Advanced Organizational Behavior and Strategic Recruiting, Retention and Succession.
Graduate students can also get a Master of Business Administration (MBA) from Johnson and Wales University. Available on four of the university's campuses, it includes a one-year track that helps students graduate in 12 months. Students take both core business classes and courses in one of the business concentrations. The available concentrations depend on which campus students choose. Hospitality management is one option that prepares students for working in the hospitality field. It features Event Leadership and Planning, Franchising and Licensing, Information Technology in Hospitality and Tourism and Hospitality and Tourism Global Issues. All concentrations include classes in human resource management.
About Johnson and Wales University
Johnson and Wales University is a private university that offers career training programs designed to help students reach their career goals and find work after they graduate. Established in 1914, is was originally the Johnson and Wales Business School with one campus in Providence, Rhode Island. It was notable for its founders who were two women looking for a way to educate business students. Enrollment at the school grew from one student in the first year to more than 100 by the 1940s when the founders sold it. The new owners would help the business school become a university and establish new campuses in Miami, Charlotte, and Denver. Most of those campuses offer the same degree programs as those available online and on the main RI campus. Nearly 13,000 students attend the university each year, which also uses the shortened JWU name.
Johnson and Wales University Accreditation Details
JWU can accept credits from transfer students and award financial aid packages because it has regional accreditation, which comes from the New England Commission of Higher Education (NECHE). This is one of the organizations with approval from the Department of Education that lets students apply for help with the Free Application for Federal Student Aid (FAFSA). The regional campuses of the university in North Carolina, Colorado and other states have similar accreditation. JWU also has the approval required to operate in different states and to offer classes for online learners in those areas.
Johnson and Wales University Application Requirements
Prospective JWU undergrads only need to complete a few steps before the next semester. They can apply online without paying an application fee. The application asks which program they want to study and which campus interests them. Students can then submit their high school and/or college transcripts. JWU requires that homeschooled students download a PDF that they will fill out and submit to show that they can handle work at the university. There is a November first early action deadline for the fall semester and a rolling admissions policy for all other students and terms. JWU does not require a test score but allows students to submit one if they want.
Graduate students can also apply online without paying an application fee. They need to make sure that they pick the right campus from those on the application and that they state which program they want to enter. Those who completed their undergraduate education from a school other than the university need to submit their college transcripts. JWU graduates will have their transcripts automatically sent for them. They also need to submit one professional or academic letter of recommendation, a resume and a statement of purpose. JWU has a page where students can upload and submit their documents after they apply.
Tuition and Financial Aid
JWU charges a $360 new student fee when undergrads first start at the university. This is in addition to the $34,367 in tuition and other fees that they pay every year. Most campuses offer on-campus housing for $8,100 or more a year. Students who choose one of these packages will also need to purchase a meal plan for $3,550 or more. The room and board fees that students pay will depend on the campuses they choose. In both the MBA and MS programs, graduate students pay $786 per credit hour or $2,358 for each class that they take.
Financial aid counselors can help students maximize the financial aid packages that they get before they complete the FAFSA. Employment opportunities are available from the university for all students and can include more than 5,600 jobs at local companies. Students can work out flexible schedules that work around their classes. Campus awards of up to $15,000 a year go to students based on their overall merit and are renewable for the next three years. The Georgia Hope Scholarship is available for Georgia residents with a grade point average of 3.2 or higher. Johnson and Wales University can help students get other scholarships and grants as well as loans to pay for a human resource degree program.