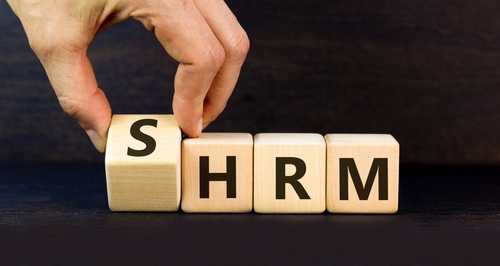 The Society for Human Resource Management established the SHRM Body of Competency and Knowledge (SHRM BoCK). This provides the academic basis for their two nationally recognized Human Resources certifications: SHRM Certified Professional (SHRM-CP) and SHRM Senior Certified Professional (SHRM-SCP).  It was updated in 2022 with the introduction of the BASK.
Related Resource: 10 Best Affordable Private For-Profit Universities with an Online Masters in Human Resource Management
What is Human Resources?
Human Resources is a business function that includes:
job design
recruitment
compensation
labor relations
regulatory compliance
personnel performance
HR plays a vital role in developing employees, managing employees, and mitigating risks. HR professionals play a huge role in:
maintaining a positive business culture
increasing employee engagement
legally protecting organizations
On any given day, an HR professional may update an OSHA-mandated job safety analysis or help new employees enroll in medical insurance.
Why is HR Relevant?
HR professionals who are poorly trained or prepared will result in serious consequences for organizations. Poor staff planning may result in employee shortages.  Poor hiring practices may result in high turnover rates. HR managers who fail to understand technology solutions may be unable to reduce payroll costs and maintain recordkeeping efficiency. Poor legal due diligence results in lawsuits, agency audits and government fines. All of this reduces employee morale and engagement. If you feel this is an alarmist viewpoint, read some of the Supreme Court cases on the EEOC's website.
What Does Certification Prove?
SHRM BoCK certification matters because it is based on competency and quality performance. HR professionals must prove that they know the right laws and best practices.  They also need to know how to apply that knowledge in specific situations. The certification content is directly based on realistic work situations, common managerial dilemmas and on-the-job legal risks. The certification is not based on American business culture, but instead applies across countries, industries, and career levels.
What are the HR Functional Areas of Knowledge?
The SHRM BoCK draws from the SHRM Competency Model.  It documents the eight HR Behavioral Competencies and the 15 HR Functional Areas of Knowledge which are included in the exams for both the SHRM-CP and the SHRM-SCP.
The eight Behavioral Competencies include:
Leadership and Navigation
Business Acumen
Ethical Practice
Relationship Management
Consultation
Critical Evaluation
Global and Cultural Effectiveness
Communication
There are four HR Knowledge Domains that include the SHRM BoCK 15 functional areas.  These include:
People

Talent Acquisition and Retention
Employee Engagement
Learning and Development
Total Rewards

Organization

Structure of the HR Function
Organizational Effectiveness and Development
Workforce Management
Employee Relations
Technology and Data

Workplace

HR in the Global Context
Diversity and Inclusion
Risk Management
Corporate Social Responsibility
Employment Law and Regulations

Strategy
What are the Certification Eligibility Requirements?
The SHRM Certified Professional and SHRM Senior Certified Professional are two different credentials with different eligibility requirements.  We take a look at what it takes to become certified.
SHRM Certified Professional (SHRM-CP)
This certification is designed for practitioners who perform general HR functions within their organization.  No experience is needed to apply and a degree in HR is not required.  Candidates should have a working knowledge of key HR concepts at the operational level.
SHRM Senior Certified Professional (SHRM-SCP)
The SHRM-SCP certification is for practitioner with at least three years of experience or SHRM-CP credential holders who have held their credential for three years and are transitioning to a strategic level HR role.  This certification is specifically designed for professionals working at the strategic level.  Candidates must demonstrate they spend at least 1,000 hour/year working on strategic level HR work.
Moving Forward
In May of 2022, the new SHRM Body of Applied Skills and Knowledge (SHRM BASK) revised the BoCK.  These updates also impacted the certification exams for the SHRM-CP and SHRM-SCP.  This update recognized the evolution of the field and the expectations of future HR professionals.  This revision was the result of three years of research conducted by the SHRM.
Every month, thousands of HR professionals take the SHRM exams, so this is now an industry standard across the country. HR certification through the Society for Human Resource Management is the best way to ensure that HR professionals are effective, competent, and knowledgeable.