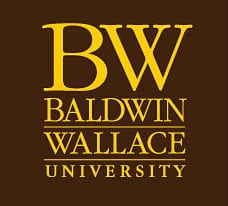 Baldwin Wallace University is also featured in our ranking 50 Most Affordable Human Resource MBA Degree Programs.
Baldwin Wallace University is a private, liberal arts-based institution of higher learning residing in Berea, Ohio. It is affiliated with the United Methodist Church. It is dedicated to the liberal arts and sciences, and fosters the building of a solid foundation for lifelong learning. The university operates on the notion that the liberal arts teaches individuals how to effectively communicate and think critically, and liberal arts is the core of all academic programs at Baldwin Wallace. The majors build on that essential foundation with many cutting-edge programs that develop substantial professional abilities and career options that align with the educational interests of students. The university features a rigorous curriculum featured by excellence in instruction and learning within a challenging, supportive atmosphere that improves the intellectual and spiritual growth of students. Baldwin Wallace University helps students in their groundwork to become contributing, empathetic global citizens. Since its establishment, Baldwin Wallace has followed the goals of its founding founders, providing a first-class, personalized education that serves as an excellent directing tool and promotes personal and professional success. Baldwin Wallace University offers more than 80 major areas of study through one college and seven schools of education: College of Arts and Sciences, School of Business, School of Education, School of Health Sciences, School of Humanities, School of Social Sciences, School of Natural Sciences, Mathematics and Computing, School of Health, Physical Education and Sport Sciences. The university is also home to the Conservatory of Music. The university is committed to empowering students to take initiative, and it offers small class sizes to help students build a strong relationship with instructors who serve as mentors. The student to faculty ratio is 11 to one. Courses also feature a large array of hands-on experiential learning opportunities, including creative projects, research, service-learning, field experiences, leadership training, and study abroad options.
Baldwin Wallace University was established in 1845 under the name Baldwin Institute. It was one of the first institutions to accept students without any regard to gender or race. In 1856, the school became Baldwin University. In 1913, Baldwin University merged with German Wallace College and became Baldwin-Wallace College. The school continued to expand and grow and in the 1970s, it began to offer weekend degree programs for adult learners. Also in the 1970s, the college offered graduate programs. The college officially became Baldwin Wallace University in 2012. Today, Baldwin is home to more than 4,000 students and 228 full-time faculty, and it is still characterized by innovation and leadership in education. The U.S. News and World Report ranks Baldwin Wallace University number 18 in its Regional Universities Midwest and number 14 in its Best Value Schools publications.
Master of Business Administration in Human Resources at Baldwin Wallace University
The School of Business at Baldwin Wallace University offers a Master of Business Administration in Human Resources. The program focuses on instruction, real-world application, and preparing students to advance their careers. Through a systems approach, students learn how to manage and lead entire organizations. The track provides students with the basic managerial and leadership abilities that help them understand strategic and operational challenges in maintaining human capital in organizations. The program features small classes lead by experts dedicated to providing a productive learning experience. Students are able to complete their program at their own pace and courses are available on evenings and Saturdays. The curriculum involves 11 core courses and three specialty courses in human resources. A total of 38 credits are required to complete the program. The MBA core courses include accounting for managers, systems management, organizational behavior, human capital, financial management, strategic marketing, managerial economics, operations analysis, corporate citizenship, global business, and strategic management. The human resources track includes employment law, compensation, and staffing and development. The program is aligned with the Society for Human Resource Management. Students study and learning with experienced human resources professionals and they have the ability to interact with other business professionals.
Baldwin Wallace University Accreditation Details
The Higher Learning Commission accredits Baldwin Wallace University to grant bachelor's and master's degrees and professional certificates.
Baldwin Wallace University Application Requirements
Undergraduate
• Complete and submit the Online Application or Common Application
• Pay the $25 nonrefundable application fee if submitting by mail or in-person
• Submit official high school transcript
• Submit official transcripts from all previously enrolled colleges or universities
• Submit official SAT or ACT scores
• Submit school report form
• Submit optional teacher recommendation
Graduate
• Complete and submit the Online Application
• Submit official transcripts of all previous postsecondary work
• Submit two letters of recommendation
• Submit official scores from graduate level standardized tests, such as the GRE and GMAT
• Submit a current resume
• Complete any additional requirements for certain degree programs
Tuition and Financial Aid
Tuition
Undergraduate
• Full-time students: $16,293 per semester or $32,586 per year
• Part-time students: day classes-$1,013 per credit hour, evening and weekend classes-$700 per credit hour, summer classes-$525 per credit hour, and independent study and field experience-$700 per credit hour
Graduate
• MBA: $948 per credit hour
• Master of Accountancy: $633 per credit hour
• Master of Arts in Management: $35,000 total tuition
• Master of Arts in Education: $721 for graduate courses and $545 for graduate courses with school partnership program
• Leadership in higher education: $742 per credit hour
• Physician assistant: $78,000 for the program
• Speech-language pathology: $70,000 for the program
• Master of Public Health: $48,000 for the program
Financial Aid
Baldwin Wallace University offers various financial aid options for students to pay for their higher education, including scholarships, grants, and loans.
Scholarships
• Fellow's Scholarship
• Dean's Scholarship
• Trustee's Scholarship
• President's Scholarship
• Alumni Award
• Griffiths Scholarship
• Transfer Scholars Award
• Heritage Award
• Choose Ohio First Transfer Scholarship
Grants
• Federal Pell Grant
• Federal Supplemental Education Opportunity Grant (FSEOG)
• Teacher Education Assistance for College and Higher Education (TEACH) Grant
• Ohio College Opportunity Grant (OCOG)
• Baldwin Wallace Grant (BW Grant)
Loans
• Federal Subsidized Direct Loan
• Federal Unsubsidized Direct Loan
• Federal PLUS Loan
• Federal Graduate PLUS Loan
• Federal Perkins Loan
• United Methodist Loan
• Private Loans
The Master of Business Administration in Human Resources prepares students to achieve success through distinctive opportunities to add innovation abilities and entrepreneurship and experiential learning to provide a competitive edge in the field. Graduates of the MBA from Baldwin Wallace University are often working for Fortune 500 companies, nonprofits, mid-market firms, and startup organizations throughout the state, country, and world.