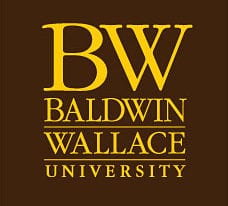 Human Resource Management Programs at Baldwin Wallace University
Baldwin Wallace University is also featured in our ranking 50 Most Affordable Human Resource MBA Degree Programs.
Human resource management professionals serve an important role in the business world today. Not only do they look for qualified people to fill open positions, but they are also responsible for finding the best candidates and handling the daily operations of a company. They are the ones who create packages that benefit employees and the ones who handle any complaints from those employees. Baldwin Wallace University offers three programs for those who currently work or want to work in HR management.
Students at the undergrad level can minor in HR management and get a certificate in this subject after taking just six courses. To complete the certificate, students must take Introduction to Management, Business Ethics, and Human Resource Management. They will then take three electives from four options, including Staffing and Development, Employment Law and Compensation.
Some of the same courses are available in the Baldwin Wallace University bachelor's program in human resource management. Students have the option of earning just a bachelor's program or signing up for the 3/2 program. Those in the second program will spend three years working on a bachelor's degree and two years working on a master's degree. Many students join the on-campus branch of the Society for Human Resource Management (SHRM), which offers networking opportunities and special events every month.
Also available is a Master of Business Administration (MBA) in Human Resource Management. This program follows the guidelines established by the SHRM and includes an MBA core. That core features 11 classes, including Accounting for Managers, Managerial Economics, Corporate Citizenship in a Global Economy, Organizational Behavior and Systems Management and Organizational Theory. These courses are worth between two and three credits each. Students in the HR management track will also take three distinct human resources courses such as Compensation and Employment Law.
About Baldwin Wallace University
Baldwin Wallace University is a liberal arts university in Berea, Ohio. A group of Methodists who moved to Ohio from Connecticut established the school in 1845 as the Baldwin Institute. John Baldwin was one of those Methodists who earned a fortune in the area at the time. Two years later, the school became Baldwin University and developed a reputation for welcoming students, regardless of skin color, race or gender. After merging with the nearby German Wallace College around the turn of the century, the school adopted the name Baldwin Wallace College. It wasn't until the 2000s that the school earned full status and became Baldwin Wallace University.
Also called BWU and BW, the university is now home to the Baldwin Wallace Conservatory that offers music programs and a graduate school that offers programs for students beyond the bachelor's level. Corporate College East is a branch of a local community college that now offers BW courses. BW offers many training programs through these school and some options for working adults. It also launched an outreach program designed to work with students in the community. This program allows the university to connect with high school students and encourage them to prepare for and attend college. BW is a smaller university with an enrollment of around 3,400 undergrads and just over 700 graduate students and post-graduates.
Baldwin Wallace University Accreditation Details
The Accreditation Council for Business Schools and Programs (ACBSP) granted accreditation to BWU for all its business programs, including the certificate, undergrad and graduate programs in human resource management. BWU also has accreditation from the Higher Learning Commission (HLC), which allows it to design financial aid packages that meet the needs of incoming and returning students. This accreditation also allows the university to accept students who transfer from other schools and to accept their credits.
Baldwin Wallace University Application Requirements
BW will accept applications submitted by students through its online system, the Common Application and through the mail. Both online options allow students to apply without an application fee, but those who submit the paper application must pay a $25 fee. The Common Application makes it easy for students to submit applications to many different schools in Ohio and other states. Students are responsible for supplying their transcripts, test scores and a school report form completed by a guidance counselor. The university allows students to supply a recommendation letter from one of their teachers too.
Students applying to the MBA program can only use the BW application. These students must have a degree from an accredited university or college and a grade point average of at least 3.0. The university also requires a GMAT score of 500 or higher or an equivalent score on the GRE. Students should also have at least two years of management experience before they apply. BW asks for a test score, resume, transcripts and two letters of recommendation from each applicant. It looks for letters that show the student has leadership experience and letters that come from both their employers and coworkers.
Tuition and Financial Aid
BW allows students to take evening and weekend classes for $700 per credit hour. Those who take daytime classes will pay $1,013 per credit hour. Full-time students pay a set tuition rate of $16,293 per semester, which allows them to take up to 18 credits. Those students will also pay more than $5,000 a semester for room and board. MBA students pay $39,900 to complete the full program, which runs for a full year. This is also available as an evening program, which charges $948 per credit hour. The evening program features 38 credit hours and gives students more time to finish their degrees.
More than 40% of incoming freshmen receive BW financial aid packages of $100,000 or more. The university bases its packages on the total household income reported on the FAFSA. Those who come from families with a combined income of less than $40,000 qualify for a large number of grants and some special awards from the university itself. BW will look at both the FAFSA and the information supplied by each student to determine if he or she should get any need-based aid or merit-based aid, which can include university grants and scholarships. Graduate students also qualify for financial aid, but they typically receive loans rather than grants and other awards. Baldwin Wallace University offers financial aid packages for students in its undergrad human resource program and all similar programs.
Related Resource: Is an HR Degree Worth It?