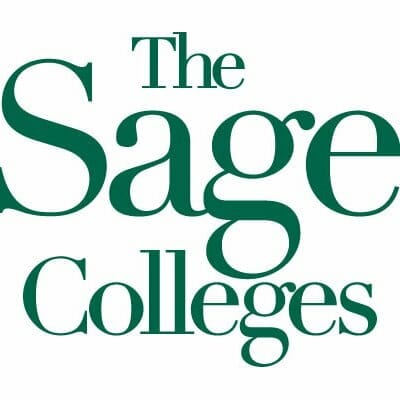 Flexible HR Degrees Offered by The Sage Colleges
The Sage Colleges are also featured in our ranking 50 Most Affordable Human Resource MBA Degree Programs.
Online via Moodle, the School of Management grants a Bachelor of Professional Studies (BPS) in Organizational Studies for adult Sage Gators who build the requisite workplace knowledge to improve teamwork, settle employee conflicts, and lead strategic decision-making. Directed by Dr. Mary Ellen Tedesco, the 60-credit, two-year curriculum is reserved for associate transfers dedicated to positive administrative change. At a 12:1 student-faculty ratio, required online courses like Business Law, Macroeconomics, and Human Resource Management are taken each 14-week semester. Note there's also the 60-credit Online BBA with an Organizational Studies Concentration.
Ranked 12th by Best College Reviews in 2017, The Sage Colleges awards a Professional MBA in Business Strategy, Finance, Marketing, or Human Resource Management for post-grad executive training that covers the behavioral aspects of leading cohesive teams. Overseen by Dr. Kimberly Fredericks, the 42-credit, IACBE-accredited major is available in Albany, at Malta Tech Park, or entirely online with practical education. For 25 years, the School of Management has delivered 500-level master's courses from Compensation Administration to Industrial Relations. Alumni earn the SHRM Certified Professional credential for 98 percent job placement and $100,790 pay potential.
About The Sage Colleges
The Sage Colleges originated in 1916 when suffragettes Margaret Olivia Slocum Sage and Eliza Kellas opened the School of Practical Arts for women's liberal arts teaching. In 1918, bachelor's degrees were architected at the Emma Willard School branch. In 1927, New York State chartered it as Russell Sage College after Margaret's late husband. In 1942, the Men's Division was launched to attract returning World War II veterans. In 1949, the Albany Division started conferring bachelor's and master's degrees to coed learners. In 1959, President Lewis Forman acquired an 18-acre University Heights campus for the Albany Division. Three years later, this independent satellite was called the Junior College of Albany. By 1987, the two combined under one umbrella as The Sage Colleges. In 1995, the Sage Graduate School was added with a Master of Business Administration.
Endowed for $35.1 million, The Sage Colleges now employs 374 staff serving 2,633 Gators from 13 countries online or face-to-face at two Capital District campuses with 35 clubs like Native American Daughters in Education. In 2018, Sage received the Environmental Protection Agency's Innovative Technology Grant. In 2017, Sage had multiple NAC&U Award for Student Excellence recipients. The Sage Colleges won the 2014 New York State Excellence in Preservation Award too. The U.S. News & World Report ranked Sage the 93rd best Northern college and 61st top value. On Niche, Sage boasts America's 563rd most liberal academics and 663rd hardest admission. Forbes placed Russell Sage 612th overall with the 388th top private education. Money magazine declared The Sage Colleges the 488th best buy nationally. Washington Monthly proclaimed Sage the 340th top master's institution.
The Sage Colleges Accreditation Details
On June 1, 2016, The Sage Colleges satisfactorily submitted the Fifth-Year Periodic Review Report to the Middle States Commission on Higher Education (MSCHE) Board of Trustees for continuing the Level VI accreditation through 2020-21 under its 10th president, Dr. Christopher Ames, who completed the Aspen Institute Executive Seminar on Leadership. Located 239 miles down Interstate 87 in Philadelphia, Pennsylvania, this special six-state Northeast Region accreditor is authorized by the U.S. Department of Education to evaluate Sage's 36 baccalaureate, 22 master's, and six doctoral options. Particularly, the School of Management was accredited by the International Accreditation Council for Business Education (IACBE) in December 2013.
The Sage Colleges Application Requirements
Starting at The Sage Colleges is classified "moderately difficult" by Peterson's though 2,229 of the 2,389 Fall 2017 applicants were victorious for high 93 percent acceptance. First-year Gators seeking the School of Management must present a satisfactory high school record with over 15 academic units. Prerequisite English and Math courses must be graded at least "B." GED equivalency diplomas are considered with 680 or better scores. Ranking in the top two-thirds of one's class with GPAs above 2.5 is required. The middle 50th percentile SAT scores were 380-530 Reading and 390-510 Math. Mid-range ACT marks were 20-24. The BPS in Organizational Studies seeks transfers with regionally accredited, two-year associate degrees and 2.75 GPAs. Foreign learners with non-English instruction must supply at least 85 TOEFL iBT or 6.5 IELTS scores. Online MBA in Human Resource Management cohorts need a 3.0 bachelor's GPA or greater. Taking the Graduate Management Admission Test is wholly optional.
The Sage Colleges has freshman deadlines of December 1st for Early Action and May 1st for Regular Decision. Online BPS in Organizational Studies transfers follow priority dates of August 1st for Fall and December 15th for Spring starts. The MBA in Human Resource Management has convenient rolling admission. International students must file by June 1st or November 1st. Accordingly, complete the Sage or Common Application online for $30 ($40 if graduate). Forward official transcripts to 140 New Scotland Avenue in Albany, NY 12208. If chosen, send test scores with SAT code 2343 or ACT code 2779. Other School of Management materials include the current résumé, two recommendation forms, one-page personal essay, CLEP exams, passport, and financial affidavit. Contact (518) 244-2000 or [email protected] for more info.
Tuition and Financial Aid
For 2018-19, The Sage Colleges charged full-time School of Management undergrads $15,192 per term or $30,383 annually. Traditional part-time study incurred $1,013 per credit. Summer School courses were $608 per credit. Bachelor's students paid a $750 comprehensive fee each term. Living at the Troy campus' dorms like Manning Hall added $3,215 to $3,708 for semester housing. Standard 19-meal plans for McKinstry Dining Hall were $3,202 extra. Sage budgeted $1,200 for books and $1,925 for miscellaneous. Annual undergrad attendance equaled $46,600 on-site and $40,257 if commuting. Online BPS in Organizational Studies cohorts spent $590 per credit or $35,400 in total. MBA in Human Resource Management courses are $705 per credit for $29,610 overall.
According to the NCES College Navigator, the Financial Student Services Office on Cowee Hall's First Floor gets 93 percent of full-time Sage Gators gobbling mean tuition aid of $18,448 apiece for $24.36 million combined. Institutional funds include the Upton Scholarship, Opalka Family Scholarship, Alumnae Award, Corporate Connections Scholarship, Schoeneck & King Scholarship, Capital Bank Scholarship, Crisafulli Brothers Scholarship, Jones Hacker Murphy Scholarship, Maggs & Associates Scholarship, Mary E. Brizzell Scholarship, Northwestern Mutual Scholarship, Rose & Kiernan Scholarship, and Sano-Rubin Scholarship. The Sage Merit Scholarship gifts up to $20,000 yearly for freshmen or transfers taking 12+ credits per term with GPAs above 3.0. The Central New York SHRM has a November 8th deadline for two $500 scholarships. Federal resources, including the Pell Grant and Graduate Plus loan, are available with FAFSA applications coded 002810. New Yorkers also utilize the Tuition Assistance Program, Enhanced Tuition Award, Aid for Part-Time Study, and the Higher Education Opportunity Program.
Continue reading about The Sage Colleges at the School of Management website.