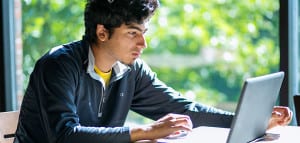 Are you interested in earning an online Masters in Human Resources? If you have assessed all of your options and you have found that attending an accredited online degree program is the most practical and convenient option available to you, it is important to find out how long you can expect to study.
The duration of each Master's degree program that concentrates on HR will vary from school to school and from format to format, but you can expect to spend between 12 months and 36 months in graduate school earning your degree. If you would like to choose the best program format, here is a breakdown to help you understand which types of formats are available to you.
The Duration of Full-time Programs Conducted Online
You can enroll in a Master's degree program on a full-time basis or a part-time basis. If you decide to study online, enrolling as a full-time student when you are employed may be more of a possibility. The amount of time that you must spend studying online is primarily dependent upon the number of credits that are required to complete the HR program that you are enrolled in. The average program will have requirements between 45 and 60 credits, and the more credits that are required, the longer it will take to complete the program. If you are enrolled full-time at an online school that operates on a year-round schedule, you can expect to spend about 18 to 22 months taking classes. If you are in a program where you will take summer and winter breaks, the duration may be closer to 24 months.
Related Ranking: Top 10 Best Online Human Resources MBA Programs
Accelerated Program Options for the Fast Track Online Masters in Human Resources Degree
There are a variety of options when it comes to studying for a Master's in HRM online. While the traditional programs are the most common, more and more graduate schools are offering students the option to earn their degree at an accelerated pace. Because online programs offer students with greater flexibility, those who are not overwhelmed by a quick pace can benefit from taking an accelerated program that takes 12 to 18 months to complete. Typically, the classes are shorter in duration, but the credit requirements are similar to those of traditional programs.
Factors That Can Affect How Long You Spend Earning Your Master's
You have to consider all of the hurdles you may face when attending school to earn your Master's when you are planning on a graduation date. If you have not yet earned an undergraduate degree, you need to consider how much time you have left to earn your B.A or B.S. first. With a Bachelor's, you can then enter into a program, but do not just jump into a full-time program without assessing the time commitment you will be expected to make. Counselors suggest that you spend 36 to 40 hours per week studying to earn a degree when enrolled full-time. If you must switch to part-time enrollment, this can affect all of your future plans.
Earning a Master's degree in HR can take anywhere from 12 months to 48 months depending on your enrollment status. Be sure that you compare all of the programs that are recognized by bodies like the Society for Human Resource Management, and secure your future success within the profession.
Related Articles: