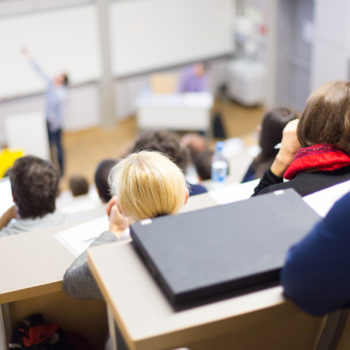 Before determining if HR is the right major for you, it is essential that you are aware of the core courses in a bachelor's in human resources program to know exactly what you will be studying. In most cases, undergraduate programs in HR are housed within a college's business school to offer students the specialized learning needed to lay the foundational knowledge for playing a prominent role in managing today's diverse work forces. Bachelor's degree programs in human resources are typically aimed at providing the decision making, leadership, interpersonal, organizational, and problem-solving skills most needed in company HR departments. Below we will take a look through the courses that are generally found within the curriculum of bachelor's in human resources programs aligned with SHRM guidelines.
Related Resource: What is Workforce Diversity?
General Education and Business Courses
In the first and second years of the program, most bachelor's in human resources degrees will focus on offering a well-rounded education with general or liberal arts course requirements. HR majors will usually need to take at least three credits of coursework in mathematics, statistics, English, writing, communications, history, political science, psychology, and social science. While completing these classes, students will also start delving into the dynamic business world by taking fundamental business coursework. Since human resources professionals are given the responsibility of motivating employees, adhering to federal regulations, and developing successful workplaces, having sound business knowledge is a must. HR majors will likely have to complete introductory courses in business administration, finance, management, accounting, marketing, and business law.
Major Human Resources Coursework
As you progress through the four-year curriculum, human resources programs will begin to specialize studies in coursework directly related to the knowledge needed to effectively manage an organization's human capital. According to the SHRM curriculum guidebook, required content areas will include labor relations, employment law, ethics, globalization, job analysis, workplace diversity, organizational behavior, performance management, staffing, recruitment, strategic HR, compensation and benefits, training development, talent management, and workforce planning. In some cases, undergraduate programs will also deal with secondary content areas like career planning, human resource information systems, mergers and acquisitions, corporate social responsibility, outscoring, and workplace health. All of these core courses will be critical components to securing the future success of your career in HR.
Resource: Top 25 Bachelor's in Human Resources Degrees Ranked by Graduation Rates 2014
Recommended Electives
Although it may seem like your 120-credit curriculum is already full with all of these required core courses, the vast majority of bachelor's in human resources programs will allow room for students to select their own electives too. In order to further supplement your learning in HR, it is suggested that you consider taking courses related to gender studies, sociology, industrial/organizational psychology, international business, economics, public relations, organization theory, ethical leadership, information systems, computer science, and politics. Many students tend to think of free electives as a chance to pad their rigorous schedule with easy classes that boost their GPA, but it is recommended that you select electives from other areas of study that will complement your HR major to boost career development.
Overall, pursuing a bachelor's degree in human resources will provide an excellent academic foundation for entering a field projected to grow at the fast rate of 13% before 2022. Once you complete the core courses in a bachelor's in human resources program, you will be well-equipped with the professional abilities to work in HR departments for businesses of all shapes and sizes.
Related Articles: