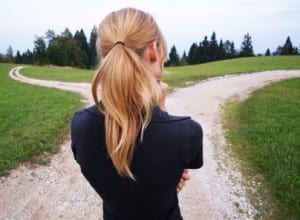 When trying to determine which one would be the best fit, HR MBA versus Masters in Human Resources, you will need to consider your professional goals and whether you are prepared to make the level of personal and monetary commitment required to complete a Master's in Business Administration degree. The MBA in HR and the Masters in HR degree programs will help you qualify for work in the same field, but these programs are not the same.
MBA with HR Concentration
The MBA with a concentration in Human Resources program curriculum is mainly focused on business. Students enrolled in this program take a certain number of business courses which give them a broad base of knowledge of how all the parts of a modern business operate and work together.
The Human Resources component of the program is confined to the electives that the participant chooses to take. These courses don't make up the majority of the credits that the student is required to complete to obtain the degree.
A graduate of an HR MBA program is well qualified for a number of positions, since he or she has skills which can be applied to different parts of running a business. While the concentration may be in the Human Resources field, a graduate from this program can apply for other types of positions with a company. The MBA can be considered more of a generalist program and if you are interested in working in Human Resources but also want to keep your options open for other types of employment, you may want to consider the HR MBA versus Masters in Human Resources.
Choosing the HR MBA versus Masters in Human Resources. will also mean a bigger financial commitment. Although both programs are two years in length, the tuition for an MBA program will be much more expensive. The cost to attend a top business school can be over $50,000 per year for tuition alone. Due to the level of commitment required to complete your studies, you will not be able to work during this time.
If you are able to get your head around the idea that pursuing an MBA is an investment in yourself and your long-term career goals, it can make the sticker shock of going to school a bit easier to take. MBA graduates with an HR concentration will be qualified for senior management positions and can expect to earn a competitive HR MBA salary–even a six-figure income- which should be factored in to your decision about whether to apply for admittance to an MBA program.
Masters Degree in HR
The curriculum for a Masters degree in Human Resources is different than the MBA program. It focuses on courses specifically relating to this field. If you choose this option, you can expect to take courses which will help to develop your knowledge of collective bargaining, recruiting techniques and how to select the best candidates for available positions. Other courses which make up the Masters in Human Resources degree program include ones in management information systems, organizational decision making, leadership and team coaching.
The cost of going to school for a Masters in HR is lower than taking on an MBA program, but you could still be looking at paying somewhere around $30,000 per year for tuition and fees. You will also need to factor in the cost of books and supplies, as well as living expenses when deciding whether to pursue this degree.
This degree program may be the right one for you if you know that you want to focus your professional attention on the Human Resources field. Graduates of this program can find positions as a compensation manager, HR manager, employee benefits specialist or a recruiter.
Human resources managers will make approximately $67,000 per year. A position as a benefits manager pays an average of $85,000 per annum. A person working as an executive recruiter can expect to make around $78,000 annually.
Making Your Decision: HR MBA versus Masters in Human Resources
If you want to focus your professional attention on business and you can see the benefits of investing a considerable amount of money in your education, the HR MBA may be your best choice. In a situation where you are specifically drawn to working in the Human Resources field, the Masters in HR can give you the knowledge you need to work in several types of positions. When you are considering whether to choose a HR MBA versus Masters degree in Human Resources, you will need to look at how well each one would help you reach your career goals.
Related Articles: