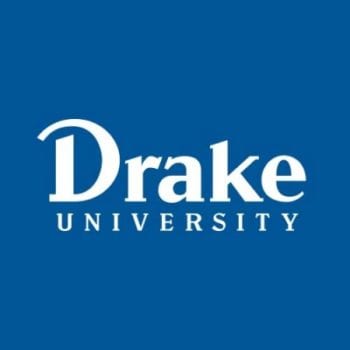 Accredited Pathways to HR Careers at Drake
Drake University is also featured in our ranking of the 20 Best Master's in Human Resources (Campus-based).
In Olin Hall, the College of Arts & Sciences grants the Psychology B.A./B.S. with a Human Resources Management Concentration for Drake University upperclassmen to inject College of Business & Public Administration courses about employee relations. Directed by Dr. Maria Clapham, the unique 124-credit degree prepares for HRCI certification at an 11:1 student-professor ratio with a broad behavioral foundation. In Aliber Hall, the 124-credit Management B.A./B.S. led by Dr. Allen Zagoren could be specialized by joining the SHRM Chapter, adding electives like Labor Economics, and adding Des Moines internships. The Master of Business Administration headed by Dr. Daniel Connolly offers a 39-credit, AACSB-accredited Human Resources Specialization on Blackboard that emphasizes data analytics in practical online classes, such as Strategic Management Processes. Since 2018, the Iowa SHRM has launched an eLearning Series for the 30-credit Leadership Development M.S. under Dr. Cris Wildermuth with a hybrid, evening-based Talent Development (TD) Concentration and 99 percent job placement.
About Drake University
Drake University originated in March 1881 when Union General Francis M. Drake donated $20,000 for Protestant preacher George T. Carpenter to open a Des Moines college. That Fall, an inaugural class of 77 entered Student's Home to primarily study the Bible and Classics. Within one decade, enrollment skyrocketed tenfold to 800 with the first foreign students. During Dr. Daniel Morehouse's 1920s tenure, Drake started a Phi Beta Kappa Chapter and acquired the Iowa College of Pharmacy. Fully coeducational since 1931, Drake University erected the $1.7 million Cowles Library at its 105-acre Polk County campus in 1937. Thirteen years later, the College of Business & Public Administration was formed with initial HR courses. In 2013, Drake again expanded by adding the nonpartisan Harkin Institute for Public Policy. Endowed for $210.6 million, Drake University now educates 4,800 Bulldogs from 52 nations online and on-site with 160+ clubs like Delta Sigma Pi.
The U.S. News & World Report ranked Drake the third best Midwest college, 17th top value, fourth most innovative school, and second best for vets university. On Niche, Drake boasts America's 115th top private education, 136th best business school, 138th best housing, and 184th top psychology major. Times Higher Education placed Drake University 178th overall. The Princeton Review featured Drake among the 209 "Colleges That Pay You Back." Forbes named Drake the 191st top national university and 32nd best Midwest choice. Money magazine crowned Drake the 288th best buck. PayScale calculated the 256th highest median income of $100,900 for Drake University alums. College Factual noticed Drake for the 79th best management program at the 175th best value. WalletHub featured Drake University 134th for education outcomes, 140th for faculty resources, and 221st for selectivity too.
Drake University Accreditation Details
On February 12, 2018, the Higher Learning Commission of the North Central Association (HLC-NCA) Institutions Actions Council voted to satisfactorily reaffirm the Level VI accreditation at Drake University for 10 more years under its 13th president, Dr. Earl F. Martin. Based 335 miles east via Interstate 88 in Chicago, this gigantic 19-state Great Plains accreditor is authorized by the U.S. Secretary of Education to review the curriculum in Drake's 65 baccalaureate, 17 master's, and five doctoral majors. In Summer 2018, the College of Business & Public Administration launched Iowa's first online MBA accredited by the Association to Advance Collegiate Schools of Business (AACSB). The B.A/B.S. Concentration and Student Chapter are also nationally sponsored by the Society for Human Resource Management (SHRM).
Drake University Application Requirements
Diving into Drake University is classified "moderately difficult" by Peterson's because 3,835 of the 5,574 Fall 2017 applicants were triumphant for 69 percent acceptance. First-year Bulldogs fetching the Human Resources Management B.A./B.S. Concentration must finish a qualifying high school curriculum. Students aged 18+ who've achieved the 580 GED minimum mark are welcome. On average, freshmen present a 3.71 GPA, 27 ACT, and 1225 SAT score. Cumulative GPAs above 3.0 are eligible for test-flexible admission though. The College of Business & Public Administration seeks 2.5 GPAs or higher from university transfers with 24+ accredited credits. International candidates typically need extra English courses for TOEFL scores below 530 (paper) or 71 (internet). The Graduate School mandates a four-year bachelor's degree with a minimum 2.5 GPA and maximum seven transfer credits. Leadership Development M.S. students are GMAT-optional, but the Online MBA has a mean 500 score.
Drake University has implemented freshmen deadlines of December 1st for Early Action and March 1st for Regular Decision. Human Resources Management B.A./B.S. Concentration transfers have until December 1st for Spring, April 15th for Summer, or July 1st for Fall. MBA and MSLD entrants must apply before January 1st or August 1st. Digitally sign into the Online Application Portal and pay the $25 ($50 if graduate) fee. Have registrars mail official transcripts to 2509 University Avenue in Des Moines, IA 50311. Submit aptitude tests using SAT code 6168 or ACT code 1302 if elected. Supplemental items might include the two recommendations, résumé or curriculum vitae, typed one-page essay, immigration papers, and medical vaccination form. Ask further questions at (515) 271-3181 or [email protected].
Tuition and Financial Aid
For 2019-2020, Drake University is charging full-time Human Resources Management B.A./B.S. Concentration students $20,625 each term or $41,250 annually. Four-year guaranteed tuition is locked at $21,347 by semester or $42,694 yearly. Part-time day or evening learning costs $845 per credit. Online Management B.A./B.S. courses are $640 per credit. Undergrads pay the $73 activity fee, $250 technology fee, and $110 orientation fee. Living at the Des Moines campus' dorms like Morehouse Hall adds $2,846 to $4,461 each term. Standard meal plans for Hubbell Dining Hall are $2,418. Annual bachelor's attendance equals around $54,020 on-site and $43,362 at home. Online MBA tuition is currently $655 per credit or $25,545 total. Leadership Development M.S. cohorts spend $495 per credit or $14,850 overall.
According to the NCES College Navigator, the Office of Student Financial Planning in Carnegie Hall disburses $59.85 million yearly for 95 percent of Drake Bulldogs to fetch median aid of $19,377 each. Institutional funds include the Presidential Scholarship, National Alumni Scholarship, Engaged Citizen Corps Scholarship, Legacy Award, NCAA Division I Scholarship, Judith A. Lindquist Scholarship, 1969 Charter MBA Class Scholarship, Professor Edward Alley Scholarship, and Dr. Newt Bowers Endowed Scholarship. The Crew Scholars Program selects 20 campus leaders after the January 21st deadline to deduct at least half tuition. The Community Foundation of Greater Des Moines has local awards like the Mary E. Wood Scholarship and Larry W. Carter Scholarship. FAFSA forms coded 001860 calculate estimated family contribution for Federal Pell or SEOG Grants. The Human Resources Office lists open Federal Work-Study jobs on Handshake for 8-12 hours weekly. Besides Federal Direct loans, Drake University gifts private loans from the Henry Strong Fund. Iowans also pursue the Tuition Grant, Opportunity Scholarship, Robert D. Blue Scholarship, and Gov. Terry Branstad Scholarship.
Read more about Drake University at the College of Business & Public Administration website.