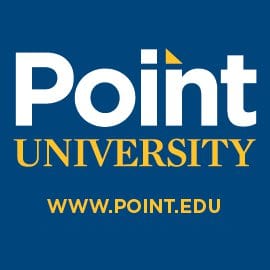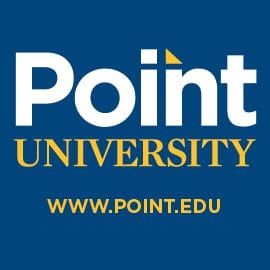 Human Resources On Point at PU
Point University is also featured in our ranking of the 20 Most Affordable Online Master's in Human Resources
Students at Point University have a limited range of opportunities in the field of Human Resource Management. At the straight undergraduate level, their only exposure to the field is in a few classes as part of a business degree. Students who wish to get their undergraduate and graduate degrees at the same time may, however, can study human relations at the same time as earning a certificate in Human Resource Management. At the graduate level, the Master of Science in Human Resource Management is only available online.
The online bachelor's degree in Human Relations involves 120 credits, and the certificate in Human Resource Management comprises 12 credits. As will all degree programs at Point University, all of these studies are taught through the lens of the Christian faith.
The online Master of Science in Human Resource Management involves 42-45 credits, depending on elective selection, and covers such areas as Performance Management, Employee and Labor Relations, and Global Human Resource Management. At the end of their studies, students may take a test to qualify as either an SHRM Certified Professional, an SHRM Senior Certified Professional, or both.
About Point University
While nearing the age of 60, Judge T. O. Hathcock founded the university as Atlanta Christian College in 1937 on a farm his wife inherited. The first classes given at the school were for training ministers and missionaries. Because of the bucolic setting of the university among barns, grazing cattle, and other livestock on the farm, the first instructions also included agricultural studies.
The school continued on that way for roughly 30 years before earning its first accreditation from the American Association of Bible Colleges. It wasn't until 1990 that it first earned regional accreditation from the Southern Association of Colleges and Schools Commission on Colleges.
The school changed its name to Point University in 2011 after further expanding its curriculum. Today, it is a far cry from the homespun few buildings that dotted the Hathcock farm.
When it comes to the university's ranking from U.S. News and World Report, it is No. 45 in the South Region. The school is quite selective and only accepts one in three applicants. The total enrollment at the university is roughly 2,000, and the student-to-faculty ratio is 15-to-1.
Point University Accreditation Details
In addition to its regional accreditation from the Southern Association of Colleges and Schools Commission on Colleges, the school's education department holds academic accreditation from the National Council for Accreditation of Teacher Education.
Point University Application Requirements
Students must be of the Christian faith to apply. One of the most important criteria for admission is "a student's Christian character." Students must also complete a Spiritual and Personal Reference Form, and submit all applicable official high-school transcripts. Although Point University does not require students to take either the SAT, ACT, or both, students may elect to do so and have all test scores submitted from the company that gave the applicable test. Students must have earned either a high-school diploma or its equivalent to be admitted for a bachelor's program.
Graduate students must also be of the Christian faith and must submit a two-to-four page essay, part of which outlines their faith. They must also have a bachelor's degree from a regionally accredited university and submit all official transcripts from that university. As with undergraduates, Point University is test-optional for graduate students. They may choose to take the Graduate Record Examinations, Graduate Management Admission Test, or the Miller Analogies Test as part of their application process. They may also submit any evidence of higher-level skills, such as published research, assorted licensures and certifications, and the like.
Tuition and Financial Aid
The annual tuition for traditional undergraduate students is $20,085. Room and board cost between $4,000 and $8,000, depending on residence and meal plan choices. Assorted fees come to about $1,200, not including books. The maximum a student will pay for attending Point University is about $32,000 annually, which includes special lab fees for certain courses of study.
The blended degrees cost $410 per credit hour, and the technology fee is $250. Assuming a student takes a normal 12 credits per semester, the tuition cost is $10,340 per year. Obviously, there are no room-and-board costs because these degrees are online only. The online Master of Science in Human Resource Management costs $515 per credit hour, which translates into a total cost of roughly $24,000 for the entire degree, including the technology fee.
The financial aid process begins with the Free Application for Federal Student Aid, which is also known as the FAFSA. This form encompasses a variety of questions about a student's income and assets and also those of the student's parents. Based on the information included, it will be determined how much need-based aid each student is to receive.
This aid takes the form of either a loan, a grant, or a scholarship. Some grants include work-study, and students interested in work-study should contact the Office of Financial Aid for further assistance. Loans come in two categories. One such loan has all interest costs subsidized during the student's enrollment, and the second category of loan does not subsidize that interest.
Most students receive more than one type of aid when paying for college. Many also seek out their own private aid from local credit unions and organizations with which they are affiliated. These private monies will be counted upon the FAFSA as an asset and will likely affect how much need-based aid a student is to receive.
Students should ask many questions about any private aid they receive because many such granting organizations have strict requirements that must be met for the student to keep any awards. It is better for the student to know rather than to be surprised when a large grant suddenly becomes an unsubsidized loan because the student didn't maintain the required GPA.
Point University strives to prepare young people of all persuasions for a Christian life of ministry and faith in their chosen fields of study.