Workforce diversity is an important concept that helps businesses appeal to a wider variety of customers and workers. However, it can be very difficult to transition from idea to practice. Because this concept is so important to understand for businesses, here is an in-depth explanation of it.
Related Resource: 30 Most Affordable Online Bachelor's in Human Resource Management
What It Means And Entails
A diverse workforce simply means a company has built a workforce that includes many different types of people. It can mean people of different ethnicities, sexual orientations, socioeconomic status, ages, genders, religions and other ways in which humans innately differ. It can also simply mean people who have different personalities and will approach situations differently, such as both introverts and extroverts. Ideally, an organization will build a workforce consisting of all of the above, as well as match its strategy for having diverse employees with its overall organizational goals and values.
The Advantages Of A Diverse Workforce
Working to create a diverse workforce has numerous advantages for companies. Diverse employees are going to come up with more varied, unique approaches and ideas. This allows a company to better innovate and come up with more creative ideas. A workforce consisting mainly of one group is more conducive to creative stagnation, which can halt a company's success in its tracks. Having employees who speak different languages opens up international business opportunities as well as outreach into communities at home where other languages are spoken. A diverse workforce improves a company's reputation, allowing it to attract better talent and more customers.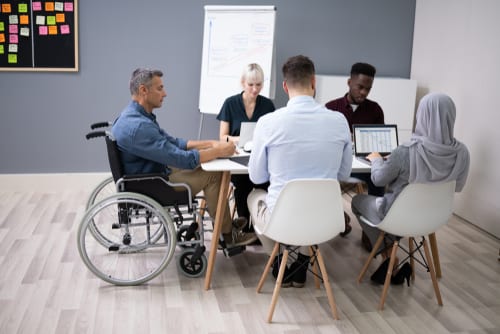 How To Build A More Diverse Workforce
The first step to building a more diverse workforce is simply hiring employees from different backgrounds. Companies should not mistake tokenism for diversity, where they hire a single person from one group while all of their other employees are from another group. This is not only unhelpful but it comes across as shallow and likely will lead to disgruntled employees. Integrate a hiring strategy with overall business objectives. For example, hiring employees from a specific group may help the company be successful in particular business ventures, such as expanding into a new area or offering a new product. As Forbes notes, a diverse workforce can be difficult to achieve, so it is important for companies to learn from their mistakes and keep trying.
Supporting Diverse Employees
Creating a diverse organization does not just end with hiring employees of different backgrounds. The company needs to support them and meet their unique needs. For example, a member of a religious minority may grow dissatisfied when she is either not allowed to be off work on her holidays or has to ask time off to practice her religion while other employees do not need to work on their religious holidays by default. An employee of a different ethnicity may experience unaddressed racism and opt to leave. Companies need to take their commitment to a more diverse workforce seriously so all will be welcome. When companies do, they reap the benefits in lower turnover and stronger loyalty from both employees and customers.
America and the world continue to grow more diverse and globalized. Companies need to keep up by representing and appealing to different types of people. Workforce diversity is a powerful strategy companies can leverage for their benefit and the benefit of others.