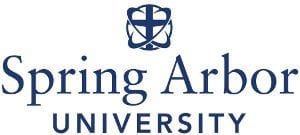 Four HR Management Degrees at Spring Arbor
Spring Arbor University is also featured in our ranking 50 Most Affordable Human Resource MBA Degree Programs.
At Poling Center, the Gainey School of Business grants the Business Administration BA at an 11:1 learner-faculty ratio for Spring Arbor University Cougars to develop practical workplace leadership skills from a Christian worldview in Michigan. Directed by Dr. Caleb Chan, the 120-credit, HLC-accredited curriculum lets undergrads minor in Management, practice in the Bloomberg Trading Room, compete with Enactus, attend Coffee Connection, and intern at Ford Motor. Online via Blackboard, the Organizational Management BS offers a 2+2 transfer track for associate grads to study how businesses operate effectively. The 62-credit, Web-based option advised by Dr. Allen Knight blends courses like Human Resource Administration and Motivational Theory with capstone research.
Ranked 24th by SR Education Group in 2018, the Management and Organizational Leadership MA uses the virtual Blackboard classroom to train Spring Arbor University graduates for upper-level positions managing productive, unified corporate teams. The 36-credit, 18-month online program advised by Dr. Gary Britten reports 92 percent job placement at Enstrom, Whirlpool, Meijer, Kellogg, Henry Ford Health, Penske, Bosch Global, and others. Profiled by Poets & Quants, the Accelerated MBA builds five tailored concentrations, including Human Resource Development and Organizational Consulting, using a hybrid online format with one evening session in Lansing or Detroit weekly. Directed by Dr. Sharon Norris, an ONDEO Nalco Outstanding Manager Award recipient, the 36-credit master's features a four-day International Business Summit in Manhattan and a field-based project.
About Spring Arbor University
Spring Arbor University originated in 1873 when Free Methodist Church minister Edward Payson Hart started Spring Arbor Seminary near the Potawatomi village for poor youth. In 1907, the Seminary passed the enrollment mark of 200 coed students. In 1923, Principal H.A. Millican added the Junior College for two-year higher education degrees. In 1930, Spring Arbor Seminary ended its K-12 classes and focused on Christ-centered collegiate studies. On April 1, 1960, the newly named Spring Arbor College was regionally accredited. In 1963, President David McKenna launched its earliest Bachelor of Arts. In 1983, the Organizational Management BS debuted for adults seeking human resources jobs. Five years later, the Cross-Cultural Studies Program began to send learners from Asia to Africa. On April 30, 2001, the Spring Arbor University name was chosen for its 33-building Jackson County campus.
Endowed for $15.3 million, Spring Arbor University now educates 3,341 Cougars from 21 states and 22 religious denominations online or face-to-face at 13 Michigan locations with 50+ clubs like Action Jackson for 78 percent freshman retention. In 2017, Spring Arbor earned the NAIA Champions of Character Five-Star Institution Award. In 2016, SAU received the Michigan Veteran's Affairs Agency Gold-Level Award status. SAU won the 2011 Jenzabar Outstanding Partnership Award for Innovative Solutions too. The U.S. News & World Report ranked Spring Arbor the 53rd best Midwest college, 32nd top value, and 32nd most military-friendly campus. On Niche, SAU boasts America's 163rd best Christian education, 214th best campus dining, and 340th top business courses. The Wall Street Journal placed Spring Arbor University among its top 800 overall. College Factual named SAU 158th for management.
Spring Arbor University Accreditation Details
On March 30, 2018, the Higher Learning Commission of the North Central Association (HLC-NCA) Institutional Actions Council informed Spring Arbor University that the Level III accreditation was successfully renewed through 2027-28 under its 30th president, Dr. Brent D. Ellis, an Association of Christians in Student Development member. Located 192 miles west via Michigan Route 60 in Chicago, this gigantic 19-state Great Lakes Region accreditor is authorized by the U.S. Education Department to evaluate SAU's three associate, 54 baccalaureate, and 10 master's degrees. However, the Gainey School of Business doesn't have formal accreditation or Society for Human Resource Management (SHRM) approval.
Spring Arbor University Application Requirements
Starting at Spring Arbor University is classified "moderately difficult" by Peterson's because only 1,066 of the 1,546 Fall 2017 applicants were triumphant for selective 69 percent acceptance. First-year Cougars seeking the Business Administration BA must finish a qualifying high school diploma or GED certificate. Freshmen present an average 3.46 GPA overall. The middle 50th percentile have SAT scores between 1040-1240. Mid-range ACT composite scores are 20-26. The E.P. Hart Honors Program requires at least 26 ACT and 1250 SAT marks. Online Organizational Management BS entrants must transfer 58+ college-level credits. The Adult & Professional Division prefers Associate of Science in Business grads with GPAs above 2.0. MBA in Human Resource Development cohorts must hold a regionally accredited bachelor's in any discipline. Upper-division academic GPAs of 3.0 and higher are mandated. International students are welcome with 6.5 IELTS, 550 TOEFL pBT, 58 MET, and better scores.
Spring Arbor University has adopted a rolling admission policy. Prospective students should apply by August 1st for Fall, January 1st for Spring, or May 1st for Summer. The priority deadline for financial aid consideration is March 1st. Accordingly, create an Arbor account to complete the SAU Application online with $30 by credit card or PayPal. Forward official transcripts to 106 East Main Street in Spring Arbor, MI 49283. Optional testing reports are generated with SAT code 1732 or ACT code 2056. File other materials like the two recommendation forms, transfer credit evaluation, current résumé, affidavit of support, medical history form, and F-1 student visa. Ask further questions at (800) 968-0011 or [email protected].
Tuition and Financial Aid
For 2019-20, Spring Arbor University is charging full-time Business Administration BA majors $29,030 annually. Traditional part-time study incurs $705 per credit. Mandatory undergraduate fees total $600 each year. Average room and board costs $10,260 for living at the Michigan campus' dorms like Lowell Hall. SAU budgets $800 for books and $1,780 for miscellaneous expenses. Annual undergrad attendance equals about $41,400 on-site or $31,390 if commuting. Online Organizational Management BS students spend $587 per credit or $36,394 in total. The MBA in Human Resource Development is priced $717 per credit for $25,812 overall. Management and Organizational Leadership MA cohorts also cover $717 per credit. Online enrollment requires a $105 technology fee each semester.
According to the NCES College Navigator, the Office of Financial Aid on Dietzman Hall's Upper Level helps 82 percent of full-time SAU Cougars earn tuition assistance averaging $12,684 apiece for $22.95 million combined. University funds include the Provost Scholarship, E.P. Hart Honors Scholarship, Multicultural Leadership Scholarship, Presidential Scholarship, Athletic Scholarship, Free Methodist Ministerial/Missionary Scholarship, Arbor Scholarship, Professor Scholarship, Transfer Award, Camp Matching Scholarship, and Departmental Scholarship. The $5,000 Student Statesmanship Institute Scholarship has an August 1st deadline for undergrads meeting the 25 ACT or 1230 SAT minimum. The Trustee Scholarship gifts $12,000 annually to freshmen in the top 10th percentile with GPAs above 3.8. FAFSA applications coded 002318 unlock federal programs like the Undergraduate Pell Grant and Graduate Plus Loan. The Michigan Tuition Grant currently provides up to $2,400 each year for in-state bachelor's majors.
Find out more about Spring Arbor University at the Gainey School of Business website.