At Human Resources MBA, we're dedicated to guiding you through the process of choosing and earning the right master's degree in human resource management.
Master's in human resources degree programs are ideal for students wishing to enhance their business acumen and interpersonal skills for advancing in the HR field. Master's in human resource management degrees are offered at graduate schools across the United States to help students unlock leadership opportunities in managing a happy, healthy, and productive workforce.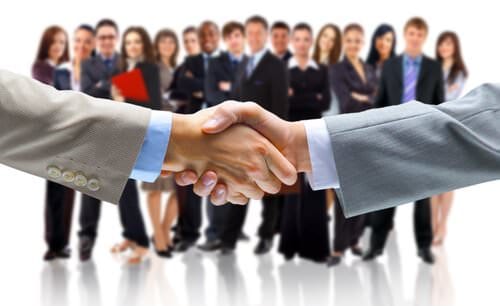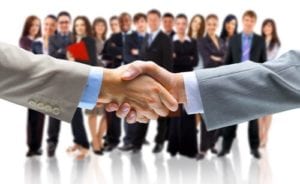 Human Resource Management (HRM) is a unique business niche that focuses on developing an organization's most valuable asset – its personnel. Human resources is an umbrella term used to cover all business functions that handle employee-related issues, including benefits, hiring, recruitment, training, OSHA compliance, and compensation. HR managers play a vital role in creating a company culture and work environment that's conducive to retaining top talent. Human resources jobs are available in nearly any industry from healthcare to education and manufacturing. The U.S. News and World Report has named HR the #11 best business job in America with fast employment growth of 15.5 percent!
There are several different ways that students can obtain their masters in human resources and start joining this in-demand field. Traditionally, human resource management degrees have been offered through campus-based instruction at colleges and universities. Attending a brick-and-mortar institution can be beneficial for human resources majors who thrive in an interactive learning environment with plenty of face-to-face contact. Traditional HR degrees will allow you to build better interpersonal skills, collaborate on group projects, and have better networking opportunities. On the downside, on-campus human resources programs have strict class schedules often during daytime hours and can require a lengthy commute.
As advancements in educational technology continue, online master's in human resources programs are becoming more popular. Online education is a good option for non-traditional HR majors who are returning to school, continuing to work full-time, or maintaining family obligations. In a virtual classroom, online human resources degrees enable students to simply access course materials at the click of the mouse 24/7 within their busy schedule. Flexible online learners can also cut their expenses on out-of-state tuition, meal plans, room and board, transportation, and maybe childcare. Of course, online HRM degree students won't have in-person interaction with peers or motivation from their faculty when following this self-paced format.
Since there are clearly pros and cons to both of these delivery methods, it's now possible to obtain your master's in human resource management degree in a hybrid format. This means that the program offers a unique balance between classroom instruction and online learning to accommodate various lifestyles. Hybrid HR degrees are perfect for students seeking minimal campus trips without completely nixing in-person collaboration. Most hybrid programs only require that human resources majors come to campus once or twice per week while submitting most assignments online. In some cases, hybrid master's in human resources degree programs will only mandate that students attend a practical internship while completing all courses online.
Human Resources Degree Levels
Choosing your ideal learning approach is only part of the battle because you'll also need to determine the right degree level. Colleges in the United States confer human resource management degrees at four distinctive levels: associate's, bachelor's, master's, and doctorate. The level you pursue will vary depending on your future HRM career goals in managing the workplace. For instance, becoming a human resources manager or director will require you obtain a master's degree in human resources. Yet, entry-level positions can be obtained with far less schooling. Below we'll take a closer look at the four different human resources degree levels offered so that you can follow the best pathway to HR success.
Associate's Degree
Requiring around 60 semester credits, associate's degrees in human resources are offered by two-year community colleges, junior colleges, and technical schools. An associate's degree will provide beginning HR generalists with career-oriented training for a basic foundation in key human resources practices. Following a high school diploma, students could receive an Associate of Arts (A.A.), Associate of Science (A.S.), or Associate of Applied Science (A.A.S.) with a major in human resources. An associate's degree will only qualify you for basic entry-level positions within HR, but you can transfer your credits to a university for advancement.
Bachelor's Degree
A bachelor's in human resources is typically prerequisite for specialized entry to mid-level human resources careers. Baccalaureate programs for human resource management can be found at accredited colleges and universities. After developing a well-rounded general education core, HR majors will progress through introductory and intermediate material related to managing an organization's human capital. A Bachelor of Arts (B.A.) or Bachelor of Science (B.S.) may be offered, but many schools provide a Bachelor of Business Administration (BBA) for a broad-based HRM education. Most bachelor's degrees in human resources will require around 120 semester credits, which may include a practical internship or senior capstone project.
Master's Degree
Earning a master's degree in human resources is most advantageous for graduate students with a bachelor's degree who strive to fulfill upper-level management roles in HRM. Most masters in human resources programs will take one to three years of advanced studies beyond the baccalaureate level. The Master of Science in Human Resource Management (MSHRM) is popular, but you may also want to consider an MBA in Human Resource Management for in-depth leadership development. Graduate students usually can focus their degree in a certain specialization, such as organizational psychology, talent development, labor relations, compensation and benefits, or employment law. Master's programs are best for opening doors to senior HRM positions in today's competitive business world.
See: The 30 Most Influential Industrial and Organizational Psychologists Alive Today
Doctoral Degree
Although rather rare, there are several accredited colleges nationwide that allow students to receive a Doctor of Philosophy (Ph.D.) in human resources or one of its specializations. Going the extra step to receive a doctorate isn't usually necessary for practitioners, but it can be beneficial for those looking to enter a career in research or university academia. For three to five years beyond the master's in human resources, doctoral students undergo rigorous training in exploring current personnel problems plaguing the workforce. Doctoral programs require that HR students complete independent dissertation research and pass a comprehensive exam.
Human Resources Degree Rankings
Every human resource management program isn't created equal, so it's important that you carefully investigate various different schools. To find the perfect HR degree, you'll need to weigh factors that matter most to you. All students should narrow down that are regionally accredited. Accreditation is essential to guarantee that you'll qualify for financial aid, receive a good education, and transfer your credits later. Many organizations prefer to hire HR candidates who have attended a business school aligned with the Society for Human Resource Management (SHRM) guidelines too. HR majors should also evaluate other factors like student engagement, graduation rates, award recognitions, SHRM chapter activities, course flexibility, curriculum specializations, teaching credentials, and internships.
Society for Human Resource Management Aligned HR Degrees
Since keeping all of these crucial characteristics straight is difficult, students often rely on human resources degree rankings to guide their decision-making process. Rankings can help point you in the right direction to find the best MBA in human resources or master's degree in human resource management for you to invest in. Rankings are typically published every year by prominent online publications to recognize the top HR schools in America or abroad. These ranking authorities weigh several factors to organize their best picks. Choosing a highly ranked university can help market your human resources degree better later on.
The U.S. News and World Report is probably the most recognized ranking system in the United States for finding top-quality programs. Although there isn't a ranking specifically for human resources, students can use U.S. News to find the best business schools and top MBA programs. Aspiring HR leaders should look through notable rankings published by the Princeton Review, Forbes magazine, Washington Monthly, and Bloomberg BusinessWeek. If you're looking for a more global scale, you can find the world's best colleges ranked by the Times Higher Education and Academic Ranking of World Universities (ARWU).
Of course, you should also supplement these ranking systems with the articles published periodically by our editors. After loads of research, we highlight the top programs in human resources to take the guesswork out of your degree search. Take a look at our:
Human Resources Careers and Salaries
Graduates who earn their bachelor's or master's degree in human resource management will discover that their learned skills can be applied to a wide variety of human resources careers. HR majors can work in the public or private sector in any job that involves meeting the organization's personnel management needs. The most expansive range of high-paying job options will be available to graduates with a masters in human resources and certifications like the PHR or GPHR. According to the BLS, there are 456,170 HR specialists and 116,610 HR managers currently employed across the United States. Some of the most popular and in-demand human resource management careers include:
Compensation and Benefits Specialist
Compensation and benefits specialists are given the responsibility of assessing their company's pay structure to ensure employees are being well-compensated. These HR specialists use their analytical skills to perform complex cost analyses to evaluate the organization's bonuses, paid leave, workers' compensation, retirement plans, insurance benefits, and more. After they research the pay practices, the compensation and benefits specialists will make suggestions to management to keep pay competitive. According to the Bureau of Labor Statistics (BLS), HR specialists in compensation and benefits can expect an average yearly salary of $64,380.
Training and Development Manager
Training and development managers focus their HR skills in planning and coordinating programs that will enhance the talents of an organization's personnel. Continual training is important in business to make certain employees have the know-how to help meet the organization's strategic growth goals. Training and development specialists may direct in-person, video, self-guided, or online classes that develop meaningful skills within trainees. In exchange for a high average annual salary of $114,140 (according to the BLS), training and development managers make certain that training courses are effective and on budget.
Labor Relations Specialist
Also called industrial relations specialists, labor relations specialists are responsible for interpreting contractual information for their organization. Labor relations specialists may be involved in filing work grievances, facilitating collective bargaining, drafting contracts, investigating validity of disciplinary procedures, collaborating with union leaders, and training management on contractual agreements. These HR specialists make certain that their company is complying with the latest local or federal regulations for employees. Labor relations specialists bring home an average yearly wage of $59,410, according to the BLS.
Recruiting/Staffing Manager
Recruiting or staffing managers have the duty of overseeing the company's hiring processes within the HR department. Staffing managers have an upper-level leadership role in supervising a team of recruiters and creating a cohesive recruiting strategy for landing the most qualified job candidates possible. In some cases, recruiting managers will also take part in finding, interviewing, and hiring applicants for higher level positions of authority too. The BLS states that recruiting managers typically earn an average salary of $114,140 annually for meeting their organization's staffing needs.
Now that you've received a broad introduction to the exciting field of human resources, we invite you to begin clicking through the resource guides we've published. At Human Resources MBA, it's our mission to make finding a bachelor's or master's degree in human resource management as effortless as possible so that you can achieve your career aspirations. We continually make updates to assist you in finding the best masters degree in human resources, enhance your professional capabilities, receive certification, and land your dream HR job. If you have any further questions or comments, please fill out our contact form here.
Sources:
http://www.bls.gov/oes/current/oes131141.htm
http://www.bls.gov/oes/current/oes113131.htm
http://www.bls.gov/oes/current/oes131075.htm
http://www.bls.gov/oes/current/oes113121.htm